Artificial Intelligence is the latest buzz around industries these days. But is AI reshaping eCommerce? Yes, whether it is about a better understanding of customers or enhancing security, AI is being used these days tremendously by eCommerce businesses. The major reason behind that is – AI-enabled eCommerce software is helping online stores to follow a customer-centric approach, acquire meaningful data, and provide 24/7 availability.
This pandemic situation has led to an exponential growth of online businesses. It has triggered changes in online shopping behaviors and shifted the consumers towards a more digital world. But, the major challenge still remains, and that is – satisfying smart and tech-savvy customers. Online buyers are getting more intelligent day by day, and so competition in the eCommerce industry is getting fierce.
The eCommerce stores that use the latest technology to offer excellent shopping experiences, prompt services, secure payment options, and quality products at reasonable prices win the game. This is where AI-enabled eCommerce app development kicks in. Right from providing relevant recommendations, managing inventory, providing instant customer support to boosting sales AI has the potential to do more than that for your eCommerce business.
To better understand what AI can do for eCommerce businesses, let's first go through the basic information about AI (Artificial Intelligence).
What is AI (Artificial Intelligence)?
Artificial Intelligence refers to the concept where a machine acts like a human brain. AI powers the machine to understand, learn, and analyze based on the historical data fed in the system, specifically designed algorithms and human-created rules. Artificially intelligent systems can memorize human behavior patterns in particular situations and act accordingly.
The AI-related concepts you may encounter include Machine Learning (ML), Deep Learning, and Natural Language Processing (NLP). Let's have brief information about these terminologies before we move on.
Machine Learning (ML) is the subset of AI that is all about feeding the suitable algorithms into the machine to work similarly to a human without human intervention. Some of the functions ML can perform are – image & voice recognition, providing personalized recommendations, and many more.
Deep Learning is an AI function that can learn from historical data and make decisions. It can even comprehend unstructured data and thus is used for detecting fraud detection, money laundering, etc., type of unethical activities.
Natural Language Processing (NLP) is a linguistic tool powered by AI. It enables machines to read and understand the human language. NLP allows an automatic translation of human language into machine language and vice versa to create conversations between humans and machines. One of the most prominent examples of NLP is chatbots.
So, now that we are absolutely clear about AI and the concepts related to it, let's now delve into the impact of AI on eCommerce businesses and the various ways AI is being integrated into eCommerce apps to gain maximum benefits.
The Enormous Impact of AI on eCommerce Businesses
AI has been included everywhere in all aspects of our lives. From booking a cab to advanced security checks at the airport, AI dominates our everyday lives and decisions. As per a recent study, AI has benefitted consumer goods and the retail industry in many ways. 48% of respondents cite that AI has helped them enhance customer care. That means AI applications can augment customer experiences exponentially, ultimately resulting in accelerated revenue generation.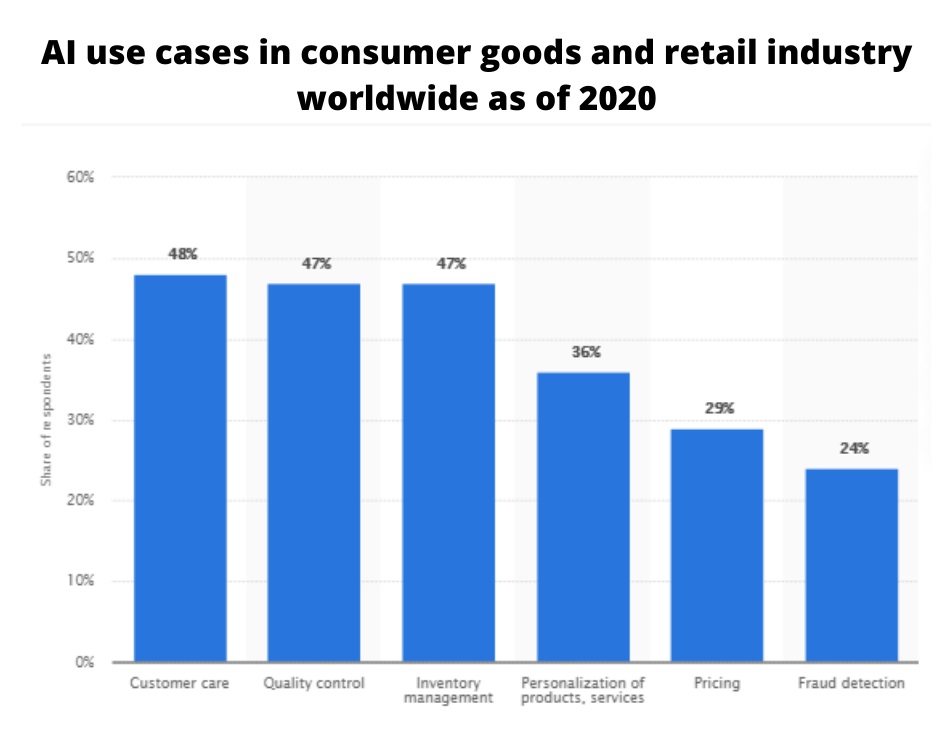 As online shopping is an integral part of the consumer goods and retail industry, it can be ascertained that AI is fueling the eCommerce sector too. In 2020, retail eCommerce sales worldwide amounted to 4.28 trillion US dollars and is projected to grow to 5.4 trillion US dollars by 2022.
Thus, the conversation is no longer about whether to execute AI in eCommerce or not, but it is about different ways of utilizing AI in eCommerce applications. From digital footprint-based personalized recommendations to chatbots, there are innumerable ways AI has benefitted eCommerce businesses and their customers. Considering the scenario of online shopping, below are some practical applications of AI in eCommerce.
Implementing Customer-Centric Voice & Visual Search
These days an increasing number of smartphone users highly rely on voice & visual search to look for the products they require. Voice search refers to giving a spoken command to the virtual assistant on an eCommerce app and receiving relevant search results. Visual search requires the users to upload the image of the products they are looking for and get similar search results in return. Thus, voice and visual search optimized eCommerce applications can increase user engagement and are likely to benefit your business in terms of increased sales and ROI.
Employing Chatbots for Prompt Support
Chatbots have replaced traditional customer support in many ways. Whether it is about providing information to the customers about a product or assisting them in completing their purchase, chatbots can instantly communicate with the customers and resolve their issues. For eCommerce companies, chatbots have proven to be highly beneficial as they no longer need a huge team that works in different shifts to provide 24/7 support to the customers. AI-based chatbots have human-like capabilities to answer customers' queries round the clock and provide an excellent shopping experience.
Personalizing Product Recommendations
Personalized product recommendations are quite prevalent these days and an important aspect of upselling. The AI-powered eCommerce app facilitates you to display product recommendations based on your buyers' past orders and browsing history exclusively. An AI-powered recommendation engine embedded in your eCommerce application can help you do that, allowing your customers to make quick purchasing decisions and improve your ROI.
Tackling Fake Reviews
Customer review is the basic criteria that customers consider while making purchasing decisions. Thus, only authentic reviews must appear on your product pages so that you can guide your customers to buy your products ethically. Handling some fake reviews written by your competitors can be controlled by humans also, but when it comes to tackling thousands of fake reviews, AI can play a significant role. AI-enabled in your eCommerce app can automatically identify fake reviews based on certain factors like user verification, recency, upvotes, etc., and deletes them to maintain the online reputation of your business positively.
Implementing Intelligent Sales Process
At present online buyers are extremely influenced by various platforms for their purchasing needs. Whether it is a huge marketplace like Amazon or an offer on an Instagram store, the online buyers get attracted wherever they find unique products at the most competitive price. Online buyers look for a product they need to buy on several platforms.
Thus, it becomes important to follow an intelligent sales process to keep the customer engaged with your online store. AI can help you do that by capturing the visitors' data and sending them emails and push notifications for remarketing or cart abandonment issues. Thus, AI-enabled apps help gain quick access to important information and leverage innovative business tactics intelligently, ultimately making revolutionary changes in dealing with customers.
Executing Virtual Assistants
We are already known to voice assistants like Siri and Alexa. They have successfully taught us how to talk to our smartphones, laptops, and tablets. However, embedding voice assistants in your eCommerce app can facilitate your customers to perform better product searches instantly, add or remove items from the cart, review shipping status, checkout, and many more activities. Precisely, executing a virtual assistant in your eCommerce app is a creative opportunity that can benefit in terms of enhanced customer experiences and increased sales.
Integrating Wearable Technology
Amazon Go has already revolutionized the checkout process by utilizing wearable technology. Though this example relates to brick-and-mortar stores, the same technology is now being used by eCommerce stores too. Wearable devices have the incredible capability of capturing information beyond what smartphones can do today. Your eCommerce app integrated with wearable devices can help you connect with your customers uniquely. For example, your eCommerce app integrated with wearable technology enables you to collect information about physical and online stores your customers have visited in the past or the products they are looking forward to purchasing. Based on that information, it sends notifications about your sales events and discounts on their wearable devices to grab their attention and generate leads.
Improving Inventory Management
AI-enabled eCommerce applications help capture information about which products are in demand and which ones are not, allowing you to forecast the sales accurately. Right sales predictions have a huge influence on inventory management. If you are aware of the slumps and spikes in the product demand, it helps you in avoiding overstocking or running out of stock issues.
It also allows you to reduce product wastage and speeds up your order fulfillment process. To achieve success in omnichannel selling; it is highly significant to manage inventory flawlessly. AI-enabled eCommerce apps empower online retailers to intelligently handle their order fulfillment process, improve customer experience and return on investment.
Combating Counterfeit Products
Big retail brands like Amazon usually face counterfeit product problems. Due to that, customers land up buying fake products from illegitimate merchants. AI-enabled eCommerce apps can help resolve this issue as they have capabilities like image recognition and deep learning used for detecting fake products. Artificial intelligence analyzes each product added to your online catalog, merchant reputation, reviews, and behavior data.
Based on that, it automatically removes the products' image theft issues or listings posted by the merchants having low ratings and having a bad reputation of selling fake products. Achieving that manually, especially when you have thousands of products in your catalog, is next to impossible. AI-enabled eCommerce applications can address this issue effectively.
Enhancing Security
For eCommerce stores, foresight is priceless. Detecting cyber attacks on your store in advance can give you the time to neutralize the incoming threats successfully. Your AI-enabled eCommerce app can play a major role in enhancing the security of your customers' data and online payments, ultimately building the trust of your customers and sustaining the reputation of your online store.
The above pointers clearly state that AI technology is the present and future of the eCommerce industry. It has changed the way consumers search for products online and expect from eCommerce stores. Here are some key aspects of consumer expectations that AI-enabled eCommerce apps can potentially deliver.
Understanding Key Aspects of Improved eCommerce App Development Driven by AI (Artificial Intelligence)
Convenience: Voice-activated assistants, personalized recommendations, easy reordering, and detailed item descriptions are some of the facilities offered by Artificial Intelligence, providing extreme convenience to online shoppers.
Speed: AI-enabled apps facilitate streamlined checkout processes. Online shoppers can use "one-click" purchases or "swipe to order" privileges, speeding up the entire checkout process and delighting them.
Security: Security becomes the main concern and is the major expectation of the consumers when it comes to online shopping. AI has the potential to heighten privacy and security standards. This can possibly result in making customers feel totally secure while shopping and paying online.
Accuracy: As AI-enabled apps can improvise the inventory management and order fulfillment process, the customers receive their shipments on correct dates and also elevate trust in the stores. Accuracy in overall workflow and presenting the right users' reviews enhance customers' loyalty and drive more sales.
Flexibility: AI has made omnichannel presence easier than ever before. The customers like this flexibility of buying from different platforms, using multiple payment options and devices. To remain competitive; it is highly significant to offer this flexibility to the online customers they require.
Experience: Customers highly value the experience and feel that an online store offers. If you are offering facilities like voice and visual search powered by AI in your eCommerce app, you will definitely win the hearts of several online buyers always eager to use innovative technologies for better shopping experiences.
Summing Up
Today, AI is prominently a part of our life. Whether it is about posting an Instagram reel, getting movie recommendations on Netflix, or requesting Alexa to play the music of your choice, AI is everywhere these days. Undoubtedly, an AI-powered eCommerce app is critical to the present and future of online businesses.
But, the question that may arise is how do you upgrade to an AI-enabled eCommerce application? We know adding advanced AI features to your eCommerce strategy is easier said than done. In that context, upgrading to an AI-enabled eCommerce application can help follow a systematic approach towards online selling and implementing creative marketing strategies for your online business.
Author bio
Jemimah Rodriguez is a senior content writer working with GoodFirms – a reliable platform helping businesses in selecting the right Software Companies & Products. For further information, you can get in touch with her at Jemimah@goodfirms.com