Want to live a more comfortable lifestyle?
Here are 15 comfortable pieces of furniture that you, your family, and your friends will love sitting on.
Your living room is one of the most important rooms in your home. It's where you spend a lot of time reading, watching television, socializing, and maybe even eating. Your sofa, chairs, and other furniture see a lot of you (and you see a lot of them).
So, you're going to want to get something comfortable. Here we've brought together this list of 15 comfortable pieces of furniture to help you deck out your living room with things you'll really want to sit on.
Whether you want a sofa, a chair, or something a little more unconventional, you can find it below!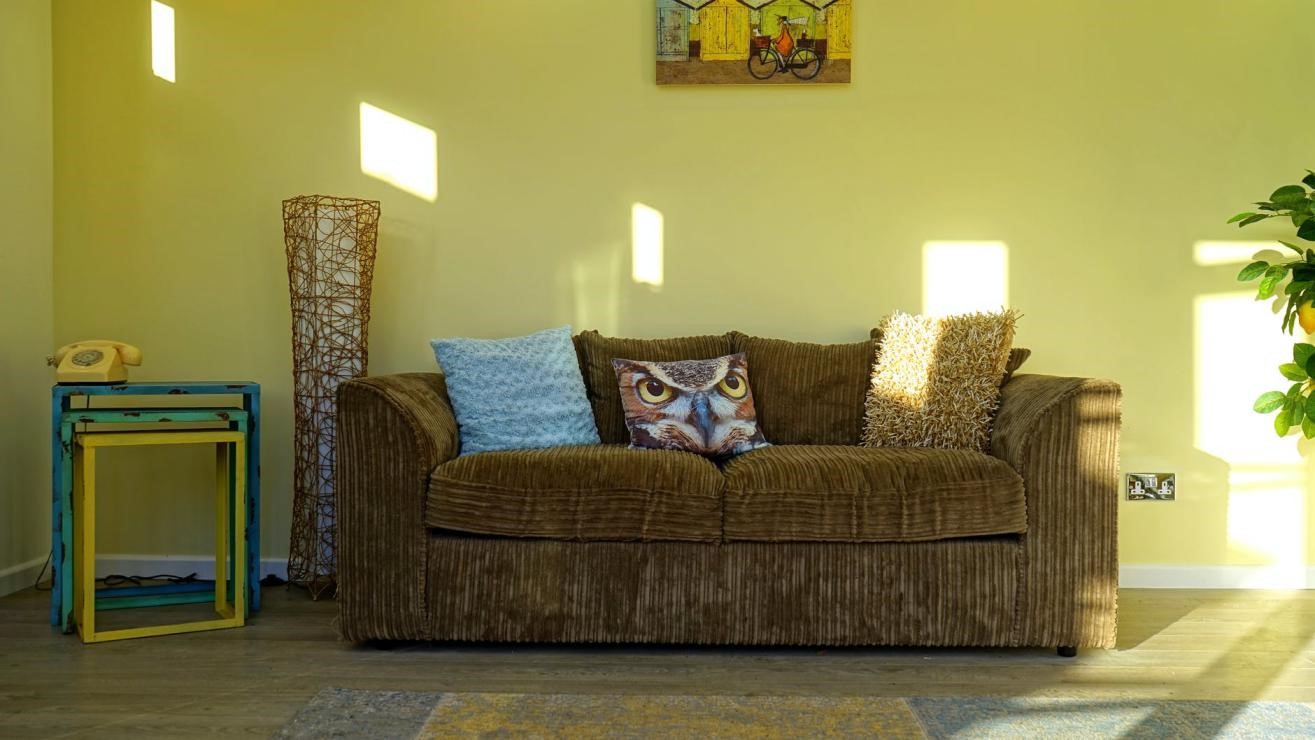 Sofas
1. Matilda's Floor Sofa
This floor sofa is made entirely out of fabric. There are no wooden or metal frames inside to poke you in the middle of your Netflix-binging session. Sounds super cozy, right?
It's covered in plush, ribbed fabric, too, so even the arms are soft and cushy. No other sofa could live up to being quite so comfortable. You can get the Matilda Floor Sofa in three neutral colors to blend it right into your living room.
2. Winslow Armless Sleeper Sofa
With its arm-free design, this sleeper sofa gives off vibes of comfort. The lack of hard, angled arms means you can stretch across it with no restrictions. The Winslow Armless Sleeper Sofa is a welcoming seat full of foam you can sink into.
And the rounded wooden legs and tufted cushions make it feel sleek and stylish. Oh, and it also turns into a pull-out bed for your guests. All you have to do is lay down the back and it becomes a full-sized bed for anyone to spend the night on!
3. Lauren Down-Filled Oversized Sofa
This overstuffed sofa has comfort right in the name. The cushions are filled with plush-down that you can sink right into. It is the epitome of casual design. No matter what your living room looks like, this couch will feel right at home among your decor.
You can choose from two different sizes and seven different colors to make it suit your tastes.
4. Moore Living Modular Sectional
Sectionals scream comfort, but none more than this one.
The cushions are filled with foam and can be moved around to your heart's content. Its wedged back lets you lounge comfortably, and it's big enough for anyone to stretch out for a snooze.
Because it's modular, you can decide which side to put the chaise on to best fit your space. And it comes in your choice of white or grey, as well.
5. IKEA Stockholm 2017 Sofa
This velvet-clad sofa is an extremely stylish explosion of cushions. With extra-deep seating and eleven cushions, both big and small, it's impossible to argue against how comfortable the Stockholm sofa is.
The five back cushions are reversible, allowing you to wear them evenly on each side. It also comes with six smaller pillows for added support, extra cushiness, and probably pillow fights.
6. Grant's Sofa
This sofa is basically a few pillows with a base. What could possibly be more inviting to sit on and snuggle up?
Designed with minimalists in mind, the Grant Sofa is armless and features one big pillow on the bottom and two pillows against the wedged back. This soft, microfiber sofa will cradle you in comfort. It looks like a great place to take a nap!
Check out this sofa collection at Interior Secrets
Chairs
7. Bliss Down-Filled Chair-and-a-Half
Oversized armchairs are the best place to curl up and enjoy a good book or watch TV — especially this one with two big, down-filled cushions for you to sink into. At nearly four feet wide, this chair-and-a-half has more than enough space for you and your pets to share.
Plus, the Bliss has the added benefit of customizability.
You can choose from dozens of fabrics for the upholstery, guaranteeing it will meld perfectly with your living room.
8. Marta Barrel Chair
This barrel chair is perfect for cuddling. With a diameter of just over five feet, there is more than enough room for two people to curl up together. Or, it could be a perfect spot to put all of your books next to you while you read away.
Choose your favorite fabric to blend the Marta Barrel Chair with your style and enjoy your time among the pillows!
9. Ashley Furniture Signature Design Recliner
This power-lift recliner was made with comfort and support in mind.
It features a high back and thick cushions, and it's big enough to fit anyone that might want to lounge in it. The faux leather upholstery is soft and allows you to really sink in while you watch the tube.
All it takes is the push of a button and you're on your way to relaxation.
10. Lauren Down-Filled Oversized Armchair
This armchair comes from the same collection as the Lauren sofa mentioned above.
Just like the sofa, the Lauren Down-Filled Armchair has overstuffed cushions filled with a soft-down material. It's almost four feet wide, giving you plenty of room to kick your feet up and snuggle into comfort.
This armchair has the same color options as the sofa, so you should have no trouble marrying them together in your living room.
11. Esright Massage Recliner Chair
The Esright Massage Recliner is a living room dream to come to life.
Just looking at the features, you can imagine how comfortable it must be. It massages, it heats you up, and it even swivels a full 360° so you can keep your eye on everything around you. This recliner is the definition of modern comfort.
And you can get it in seven different colors!
Others
12. Drew Barrymore Flower Home Tufted Chaise Lounge
If you're looking for something a little more refined than a sofa or armchair with all the same comfort, then your search is over.
This chaise lounge, with a tufted back and poly-velvet upholstery, will look stunning in your living room. You can get it in either grey, navy, or pink to perfectly match your decor.
It's a darling little piece that will keep you happy and comfortable all day long.
13. Chill Sack Giant Bean Bag Chair
Not quite as refined, but perfect for the bean-bag-loving child in all of us.
The Chill Sack is a full five feet of bean bag just waiting for you to dive in. On top of that, it's filled with bits of memory foam rather than the normal beans. That means it won't lose its shape no matter how much you use it.
This piece is perfect for spaces that just don't work with traditional furniture.
14. Cooper Lounge Chair
The Cooper Lounge Chair is a fusion of an armchair and a bean bag chair. It's essentially a bean bag with a vague chair shape to it. This chair is filled with beads that help it perfectly conform to anybody that sinks into it.
The simple design works well in any space, and it can be ordered in five different colors from white to mustard yellow.
15. Little Seeds Ambrosia Daybed
Style meets function in this lovely daybed made by Little Seeds. Although it's marketed for kids, it's the perfect size to replace your living room sofa. And why wouldn't you want to display something with such a beautiful, tufted design?
It also has a trundle underneath that is the size of a twin bed — the perfect place for your guests.
In Conclusion
The living room is the social hotspot of your home. Anyone that visits is bound to end up sitting on your couch or in one of your chairs. Not to mention, you probably sit there every day.
Why wouldn't you want it to be comfortable?
As you've seen, you don't have to sacrifice comfort for style. There are plenty of ways to bring the two together. And if you don't care about your living room looking like it came from a magazine, you're bound to be happy with any of these options.
***
Author Bio: Caitlin Sinclair is the Property Manager at Broadstone Sawyer Yards.