Puzzles are a great workout for our brain, they improve our memory, our spatial thinking, they help young children develop higher IQ and achieve better academic results, and help adults fight early manifestations of Alzheimer's and dementia. Puzzles improve our mood and overall wellbeing, as well as ignite our creative senses and help us achieve that much sought-after satisfaction from solving a problem and making something with our own hands.
UGears Models is a world-famous brand of 3D wooden puzzles that are made of natural wood and illustrate the principles of mechanics. These models are equally suitable for both children and adults and cover a variety of themes from technology and transport to board games accessories and elegant jewelry boxes.
How do UGears puzzles work?
Each set is made from 100% natural high-grade plywood and comes pre-cut with its parts that can be easily detached from their wooden frames with little pressure applied. Pieces are connected together just like pieces of a jigsaw puzzle, with a gentle click, and do not require the use of glue or any tools.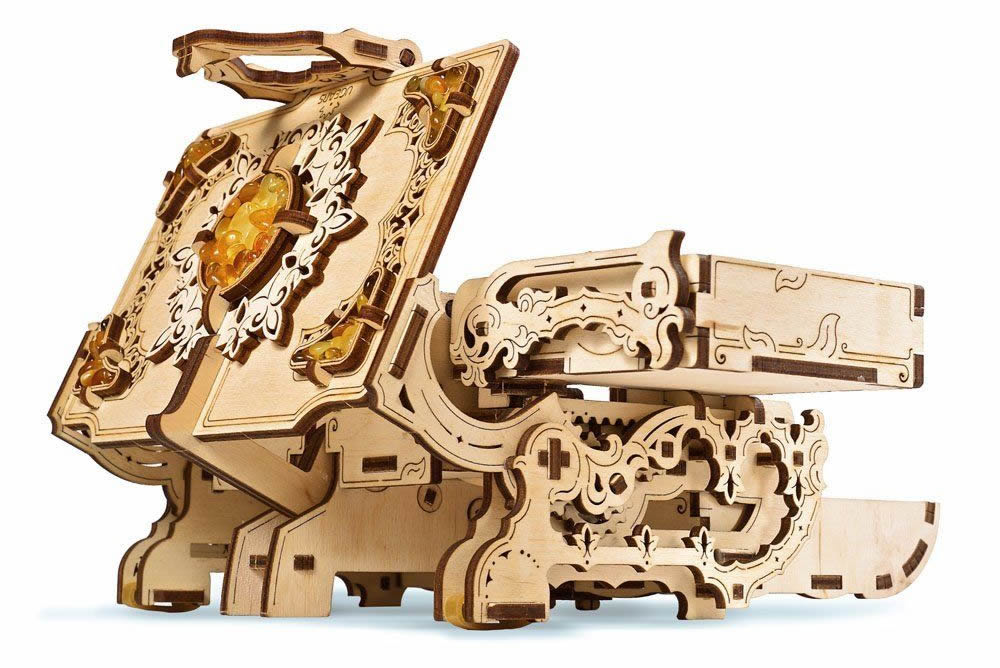 All the UGears sets feature moving parts, while every self-propelled model boasts a rubber-band motor that sets it in motion. 3D puzzle sets come with an illustrated tutorial in 11 languages and are split into three categories by difficulty level: from 'Easy' to 'Hard'. 'Easy' and 'Intermediate' sets are perfect for people only starting their acquaintance with construction sets and/ or mechanics, while 'Hard' sets feature a greater level of detail and require more dedication and knowledge. One of the best things about 3D puzzles is, however, that they turn into useful accessories, toys, and stylish elements of décor after the exciting assembly process is over. Moving parts allow toys to travel on their own, secret latches of the jewelry boxes to open, the doors and windshield wipers of vintage cars to move to create a one-of-a-kind and special gift for a friend, a colleague, or a close family member.
The benefits of difficult 3D puzzles for adults
Challenging 3D puzzle sets could make a great hobby for both someones who is into modeling or construction sets and people who have no prior experience with scale models. For the first group, UGears puzzles will become a unique twist on the familiar subject, while the second could appreciate the beauty of simple mechanisms while steadily moving towards the more complex sets. Both will get genuine satisfaction from making beautiful and fully functioning models with their own hands and get that sense of achievement we all are looking for in our everyday lives.
Examples of 3D puzzles in the 'Hard' category
The UGears catalog at https://ugearsmodels.us/ offers a variety of options for those who are looking for the most sophisticated and life-like models. Each set within a 'Hard' assembly difficulty level takes between 9 and 16 hours to build and can be made up of up to 500 parts.
The UGears V-Express Steam Train with Tender could easily become a gem of someone's train collection due to its impeccably detailed exterior that reveals the inner work of its shacks, gears, cylinders, and pistons, while the self-propelled motor allows the train can travel for up to 13 feet in a single setting. In addition, the locomotive has a transmission that allows switching between the three settings: forward, back and idle. The back setting allows the train to go backward and automatically attach itself to a tender. The moving elements of this model, such as a locking hatch and dropping sides complete the ultra-realistic picture of this beautiful steam-engine locomotive.
The UGears Trimaran Merihobus is another miracle from the world of transport that features 237 parts and realistic engineering elements such as winches, rigging, and hulls. Like the locomotive, this model has an open exterior that provides for the lighter weight as well as allows to watch the mechanism at work. Merihobus's mainsail is set on a mast groove, while the staysail can be easily rolled up with the help of the winch drum. An automatic-tensioning mechanism releases the boat's anchor. On top of that, the set includes a few templates for a customized flag for the boat.
The UGears Amber Box is a breathtakingly beautiful jewelry box that boasts decorative elements made from real amber hidden between the delicate floral has a number of secret compartments that are opened by means of secret buttons, while the whole interior of the box is operated by a smart mechanism that allows its six compartments to slide to the sides and from underneath one another once the beautiful latch lock is opened.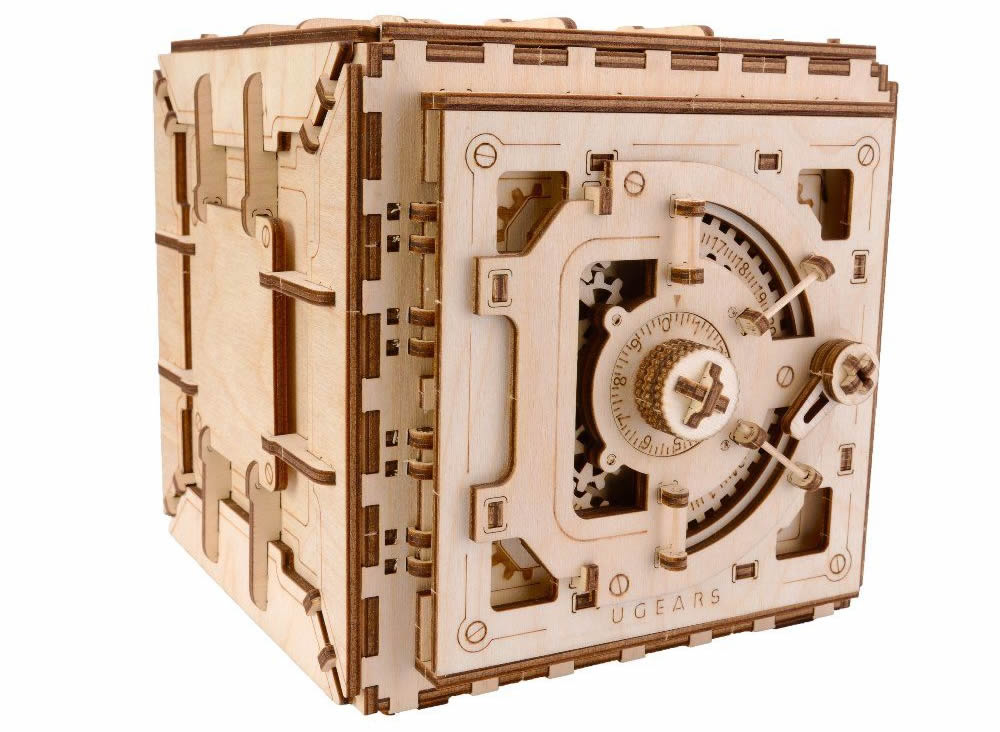 The UGears Horse Mechanoid is a one-of-a-kind wooden quadruped that moves on its own and features a unique technology that allows it to move much like a real horse. Using the claw mechanism and a pendulum in the Mechanoid's chest, this model not only moves but also due to its open exterior design allows all spectators to watch the work of its inner mechanism.
All UGears sets are a great way to spend your free time, whether you are surrounded by your family or prefer to spend it on your own. As all 3D puzzles have the same unique steampunk-style design, they can make up a great collection either for you or the people you love.