A lot of things can go wrong when you're working with a virtual marketing team.
There are bigger chances of misunderstandings, the difference in schedules can also cause needless delays, and there are also cybersecurity-related risks that ecommerce store owners need to contend with.
Despite all of these, however, it's worth pointing out that just by using the right tools and running the right processes, you can improve your collaboration with your virtual marketing team.
If that's what you're looking to do right now, then continue reading.
In this guide, we'll check out four ways you can streamline your ecommerce marketing strategies while working with your team virtually.
1. Use a reliable project management software
Some of the most time-consuming and energy-draining aspects of working with a team virtually are the endless back and forth messages that you need to send just to get things done.
Not only can this be a productivity blackhole for everyone, but it will also hinder your team from working efficiently — which can lead to missed deadlines and more work but fewer results.
The good news is, there are apps and software for project marketing management such as monday.com that you can use to help streamline your workflows and collaborate with your team better.
The platform offers simple and visually intuitive layouts that help make your work sequences clear and easy to follow.
monday.com also provides project management and resource modules that include useful collaboration tools.
For instance, you can create your project boards, mention team members, add comments, attach and upload files to cards, add more preset or custom columns for your tasks, and more.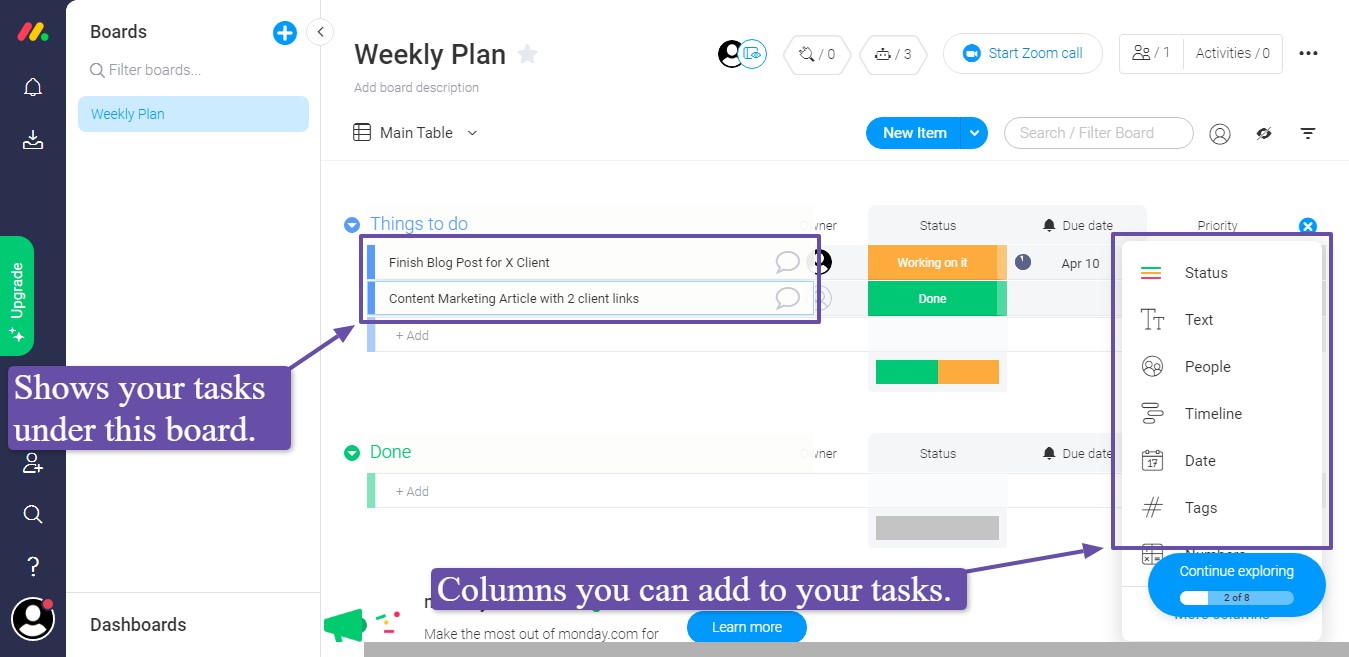 You can also create custom automations for date reminders, notifications for team members, moving or archiving items, etc.
Additionally, the platform offers many app integrations, such as Google Calendar, Dropbox, Typeform, and more.
By using project management tools, you can easily track the progress of your marketing projects, tasks, and workflows — which helps you collaborate more efficiently with your team.
2. Work with online video conferencing platforms
One of the best ways to communicate effectively with your marketing team online is through video conferencing.
Plus, conducting online meetings is much more efficient than a string of long emails and playing the waiting game to get responses from your team members.
You can also use video conferencing software for your marketing strategies, including publishing online tutorials, conducting webinars, running live events, and more.
Web-based audio and video webinar solutions such as ClickMeeting, for instance, can help you with your internal communication needs and your marketing efforts.
The platform offers features to help you set up your online events, link your existing contacts, send out invitations, configure automated follow-ups and promotions, and more.
ClickMeeting provides an event room with features that let you add presentations, use a Whiteboard with drawing tools, share your screen, conduct surveys, and more to run your webinars and online meetings.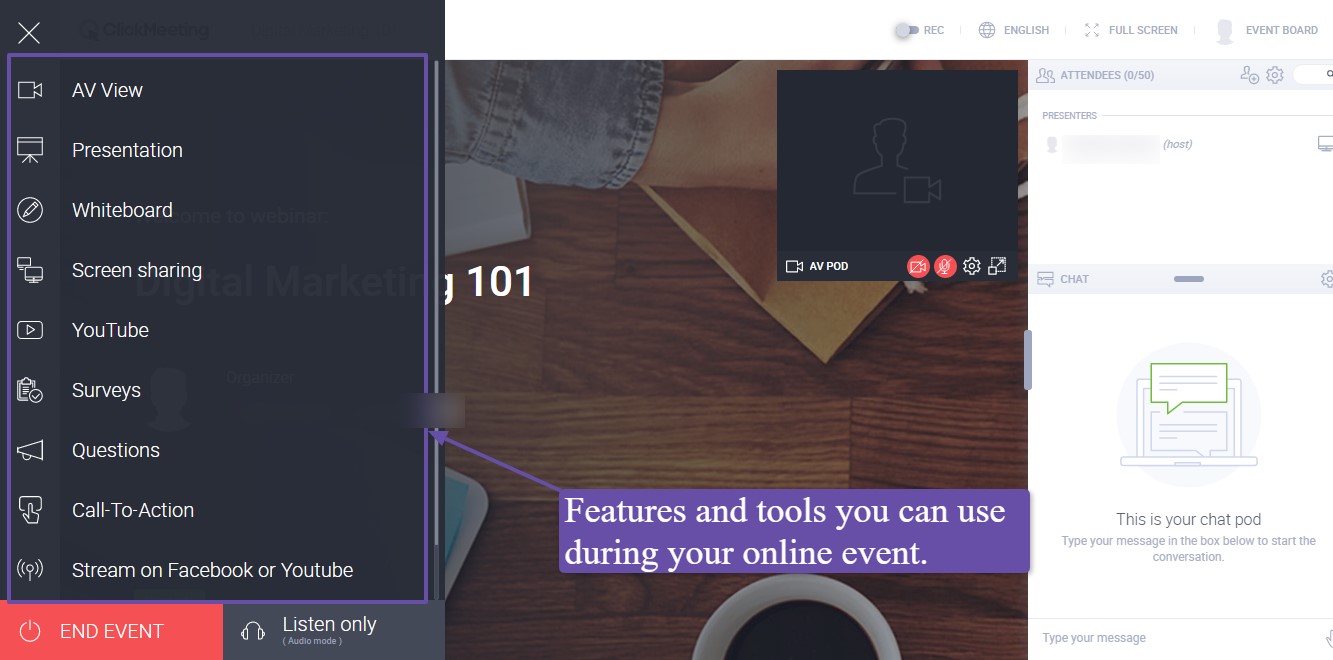 You can use your online events to host presentations for your marketing team, run webinars for your customers, and more.
Also, to help ensure that your webinars are relevant to your audience, your content needs to speak to their pain points.
This way, you can improve your content and avoid the factors and reasons why blogs suck and learn what you can do to improve them.
Plus, you can use the Discussion mode on ClickMeeting to turn your event into a meeting room and communicate more effectively with your marketing team.
3. Improve the management of your digital assets
Getting quick and easy access to critical documents and files is crucial to help ensure seamless and efficient workflows for your marketing team.
This is why you need to organize your digital assets properly, so your team doesn't waste time and energy on sorting through thousands of files, images, etc. to use for your marketing tasks and campaigns.
To help your team manage your marketing materials better, you can use digital assets management software such as Canto.
The software lets your marketing team organize, access, and share videos, images, and other brand assets easily.
Canto creates smart folders and albums for your assets, and you can create a custom organization structure and sorting options to find your content by date or alphabetically with one click.
For instance, if you want to find an image in the entire library, folder, or album by type, you can switch to a "List" view, click on the "Type" column header, and Canto will automatically sort the images to the top.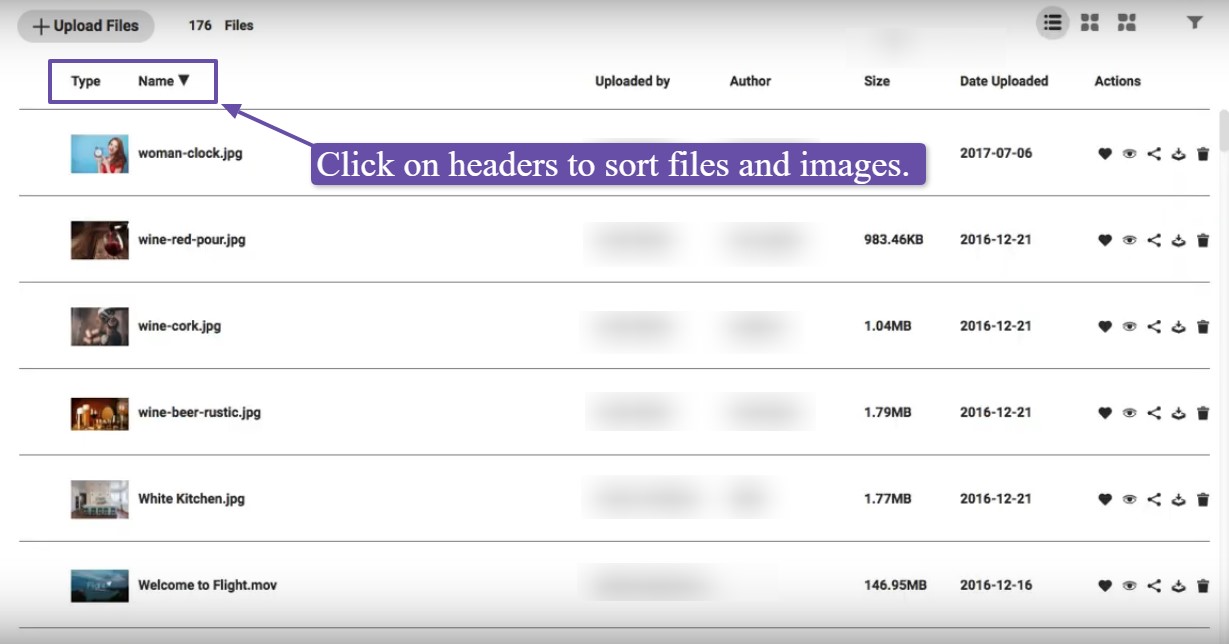 You can also label themes, campaigns, templates, products, and other media libraries with tags, automatic smart tags, and keywords.
This gives your files more context — making them easier and quicker to find.
Using digital assets management software can also help you categorize your materials to help avoid mixing your brand assets with those that you use for your other ventures and online side hustles.
4. Leverage content curation tools
Maintaining a social media presence is vital to your ecommerce marketing strategies, and doing this successfully means engaging your audience through your content.
However, churning out attention-grabbing social media content can be a time-suck, and it can eat up a lot of your marketing team's work hours.
An excellent approach is to curate your social media content.
To help streamline your content curation efforts, you can use social media management and content marketing platforms such as ContentStudio.
The platform lets you search for trending and relevant content in your industry and follow your custom topics.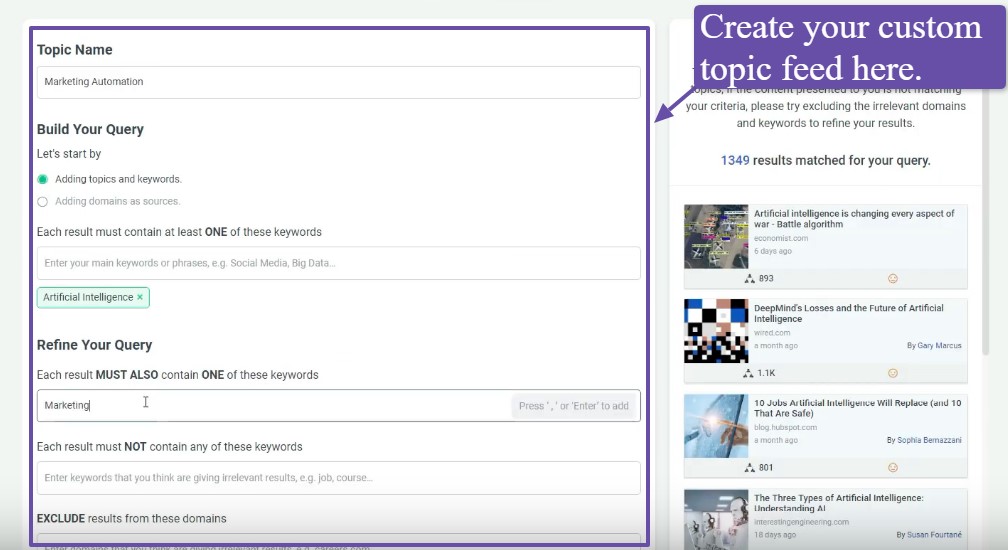 ContentStudio also provides features that include letting you embed content from your chosen sources, work with other functionalities like an image editor, UTM manager, trending hashtags suggestions, an SEO optimization toolbox, and more.
You can also expedite your content workflow by planning campaigns and collaborating with your marketing team from an interactive calendar or list view.
With this, you can approve, reject, schedule, plan your content for your multiple marketing channels from one location — which can help improve your social media marketing strategies.
Plus, just how you would conduct an SEO audit to help you gain insights into the type of web content your site visitors want from your brand, working with content curation tools can also help ensure that you're sharing relevant topics that can best engage your audiences.
By using content curation tools, you can streamline social media content production, collaborate your efforts with your team, and engage your customers better.
Also, tools like this will help everyone on your marketing team track the performance of your social media campaigns — which can aid in improving your strategies.
Final Thoughts
There are countless ways to implement your ecommerce marketing strategies successfully with your team virtually.
The key is to work with the right tools that best fit your team and your business, plus those that will help you achieve your marketing campaign goals.