We all understand the difficulty of the job search.
Creating a resume and applying to countless jobs online takes a lot of dedication and persistence.
But that's not the part that most people worry about. What most people stress over is the job interview.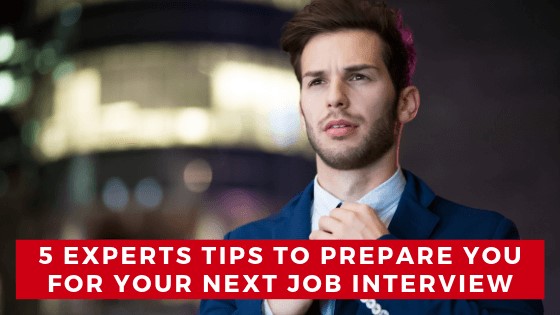 Not sure what to say during an interview? Looking for some advice to help you ace it? Today, we've got five job interview tips from the experts to help you land your future gig!
#1 Do Your Homework
When you land an interview, it's time to study up on the company and learn more about the role. You have to do your research before you walk in the door.
It's common for an interviewer to ask what you know about the company and why you want to work there – so you'll need to have a good answer prepared.
They ask this because they want to know that you've taken the initiative to learn about them. This is the perfect chance to show them that you've done your research!
If they don't ask that question, figure out a way to work in some knowledge. One way
is to ask questions about the future of the company:
"I know that you're a leader in HR automation…which software programs are you currently using and which are you considering for future use?"
Questions like this are sure to impress the manager. The more you know about the employer, the more likely you are to have a successful interview.
During the research process, consult websites like Glassdoor. Look at the company's social media pages and blog posts, too. The more you know about the employer, the more likely you are to have a successful interview.
#2 Practice, Practice, Practice
You know the old saying "practice makes perfect"? It's true! Grab a friend or a trusted colleague and practice your interview skills!
You don't need to prepare specific answers to every potential question, but you should know how to answer basic questions about yourself. Practice answering questions about your skills as well.
The more you practice interviewing, the more comfortable you'll be speaking about yourself. There's a fine line between explaining your accomplishments and bragging about your experience. Do mock interviews with someone you trust and ask them to tell you the truth about how you're coming across.
It's also important to practice giving clear, concise answers. Nobody wants to listen to your life story or hear every detail of your last job. But you should be able to provide specific examples that illustrate why you're equipped for this role.
Practicing will help you figure out which topics to focus on and which to avoid.
#3 Arrive Early
Arriving on time is almost as bad as arriving late, so plan to get there at least 15 minutes ahead of schedule.
In order to arrive early, you must plan ahead. Lay out your outfit, learn how to get there, and figure out where you're going to park. You may want to drive to the location the night before so you know exactly how long it takes to drive there.
No matter what, always allot some extra time for traffic. The last thing you want is to get stuck in traffic on your way to a job interview!
If you show up late, or even at the exact time of the interview, you can kiss that job opportunity goodbye.
#4 Be Respectful
If you want to get the job, you've got to show respect to everyone every step of the way. That includes the receptionist that greets you at the front desk and everyone you see in the hallway – not just the person doing the interview.
Companies look for people who they want to work with. Being courteous and polite is a great way to show that you're a team player.
Go in with a bad attitude or say something rude to the person at the front desk, and you definitely won't get the job (even if the interview goes well).
Being respectful goes hand-in-hand with having a positive outlook, so show them you're a positive person by breaking out your best manners.
Look them in the eye when you shake hands. Say "thank you" when they usher you in and when you're saying your goodbyes.
When it comes to landing a job, acting like a professional is half the battle.
#5 Prepare Questions to Ask
There will undoubtedly come a point at the end of the interview when the interviewer asks if you have any questions for them. Have a few on hand.
If you don't ask anything during this portion of the interview, they'll most likely pursue other candidates. Companies want curious employees who are eager to learn, and asking questions will show them you have these traits.
But remember:
In an interview, not all questions are good ones.
There are certain things you want to avoid asking about, even if they may be the things you're most curious about.
For example, avoid asking about salary and vacation time.
It is okay to ask about benefits packages, but proceed with caution. Phrase it the wrong way, and you could look like you're more concerned with leaving the office than working there.
Instead, ask questions about the company or the job itself. You can ask things such as, "What is your favorite part about working here?" or "Are there opportunities for professional development?"
With questions like these, you'll end your interview on a high note!
Conclusion
Ready to ace your next interview? Now that you know the tips and tricks to do so, you're one step closer to getting that job!
So do your homework, practice beforehand, and prepare some questions of your own to ask. Arrive early, be respectful, and conduct yourself with poise and confidence. Stick to these expert tips and that job is sure to be yours!
Author bio:

Ryan Sundling is a Group Marketing Manager at Cardinal Group Management. With more than ten years of experience in the student housing industry, he works with Dwell College and Crown to optimize their marketing efforts.