Dubai has been the hot-spot both in terms of weather and residence. Every year, millions of people decide to relocate to this city. The very fact that you don't need to pay income tax in here, attracts many.
But is the shift as easy and attractive as the city? No, definitely not. You need to have your master plan ready adhering to all the specifics if you want a smooth kick-start in a new city. You are taking one of the biggest, if not the biggest decision in your life.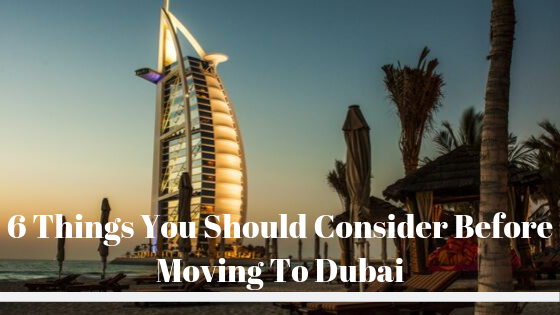 Here are a few pointers for your consideration, before you make the big move:
Get a job in Dubai
The sequence must be to first find a job, appear for the interviews and crack it, followed by the big shift and not the opposite. If it's the latter, you will invite a lot of unwanted confusion and stress. Plus, if you have a job before going there, you will also be acquainted with a few people who will guide you with other things about the procedure. Start searching for your desired job well in advance, it should not be like a fortnight before your flight. Set aside a minimum of 3-6 months for the research. Don't rush, it's going to be a life-changing decision.
Don't settle for less
First up, calculate the cost of living you will have to incur in Dubai. It majorly depends on the country you are migrating from. Your final package must adhere to your industry benchmark, your experience and of course, the relocation expenses. You might find this an extension of the above point. Well, yes it is but this time with the idea of 'Don't settle for anything less than the best!' Research well, most firms there pay for the airfare, insurance, children's schooling, and housing expenses. Don't get carried away with the exciting thought of moving to foreign. It wouldn't be fun with all the unpaid bills and a below-average lifestyle.
Rent a place
In the initial days, it's always wise to pick renting instead of purchasing. The hefty investments that the real estate demands, would pinch your pocket so early in the shift. Renting is a cheaper and more efficient prospect. Look out for places in close proximity to your workplace with basic needs for your daily lives – like a hospital at a walking distance, ration shop in the nearby market and several other factors.
Be careful with tenancy contract
For renting a place in Dubai, you would need a residential visa, which in turn requires a work visa. The reason why we started this piece of content with 'Get a job'. All the financial dealings will also demand a bank account. To avoid fraudsters, deal only with registered dealers and while writing cheques, ensure it is in the name of the landlord. Ask him for his title's deeds and passport for identity. You can't afford a scam at this stage of the big move, so double-check every step in the process.
Try street food
All of us want to have a fine dine experience in a 5-star restaurant. You can certainly treat yourself dinner in this setting once in a while, but if it becomes a daily affair it will take a toll on your savings.  Be wise with your choices. Blend in their culture and hit the local cafeterias. Grab a bite at the streets to taste the real tradition and culture of Dubai residents. You can also explore your choices on the online food delivery portals like Zomato, Uber eats, Swiggy and similar others.
Save money
Financial crisis doesn't come knocking at your door, it is always wise to be prepared at every given point of time. For instance, if you are planning to stay there for long, which most likely is true, think about renting a car on a monthly subscription. It saves you from everyday hassle and is cheaper than public transport. Plan out and strategize similar ways that can save you unnecessary spending.
Now that we have reached the end of this piece. Here's one last thing, you are going to love Dubai! It is one of the most sought-after places to reside in. People from 192 countries reside here. But remember, if you are not wise with your decisions, it will burn a hole in your pocket.