Whether you're a student or a business professional, getting work done requires operating multiple programs at once. Between word processors, the internet, and email programs, regular laptops quickly get overwhelmed and start slowing down.
When you add resource-intensive software into the mix, it's hard to multitask with a laptop that can barely keep up. Trying to multitask with a slow laptop gets frustrating and ends up wasting your time.
If you're like most people, you like to listen to music while you work. Or maybe you want to leave a YouTube video running in the background while you work. Laptops capable of handling these multiple programs need a fast CPU and lots of RAM.
The more computing power your laptop has, the better you'll be able to multitask.
Here are the seven best laptops for multitasking in the work-from-home era:
1. ASUS ZenBook Pro Duo
The ASUS ZenBook Pro Duo uses an innovative dual-screen design that changes how you multitask with your laptop.
With the dual-screen setup, you can use the extra space to open programs that complement your work on the main screen. While in a full-screen Zoom meeting, you can review your notes on the ScreenPad Plus without looking away from your laptop.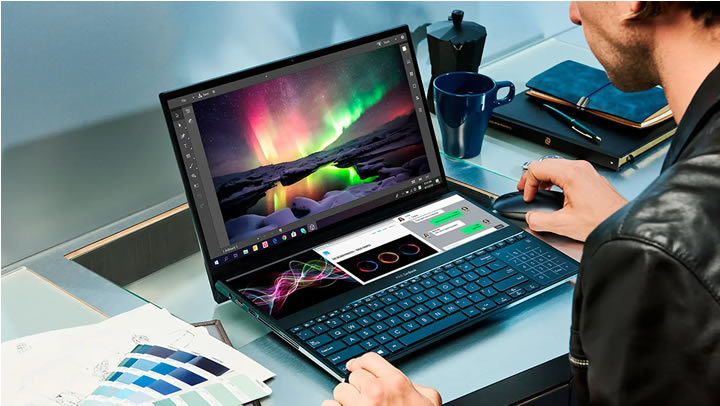 The ZenBook Pro Duo is a high-powered machine with an 11th-generation Intel i7 CPU and the NVIDIA GeForce MX460 GPU.
Both the primary screen and the ScreenPad Plus present smooth visuals. You will enjoy high-quality graphics without sacrificing exceptional performance. You can feel confident running multiple resource-intensive programs on this laptop.
2. ASUS ExpertBook B9
The ASUS ExpertBook B9 is a high-powered business laptop designed to blend power, precision, and portability.
This laptop comes with a 66-watt-hour battery which allows up to 20 hours of use when playing videos. The ExpertBook B9 uses fast-charge technology, which will enable you to charge the battery to 60% in under 40 minutes.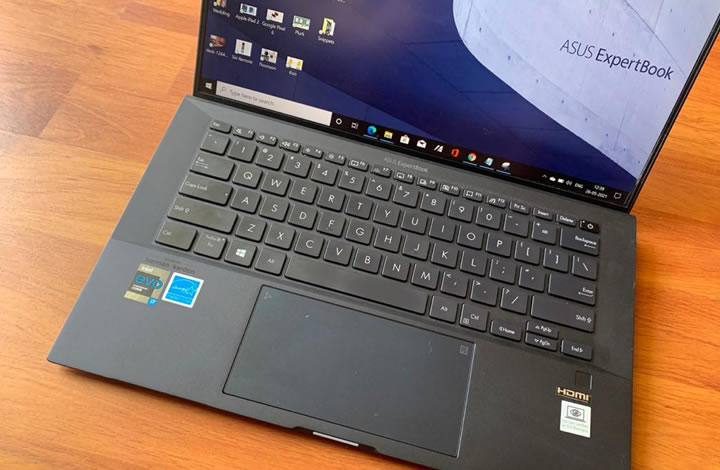 You can handle any type of editing or programming with this laptop, thanks to the Intel vPro CPU and the Intel Iris X GPU.
You can equip the ExpertBook B9 with up to 32GB of RAM, allowing blazing speeds even while running multiple programs. The ExpertBook B9 makes it easy to connect with various devices in your office by including numerous HDMI, USB, and Thunderbolt ports.
The ASUS ExpertBook B9 also enhances the work-from-home experience by using AI noise-canceling technology. It mutes distractions picked up by your microphone during video calls, allowing for precise and high-quality audio.
3. Lenovo Legion Y540
The Lenovo Y540 has an excellent design to suit content creators.
This laptop features a 15.6-inch full HD anti-glare IPS display, making it easy to split program windows as you multitask. The Legion Y450 is powered by the Intel i5 CPU and the Nvidia GeForce GTX 1650 GPU.
This laptop is a solid option for people with business needs or slightly above-average media needs. The Y450 also comes with 8GB of RAM and a huge 1TB hard drive in addition to a 256GB solid-state drive.
4. HP Envy x360
HP Envy X360 is among the best laptops for multitasking if you're on a budget.
This laptop comes with a 13.3-inch 1080p touchscreen and only weighs 2.9 pounds. Thanks to the AMD Ryzen 5 CPU and AMD Radeon GPU, you can feel confident running multiple programs or resource-intensive games.
The HP Envy X360 is also known for its long battery life, a valuable feature for students and business owners.
5. Samsung Galaxy Book Flex
The Samsung Galaxy Book Flex has a beautiful design enhanced by high-speed performance.
This laptop uses the Intel i7 CPU and the NVIDIA GeForce MX250 GPU. With 12GB of RAM, you can feel comfortable editing images or videos while listening to music and browsing the web.
The Samsung Galaxy Book Flex also comes with a 15.6-inch 1080p touchscreen and a bundled S-Pen. The touchscreen interface is excellent for enhancing productivity while multitasking.
6. Dell XPS 17
The Dell XPS 17 is a great all-around machine for people who need to stay productive. The XPS 17 uses the NVIDIA GeForce GTX 1650 Ti GPU, the Intel i7 CPU, along with 32GB of RAM.
With these internal components, you can comfortably run multiple programs that use a lot of computing power. The XPS 17 comes with a fast 512GB solid-state drive for quick access to your files.
If you enjoy listening to music while you work, you'll appreciate the powerful quad speakers included with the Dell XPS 17.
7. Apple MacBook Air A1
The latest MacBook Air is an excellent laptop for multitasking. The new A1 chip helps the MacBook Air perform exceptionally well under stress. The MacBook Air can get up to 14 hours of battery life while providing fast and consistent performance.
In addition to the M1 CPU, the MacBook Air uses an integrated 8-core GPU and up to 16GB of RAM. Despite all the computing power in this laptop, it only weighs 2.8 pounds. You can upgrade this laptop to include up to 2TB of space for your files.
The MacBook Air also comes with a 13.3-inch display with a 2560 x 1600 resolution.