We all know how much bikers love their motorcycles. To most of them, they are much more than a vehicle that gets them from point A to point B, which is why they are always on the lookout for things that could improve the riding experience. Luckily, we're living in the age of modern technology and many accessories and gadgets for bikes are now more available than ever, especially since most shops deliver products worldwide. So, what are some of the coolest and most useful gadgets and accessories you should get?
Multi-tool
Though this is not really hi-tech, it's absolutely necessary. You simply need to have a good pocket-sized multi-tool that you can carry with you at all times in case you need a quick roadside fix. Make sure the tool features all hex wrenches you might need, an open-end wrench, sockets and a socket driver. Believe it or not, all that can fit right in your pocket and is an absolute must.
Tire and tube repair kit
One of the worst things that can happen to every rider is to get a flat tire in the middle of nowhere, which is why you should have a tire repair kit for roadside emergencies. Not only should your take it with you always, but you also need to know how to fix such a problem. Typically, such kits contain various patches and hand tools, as well as small CO2 canisters to re-inflate a flat. Most of these kits can also be used for tubeless tires, too.
Tank bag
Each true biker should personalise their motorbike and that is something that is nowadays very easy to do. All you have to do is find the motorbike accessories you like and customise your ride. One of the things you might want to consider are tank bags, which allow you take your essentials along for the ride without worrying about where to store them when you're off the bike. Modern magnetic-mount tank bags allow you to simply untuck the shoulder straps and helmet cradle and you're good to go. Such tank bags are water-resistant, padded to prevent scratching your bike's finish and provide enough space for all your gear. Still, the best part about them is that integrated shoulder straps turn these bags into backpacks, which allows you to take them wherever you go.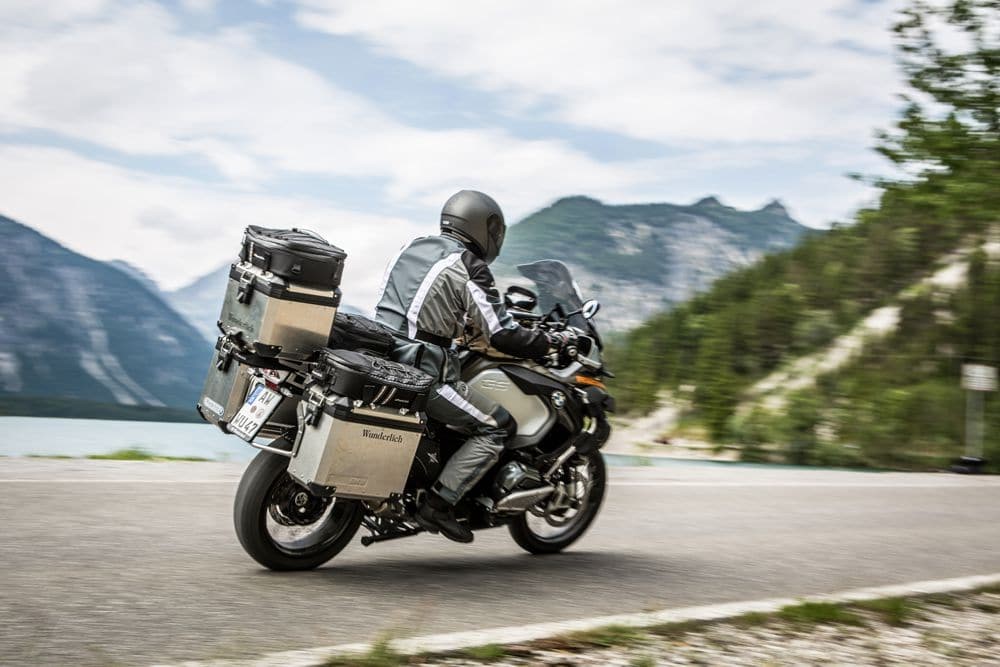 Communicators
These come in various shapes and sizes and are fantastic tools for talking to your riding buddies or your friend riding co-pilot. Some communicators boast premium features, such as voice-command operation that operates on simple commands and are even operational with OK Google and Siri, which allows you to make phone calls while riding. Top-range models provide fantastic sound quality, which is very important because of all the background noise.
GPS
With so many GPS devices out there, it's hard to choose the best one. Still, if we had to make a recommendation, we'd advise you to opt for a system that is designed specifically for bikers. That means that your new GPS device should be waterproof, with a bright, user-friendly touchscreen and it should have a battery that can last several hours. Such systems can be paired to a Bluetooth headset, so that you can receive turn-by-turn spoken instructions.
Power supply
With so many gadgets, you need to think about how you're going to recharge them, which can be an issue while on the road. Still, you can get a reliable power bank with a complete array of charging adapters, including mini jumper cables, which is also light and easy to carry, making it ideal for motorcycle touring.
Alarm disc lock
Motorcycles can be stolen much more easily than cars, but you can make it much harder for would-be-thieves by installing a good lock. Probably the best option out there is a high-strength stainless steel disc lock with a built-in alarm, which boasts an easy-to-use push-down locking mechanism and a hardened steel pin, as well as a self-arming alarm with shock and motion sensors. Remember that investing in such a gadget will deter many potential thieves from even trying to steal your bike and possibly failing to do so, but causing a lot of damage in their attempt.
These even accessories and gadgets will surely improve the experience of riding your bike and will make it even more memorable. However, it's important that you choose only top-quality products to avoid disappointment and to truly reap all the benefits they offer.