Everyone has a desire that their kitchen looks stunning and the interiors harmonize well with living area of the house. Are you tensed that because of making fried food items your kitchen will get tough spots? Your children will make the kitchen walls ruthless? If you too are having these problems, do not worry! There are numerous innovative kitchen splashback materials such as acrylic, glass, and PVC which will relieve all your kitchen related dilemmas.
What is Splashback?
Splashback is required to keep your kitchen walls safe from marks, strains, food platters and other stubborn spots. It is very important to protect the walls behind your cooktop and sink area. It also gives life to an ordinary kitchen.
Today, there are plentiful varieties of colors and patterns present in the market when it comes to the designing of the kitchen. Additionally, there are Seratone Panels, Duropal HPL Pyroex, glass, granite, marble, steel, and PVC which you can use in your kitchen splashback. Stainless steel is also one of the options you can use. It gives a unique vibe to the kitchen.
Note: Make sure that it blends well with other interiors of your kitchen.
In the earlier days, there was a huge demand for tiles in a traditional kitchen. Cut to present,  acrylic kitchen splashback rules the entire market. Glass and stones remain luxurious material for most of the people as both substances are intangible, they are less in demand.  Mirror sheets are new era designs used in various kitchen splashback these days.
In the forthcoming section, we will provide a detailed information about the type of material you can use for kitchen splashback, including quality, price, color, and warranty differentiation of each splashback material. So let's get started.
8 Things to Know While Buying a Kitchen Splashback
Whenever you are planning to buy kitchen splashback or any other interiors, make sure that the material is durable. This way it can enhance the beauty of your kitchen. The best part: If the kitchen splashback is installed properly it can last for 20 great years.
1. Colors and Patterns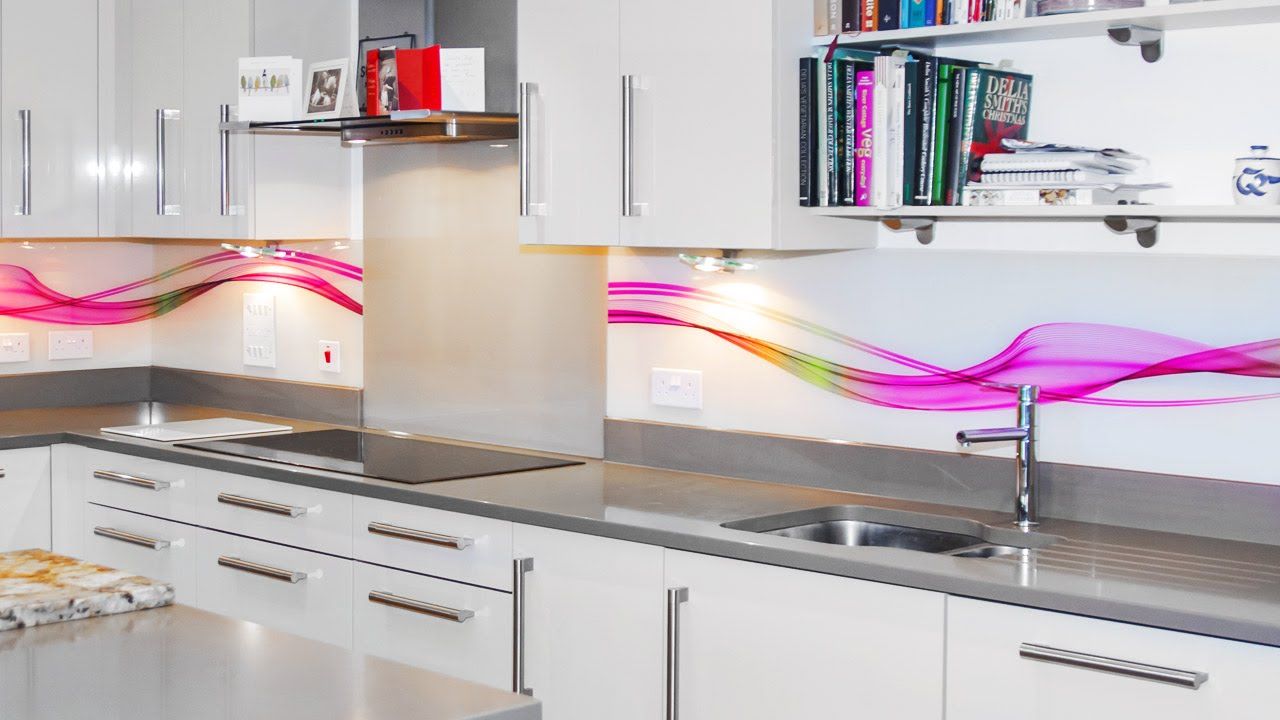 Before deciding anything, imagine a color which will go best with other interiors of the kitchen. Most people get confused about which shade will suit their cooktop or sink color. In glass, acrylic, and stones there are endless colors and texture which you can use to remake your kitchen. You can also ask your neighbors who always have some or the other suggestions. Acrylic splashback has an everlasting variety of colors and texture in comparison to glass.
2. Cost
The laminated glass, as well as stones like granite and marble, will cost you much higher than acrylic splashback. If are an expert in installing the splashback by your own you are already saving lots of money. In case, you decide to opt for a designer, any material would cost extravagant installation charges. This cost would vary from $300 to $1300, as per the city you are living in. Pyroex panels are the most cost-effective splashback for your kitchen. The size and tilling procedure also play a vital role in the cost of these panels.
3. Beauty
It is said that beauty resides in the eyes of a person and that is a half-truth. If at all you are paying a huge amount for your kitchen splashback. So, you would want it to look grand? Yes or no? Glass and acrylic steal all the show when it is attached in any kitchen splashback. Sometimes the sheets look dull but when it is once fixed to the kitchen, it gives amazing sight. It all depends upon the type of contrast color you are choosing and the smartness with which you employ your interior skills.
4. Heat Resistance
Not all glass or stones have a great resistance in comparison to the tiles. Toughened glass or perspex can handle heat up to 400°C. Currently, many companies have come up with kitchen splashback materials which can have great resistance overheat. The strongest factor about acrylic panels are, they have protection against UV rays and direct flame which makes them one of the best alternative for a compact kitchen.
5. Durability
Tiles and acrylic product are much durable in comparison to glass and stones. When you bump a heavy volleyball to the glass panels, it will get broken. There are laminated acrylic sheets which could be an excellent material for installation. Most of the material last for at least 20 years if proper care is imparted. You can always trust acrylic when comes to modern kitchen splashback.
6. Installation
Most of the people don't like the splashbacks installation process which takes almost 2 to 3 days. It also requires lots of heavy tilling instruments. Glass is heavy material so its mounting requires concentration and strength. Stones settling and tilling is a  bit complex process and needs to given proper attention. Acrylic has lightweight. It can be simply attached to the walls after cutting the sheets and fixing it to the board.
7. Maintenance
The glass is an attractive material. But do you know the worst part? It gets the highest amount of dirt on its surface. You need to clean glass every day with a mop.  Acrylic panels are prone to get the scratch so a smooth cloth and warm water must wipe it. Tiles are the hardest substance to clean as it gets yellowish and dirty if not washed from time to time. Remember, every material would demand some care and maintenance to sustain its shine.
8. Warranty Period
Warranty is not available in most of the material for splashback as every person has a different way of maintaining their kitchen. Some folks like daily cleaning while others choose weekends for washing the entire splashback. Many brands offer a lifetime guarantee on different splashback materials. Also, 7 to 10 years warranty is available in all premium acrylic products.
We hope now you will not hesitate in choosing material before going to a store for buying kitchen splashback.  A material which is not just fancy but also functional works best for any kitchen. We have given all the required information and now it is up to you which material you are choosing to give an exceptional look to the  kitchen.