Represented in bars or packages in shops, easy to prepare at home and commonly found in coolest coffeehouses, granola has become an extremely popular breakfast or snack edition because of its impressive health benefits. What is hidden under the highlight of granola, which, on the face, seems to be an ordinary product? Let's consider all its useful properties by comparison to frequent ingredients, and share a few research notes regarding the use of its product.
What It's Made Of
Incredibly popular in the USA cereal breakfast called granola is a truly top food among the healthy food devotees. Baked oatmeal mixed with various additives is capable of becoming the successful beginning of the day.
Personally prepared snacks or ready-made bars based on granola aimed to imbue with energy, improve digestion and satisfy the hunger for a long time. Moreover, baked cereal combined with honey and nuts is frequently used as part of dieting and leads to successful weight loss.
American breakfast is best suited for healthy nutrition, not only made of oatmeal but of buckwheat and rice cereal as well.
Nutritional content
Granola is both nourishing and energy-rich product. It contains many essential vitamins and minerals: sodium, potassium, zinc, phosphorus, iron, calcium, tocopherols, ascorbic acid. Such a meal provides energy surge and strengthens health.
Impressive Healthful Effect of Granola
The snack is in no matter better for a proper diet. This product is an excellent source of slow-burning carbs, dietary fibers, vitamins, and trace elements. Thus, in addition to delicious and crispy taste, it embodies also a vast range of positive effects on the body.
Overall Digestive Health
Granola was created specifically in order to improve nutrition. As opposed to oatmeal or cereal, granola does not require cooking or any additives, so it can be safely eaten dry.
The main advantage also lies in precious fiber, which saturates the body and stimulated the correct work of the digestive system. Granola, in its natural form, doesn't contain any preservatives, flavor enhancers or transfats.
Harmony and Lightness
Complex carbs, which are part of granola, contribute to rapid saturation and usually absorbed very slowly that significantly reduces the risk of obesity. A small amount of food is enough to be saturated for a long time, thus granola is often included in a variety of fast programs. As the easiest of healthy granola recipes for a newbie, try healthy banana granola.
Reduced Cholesterol Levels
Soluble fibers found in oats reduces the bad cholesterol level. They connect bile acids in the digestive system, which contain cholesterol and draw out of the body.
Raised Energy and Good Mood
Cereal, which serves as a basis of granola, regulate the glucose levels due to the fact that they are slowly absorbed. Those who had a snack for breakfast made of whole grains will not be disturbed by a hunger for a very long time since a person will be vigorous and full of energy until the launch.
Since granola has a lot of variations, it can surprisingly diversify the meal, even on holidays. For example, holiday spice granola recipe's healthy ingredients may be performed in beautiful decorative jars as a gift with a cooking note, or surprise your loved ones by preparing tasty granola recipes to your taste and on your own.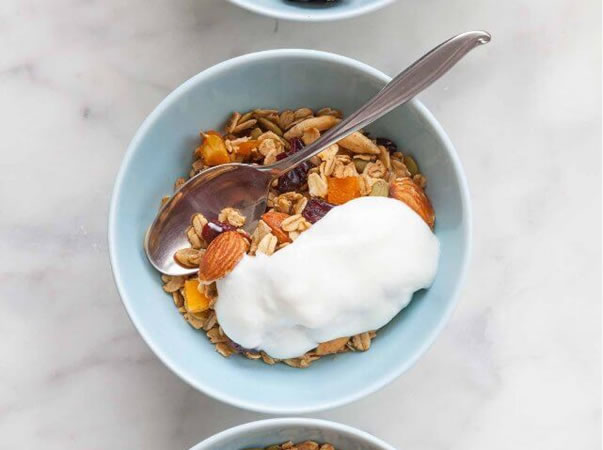 Reduced Risk of Cancer
Manganese and Vitamin C are considered excellent antioxidants that protect the immune system from viruses and other pathogenic bacteria. Their tandem also stimulates white blood cells, reducing the risk of cancer cells.
High mental function
During the whole day, brain activity occupies 25% of the body's energy. Omega-3 fatty acids, including the overall enriched mineral profile, ensure the normal brain functioning and help to recover from mental and physical stress. Normalized blood circulation also becomes a key factor in providing good brain activity and concentration.
Normalized Blood Pressure
Tocopherol is highly valued in the product because it takes part in strengthening the blood vessel walls, improving heart function, protecting the skin from premature aging and the influence of negative environmental factors. Fiber helps cleanse the arteries from fatty acids and cholesterol, which can cause high blood pressure, atherosclerosis, and even stroke.
Improved Skin
Positive effect on the skin, hair and bones condition is ensured by arguably one of the most motivating points of any proper nutrition. That's the way the healthy digestive system is grateful to its owner.
Granola is a great source of healthy fats, which are contained in nuts, seeds, and oil. A serving of granola gives about 4 grams of monosaturated and the same amount of polyunsaturated fatty acids. That is exactly the factor that prevents the development of skin allergies, preserves collagen, which is responsible for skin elasticity, eliminates peeling and dry skin, accelerates faster healing of the skin, and retain moisture inside the skin.
Cautionary Statement: This is a really high-calorie product (around 450 calories per 100 g of standard granola), though sometimes people forget about it. That's why, extra eating of granola can turn into a big problem, especially in the case of primary goal to lose weight. Generally speaking, cereal is fiber (carbs) that may be problematically absorbed by people with gluten intolerance.
Being a snack, granola can't replace warm and balanced food, needed for healthy and daily nutrition. It's not uncommon to add sugar syrup, roasted nuts, oil, and other harmful additives. Of course, such ingredients make the product tastier, but by no means beneficial. The best way to avoid harmful effects lies in learning to cook granola yourself and enjoy it moderately.