The number of esports competitions is skyrocketing, with major global brands investing in the sector to attract the hundreds of millions of fans that watch games in person and through live streams.
Are they the future though? Sports like football, cricket, rugby, basketball, hockey, golf, and tennis are hundreds of years old and have stood the test of time. But esports are a few decades old at most, with no guarantee of long term success yet.
What Are Esports?
An "esport" is a competition for video game players. Just about every genre of a video game is viable, including racing simulators, RPGs, first-person shooters, and sports simulators.
They're organised in both tournament and league formats, with some taking place over several months, just like a traditional sports league. There are also tournament-type games that may happen over a weekend or just a day.
Most events take place in large arenas in front of huge audiences, just like with any other indoor sport. Instead of watching a court or pitch, fans have their eyes focused on large screens that show them what's happening.
For fans that can't make it to the game in person, esports are broadcast on platforms like YouTube, Twitch, and Facebook. Some are even shown on traditional TV channels. One of the most prominent examples of this is the Formula 1 Esports Series, which is shown on the Sky Sports F1 channel in the United Kingdom.
Fans can even bet on esports events just like any other sport. Most major bookmakers now have some sort of esports offering, accepting wagers on popular games like Call of Duty, Counter-Strike: Global Offensive, Dota 2, and League of Legends. Customers can usually even use free bet offers, like the one offered by Betfred, for esports competitions in the same way they would for traditional sports.
In almost every aspect, esports are just the same as sports. The only major difference is that competitors play against each other in a video game instead of real life. It's, therefore, less of an athletic challenge, and more a test of skill.
Big Investments in The Area Of Esports
Esports is attracting a huge amount of investment, with video game publishers, hardware manufacturers, traditional sports leagues, and lifestyle brands all investing and sponsoring competitions.
For video game publishers and hardware manufacturers, investing in esports allows them to align their brands with the pinnacle of video gaming to promote their games. Just like in traditional sports, fans will want to play the same games as their favourite esports stars and use the computers, controllers, headsets, and other gaming peripherals that they use.
For lifestyle brands, such as the energy drink manufacturer, Red Bull, aligning with esports is a continuation of its existing marketing strategy of sponsoring cool and exciting events.
Perhaps the most interesting recent trend is that some traditional sports leagues are launching their own esports competitions. Several major North American leagues, including the NHL, NBA, and MLB have all either announced or already set up a league. In Europe, there are esports versions of major football leagues including the English Premier League which launched the ePremier League several years ago.
These esports leagues are designed to achieve several objectives. Firstly, they block other organisations by moving first and setting up their own esports competition in a particular genre.
Secondly, they help to promote the sales of their own video games. Most of these leagues have a public qualifier element, meaning fans can take part by playing the game themselves. This means that they must buy it first though.
Finally, it can help to promote the traditional sport. Esports fans may not necessarily be fans of traditional sports, but the leagues hope that they can win some over by getting them excited by the video game version.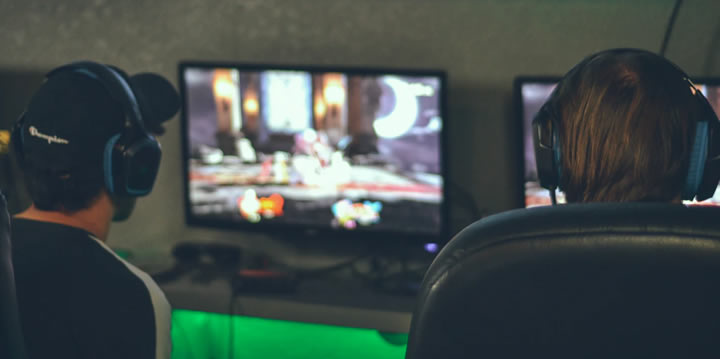 Are eSports Another Fad, or the Future of Sport?
Will competitive video game playing have a long history like traditional sports? Right now it's difficult to say. With so many companies spending so much money on the events and on sponsorship, it has some of the early hallmarks of a bubble.
It wouldn't be the first time we saw a bubble and subsequent crash in the sector. The video game crash of 1983 saw a huge recession in the video game market after it became saturated with too many consoles and flooded with poor quality games. Before the recession began, global video game revenues were around $3.2 billion, by 1985 they had fallen to just $100 million.
The early 1980s video game market and the current esports market are not necessarily directly comparable, but we're seeing a similar rush to get market share in an industry that's young and growing.
We're also seeing people looking to profit from esports in ways you wouldn't necessarily think of. For example, the University of Chichester launched a three-year bachelor's degree in "Esports Studies" in 2018.
The course includes elements of business studies, sports science, psychology, and events management, but it's most attractive element is that it requires students to play video games.
However, when you look at the university's own website the list of career prospects are quite limited. It lists "professional gamer, coach, or events producer" as possible jobs in the esports industry. However, at the time of writing, there don't appear to be any professional gamers that first studied esports at university.
Some estimates claim that 1 billion people watch esports around the world, although this figure may loosely include anyone who watched a single game. So it's not necessarily 1 billion dedicated esports fans.
The figure is expected to grow significantly in 2020 though, as more athletes from traditional sports leagues are beginning to get involved. The fact that esports are generally free to watch compared to traditional sports which can command expensive subscriptions makes them a cheap alternative for anyone on a budget.
It's too soon to predict what esports will look like in several years time, or whether they will be able to enjoy the same longevity that traditional sports have done.
It seems highly likely that there will be some sort of economic slowdown in the sector as the winners and losers of the current arms race start to become clear. This doesn't necessarily make it a fad though.