Art from Santiago Ribeiro at Times Square NY
A pioneering idea, the use of the giant screens of the world's largest multimedia square to share art with the general public.
This is in New York.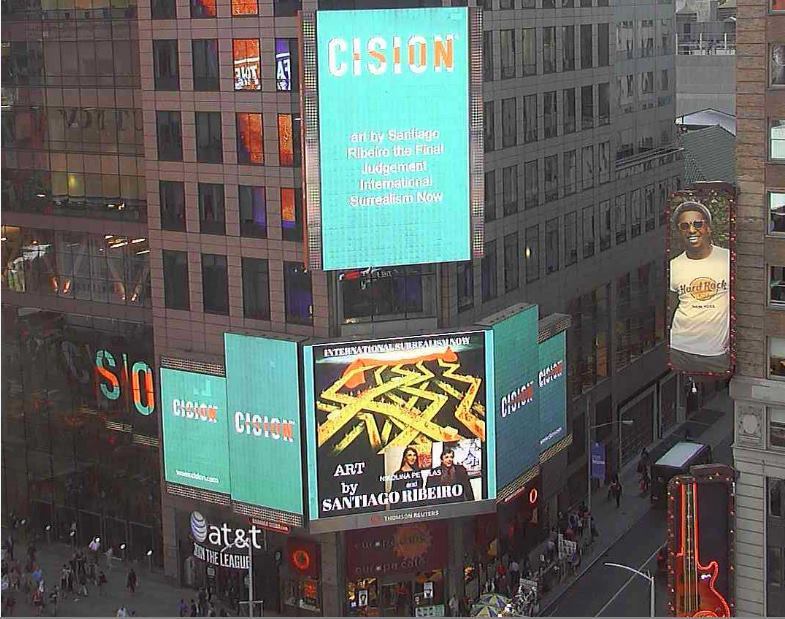 News arts & travel
The power of the image in Times Square in New York with the art of Santiago Ribeiro in Huffingtonpost.
News Art & Travel in New York city, United States, 21-11-2017
The continuity of the multimedia exhibition of Santiago Ribeiro in Times Square in New York in the international press. There are many international members of social communication that have made reference to the show of Santiago Ribeiro in the giants "screens" of New York.
In addition to the large personal investment some sponsorship comes from the Bissaya Barreto Foundation, Condeixa-a-Nova House Mayor and the North American MagicCraftsman Studio.
Times Square Thomson Reuters signTimes Square's Nasdaq OMX Group
Portuguese surrealist painter Santiago Ribeiro continues with the impressive multimedia exhibition in the giant screens of Time Square in New York, the show is already in the fourth month.
The founder and promoter of International Surrealism Now is now planning for the next phase of Surrealism Now exhibitions in Portugal in the center region. There are already several spaces for the end of 2017 and 2018.
The Times Square pieces are part of the International Surrealism Now group exhibit, an ongoing project that Ribeiro began in 2010 to showcase the work of surrealist artists from all over the world. He conceived the International Surrealism Now movement in Coimbra with a major exhibit organized by Bissaya Barreto.
As Ribeiro continues planning the project's next phase, he is testing innovative exhibition spaces such as Times Square. His ambition for Winter 2018 is to launch the largest world exhibition of contemporary Surrealism art in Europe. The initial exhibit of paintings, drawings, digital art, photographs and sculpture — with more than 100 artists from 48 countries participating — is expected to be shown at several museums, monuments and public spaces throughout Portugal.
Contacts:
Times Square
New York, NY 10036, USA
Info contact:
Santiago Ribeiro
santiagoribeiropainting@gmail.com
ESTRADA DA BEIRA 17, nº503, 5ºV, 3030-173
COIMBRA, PORTUGAL, UE
mobil number: 00351 964485027
Embassy adress and contacts:
Embaixada dos EUA Lisboa, Avenida das Forças Armadas 1600-081 Lisboa
Telefone: 351-21-727-3300
Fax: 351-21-726-9109
opalisbon@state.gov
https://pt.usembassy.gov/pt/
International Surrealism Now—Full Service.
The power of the press
In relation at Times Square Ribeiro has been mentioned by the media very often, Here are some examples:
From New York and United States:
Huffingtonpost;
THE COMMENT;
Times Square Chronicles;
New York City News;
Portuguese American Journal;
New York Statesman;
New York Telegraph;
New York Business Expo;
Art in New York City;
Today in New York;
New York Latino News;
New York USA eventer;
New York BUSINESS JOURNAL;
New York Events;
NYC.com;
New York City Guide;
New York City NOW;
The US News;
North America News;
US Press Association;
Daily Magazine;
VHM magazine;
Today in the News;
Long Island City Journal;
Long Island radio 106.1 BLI;
Brooklyn Down Town Star;
ManhattanWeek;
Central Jersey;
MetroSource;
Morningstar;
Maryland News Desk;
EconoTimes;
GOSPORT TIMES;
The Villages Suntimes;
StreetInsider;
MSNBC;
Herald Globe;
US and Canada report;
TeleTrader Public Web Station;
Globe Advisor;
Santa Fe News;
Springfield News Sun;
Big News Network;
Wn World news;
WorldWideWithKids;
Central Charts Silicon Valley Globe.
From Italy:
From United Kingdom:
The Guardian Witness;
Invest Money UK.
From Russia:
Pravda in Portuguese;
PublisherNews.Ru;
FotoTelegraf.ru;
metroNews.ru;
The New Chronicles.
From Portugal and Spain:
Diario de Notícias de Madeira;
Campeão das Províncias;
Radio Regional Centro;
iPress Journal;
Portugal Global;
Luso Jornal;
Luso Americano;
RevistaPort;
Bom Dia Europa;
Spain's Pressenza;
Diario Siglo XXI;
Estrela Digital.es;
Barcelona Digital 24Horas;
Tarragona Noticias;
Madrid Noticias;
Diario ABC;
Revista Digital Corazon;
Revista Cultural BlancoSobreNegro;
Noticias de Viajes;
PressPeople;
HechosdeHoy;
Stick Noticias.
From Suitzerland:
From Germany:
SchlauNews.de;
Unternehmen-Heute.de News;
DVZ24.NET;
News8.de;
PressRelationsPortal.de.
From France:
Le Parisien;
Bel 7 Infos;
75 Agende Cuturel;
Le Progrés;
Le Musee Prive;
Pressenza fr;
Le Guide Culturel.
From United States:
Don 411 New e e360tv;
Forex TV;
San Francisco Chronicle;
DC Life Magazine;
Supply Chain Dive;
Couth Magazine;
BestSeller Magazine;
Web 2.0 Journal;
a Rain of Thought;
Sightseers`Delight;
The Business Journals;
One News Page;
Olympia Journal;
Broadway World;
National Geographic;
tripadvisor;
Yahoo Finance;
World News.Easy Branches;
Digital Journal;
NEXT STOP magazine;
SouthCarolina Magazine;
Live Wire Reporter;
Eandt News;
Maine News Reporter;
Wisconsin Chronicle;
Tripura Newspaper;
NCR online Journal;
Get News;
MEERUT REPORTER;
Maria Liberati food and travel news;
MENAFNews;
SPi World News;
ForwardGeek news;
Magazine GREZOO;
The Woven Tale Press;
My Long Lines;
Paris Guardian;
Paris News.Net;
International Travel News;
cbsport.org;
MANUFACTURING MIRROR.
From Ukraine:
Vector News.eu;
20minut.ua;
Interfax.ua.
From Bulgaria:
From Pakistan:
From Phillippines:
From India:
Maharashtra Herald;
Sikkim Journal;
Ians.in;
Mumbai Daily;
SOA WORLD Magazine.
From Africa:
From Serbia:
Times Square New York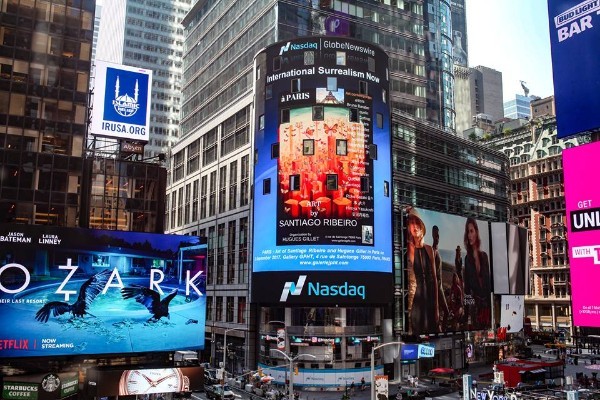 Entertainment & Arts Lifestyle & Relationships Travel & Tourism
Published By santiago ribeiro independent regime.