Created back in 2003 by BeLight Software, Art Text has already become a beneficial solution for typography and title art for all sorts of desktop publishing needs on a Mac. This solution will suit small businesses and graphic designers who work on text-based graphics and want to create different artistic text effects for flyers, brochures and create unique greeting cards.
Why using Art Text?
Readability isn't the only criterion for designers to follow when performing text design. Typography graphics must also attract attention. And that's where Art Text steps in to improve your experience and turn boring fonts into modern and stylish text graphics. Art Text provides users a chance to create eye-catching typography graphics, and what's more important, it does this with great ease, speed, and without much prior learning.
The focus here is placed on various text effects that transform traditional Times, Helvetica, and other fonts into appealing and attention-grabbing titles. Art Text has all the tools to create amazing headings and titles for flyers, brochures, posters, and create greeting cards for various holidays.
Photoshop and other graphic design apps may seem more functional, but they are rather universal for all sorts of graphics, while Art Text specializes in text design and helps to create text-based graphics from scratch literally in the twinkle of an eye. The collection of ready-made templates includes different text effect presets, materials, and custom fonts to work with. What is more important, you can modify all the presets to achieve different and desirable results.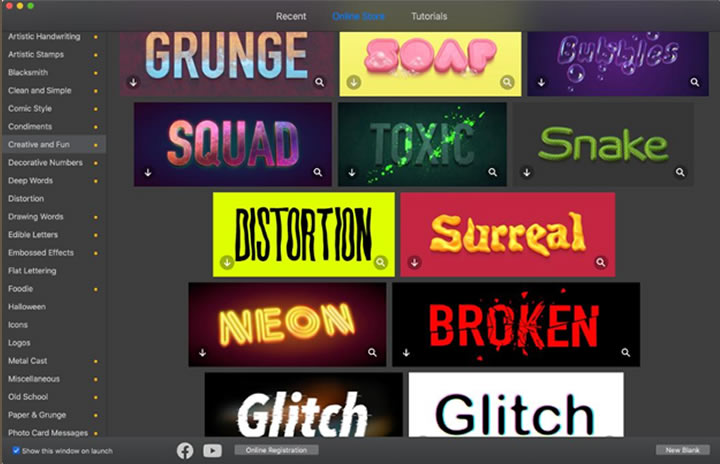 How to use Art Text?
Art Text is designed for boosting lettering and typography, although the area of the appliance may completely vary. From presentation titles to logo and greeting card design, and even creating magazine covers.
Once the design is ready, you have several options on what to do next. First, export typography you created to an image file on a transparent background, which will allow the use in third-party software and smoothly blend into any graphic and design work you may be working on. Also, copy to the clipboard can save time significantly by allowing users to paste Art Text graphics right into the design canvas of other apps.
Don't miss the opportunity to share your text design via social media or send it to your clients via email. You can even export 3D text graphics in a format suitable for upload as Facebook 3D Photo.
Text Effect Options
Art Text has various text design tools and over 400 ready-made templates for end-users to choose from, if you spend some time experimenting with these templates you will not only create your own text effects but will learn design tools offered by the app. The better you know the program, the easier and faster your interaction with it will be. Although, it is a pretty intuitive and one-click approach is valid for most of the app features.
A unique feature of Art Text is its ability to convert regular text into 3D typography on the fly. The program creates highly realistic 3D text effects thanks to a 3D engine, bump map, reflection mask, and features that control 3D object interference with light. This may sound difficult, but Art Text simplifies this with a great collection of presets that novice users can turn to.
If you are searching for means to impress the reader with unusual and rare text effects, then you must try the Spray Fill feature. The Spray Fill tool allows users to compose letters and texts with different objects like coffee beans, leaves, fruits, and even Lego pieces. Art Text comes with a great collection of fill objects and fill presets, as well as offering the ability to import your own photo-objects to use with Spray Fill.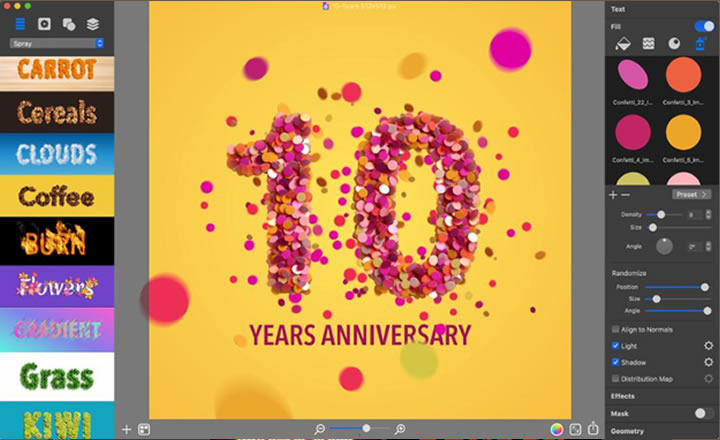 Handwritten fonts are available too, but the icing on the cake among them is watercolor text effects. That is how you can add pure tenderness and elegance to your greeting card designs.
With the program, you can work not only on designing texts but on customizing photos too. Creating artistic photo captions for Instagram, Facebook, or YouTube thumbnails.
Taking into account geometry text transformations are likely to be long-term survivors in the graphic trends, it is one more reason to give Art Text a try. Once you get familiar with Art Text, you will certainly come up with your own way to use text effects and typography graphics.