Who will give it up for the best advanced entry-level e-scooter, the Mearth S Pro? Lucky for you it is now up for grabs only at Ride Hub Australia – of course, only if you are the lucky winner of the Ride Hub Australia Giveaway Challenge!
Ride Hub, Home of Electrified Beasts (E-Rides) opened its very first mall store at the Macquarie Centre, NSW just last Sept. 12.
In celebration, Ride Hub partnered with one of its premium e-scooter brands, Mearth for this Giveaway Challenge.
So how does one win? You ask! All they simply need to do is follow the Easy-Step Process below of scanning and clicking!
This was all possible with the partnership of Mearth, the Pioneer in Australian Electric Scooters.
This giveaway promotion runs from November 5, 2022 – January 5, 2023, that's a two-month chance to win!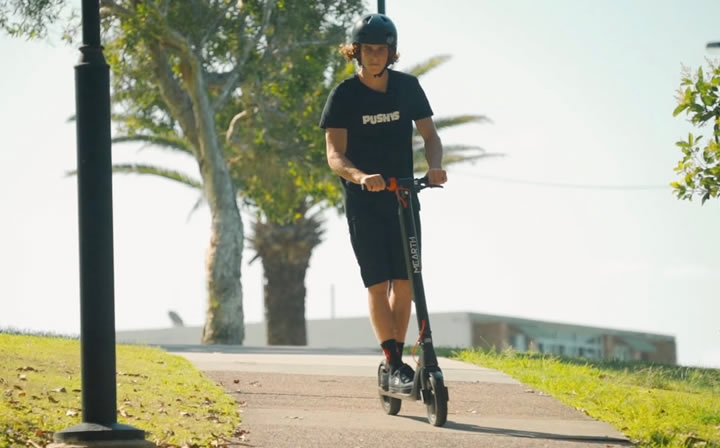 Ride Hub Australia x Mearth S Pro Giveaway
VISIT Ride Hub Australia at the Macquarie Centre
SCAN the QR Code from the E-scooter Tag
Once CONNECTED, applicants will be directed to the giveaway landing page and in order to get a chance to win, they will need to:
Like Ride Hub Australia's Official Facebook Page
Like the Ride Hub Australia's Giveaway Post
Follow Ride Hub Australia's Instagram Page
Subscribe to Ride Hub Australia's Mailing List
Giveaway Prizes will be drawn on January 05, 2022, and announced on January 9, 2023, on all of Ride Hub Australia's social media pages. Get the chance to win a Mearth S Pro with just a few clicks on your phone.
Make sure to join in on November 5, 2022!
Presenting the Mearth S Pro
The Mearth S Pro, which comes from the Mearth S series, is a series so well-designed to make e-scooters fun and safe for both the young-at-heart and the young adults. It is the go-to electric scooter designed with a 350 W motor power and 750 W burst output, empowering its rider to go to greater lengths and experience the world in the palm of their hands.
This exhilarating e-scooter will help release inhibitions, with its max range being 45 km, thanks to the help of its 10" pneumatic tires.
Mearth S Pro might be fast and empowering, but it still sticks to its promise of providing safety because it has disc brakes that have passed industry-standard testing. Durable, just as expected! Remember, ALWAYS WEAR AN APPROVED HELMET.
But that's not it, the Mearth S Pro is also handy and compact because of its folding mechanism. Simply fold and lock the stem up or down in just a snap, and it can be taken everywhere and anywhere especially since it only weighs 15 kg.
This is one of the lightweight e-scooters in the market, and it's a PRO!
True enough, this innovative e-scooter allows one to reach more ground and enjoy longer riding hours with its hot-swappable battery (up to 360 Wh) feature with only 3-4 hours of charging time and a 30-45 km maximum range.
Yes, it is also now possible to carry multiple lightweight Lithium-ion batteries and swap them instantly.
With its swappable battery mechanism, the Mearth S Pro is the perfect on-the-go electric scooter for any trip, be it the commuter e-scooter or the leisure e-scooter! Work hard, play hard!
Ride Hub Australia at the Macquarie Centre
Ride Hub Australia will be holding ground at its mall store at the Macquarie Centre until February 25, 2023.
It is located at the 4th level of Macquarie Centre in CNR Herring Road & Waterloo Road North Ryde, NSW 2113.
The store is open Monday to Sunday from 6 am to 9 pm.
Visit the mall store for an exciting festive surprise on what's on display and what's on discount and on promotion.
More Info on Ride Hub Australia
The top-notch brands of Ride Hub Australia include Bird, Bolzzen, Ducati, E-Glide, Inokim, Kaabo, Mearth, Mercane, NanRobot, Segway and Xiaomi. To stay updated, follow the social media accounts of Ride Hub Australia.
Ride Hub also has a physical store located at 129 Victoria Avenue, Chatswood, NSW 2067.
For any purchases made at the Ride Hub Australia mall store, paying is as convenient as it is secure. The payment options include cash, cards like American Express, Mastercard, and Visa, and online platforms like Apple Pay, Google Pay, Shop Pay, and PayPal.
Ride Hub also provides customers with FREE SHIPPING if they decide to buy online.
Note: Shipping delivery times depend on the location. It takes 2-5 business days to ship to NSW, while it may take 7-10 days to ship to Tasmania. Please expect delays that may occur depending on surrounding circumstances.
Price Match Guarantee: Get in touch with Ride Hub Australia and send Ride Hub a link to another store's offer for a price match which is subject to approval. (Note: electric scooters only, not applicable to accessories and parts.)