Starting a new business entails a tremendous amount of work. In order to succeed, you need to keep track of all your goals and processes. You need a method that is all-encompassing, yet works simply and accurately. Gantt Charts are the most efficient way to organize specific business tasks and goals by means of a cumulative and well thought-out visual.
The chart is named after an American, Henry Gantt, who popularized the concept in 1919 when he used it to help his contemporaries who were manufacturing supervisors. The chart allowed the supervisors to keep track of all business endeavors from start to finish. The charts proved to be a success and therefore became fundamental in modern day start-ups.
To get started use a simple project management tool like Gantt Chart Excel. It is an excel based template so you'll be up and running in no time.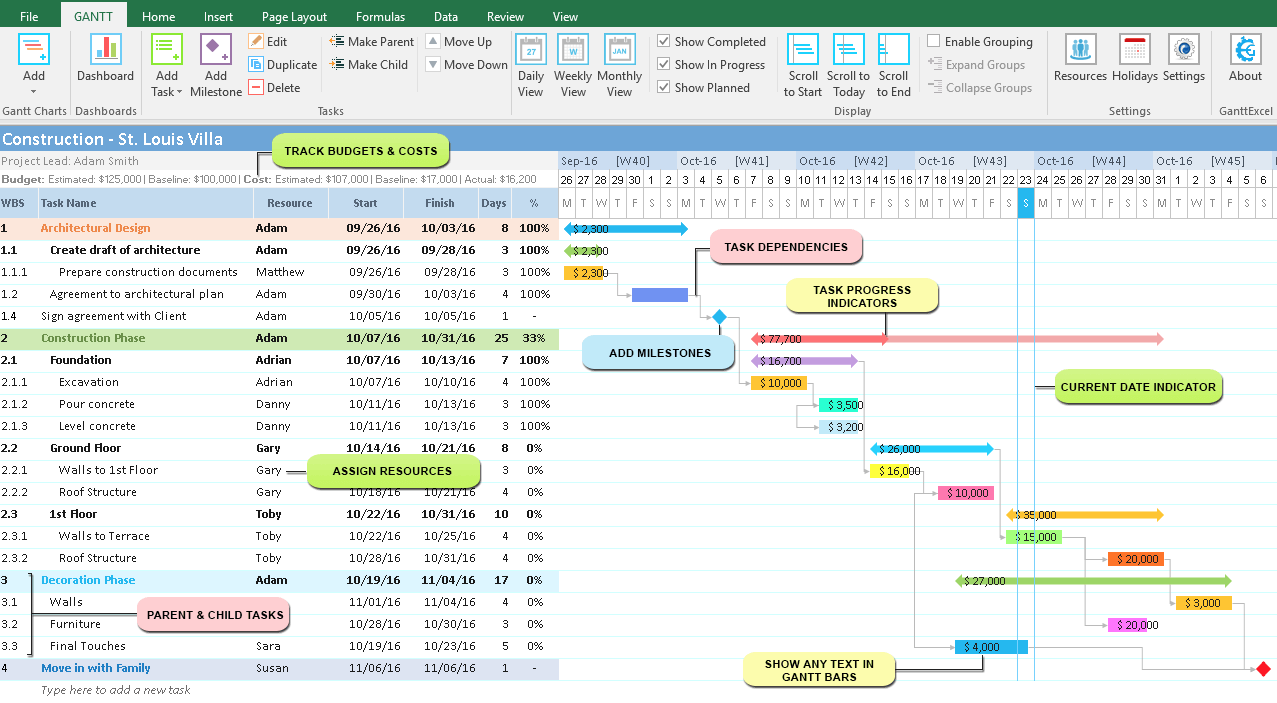 Gantt Chart Excel is completely automated and it is super easy to use. If you use Microsoft Excel, you can create a Gantt Chart with almost no learning curve by downloading our Gantt Chart Excel Template. Microsoft Excel is instantly familiar, so everyone on your team "gets it" and hits the ground running.
One of the main reasons businesses struggle is due to a lack of communication and organization. Gantt Charts provide the necessary roadmap for all business endeavors such as specific responsibilities of each employee, what steps need to be taken, how long each step will take, the chronological order, and the date of completion.
The Gantt Chart allows for all employees to visualize each of the processes taking place as well as the bigger picture. This is ideal for any start-up given that initial plans are not always clear as to what direction they're going in.  The chart allows a business to combine all of their ideas and sort out a timeline for each.  A scheduled plan allows for a business to work more productively and tackle each task in a resourceful and timely order.
In the initial stages of a business, it can be easy to overwork employees or take on too much at once. The efficacy of a Gantt Chart lies in its ability to simplify complex projects into planned segments of time, allowing for shared responsibility and manageability. When employees work efficiently in this way, goals are completed much more quickly and thoroughly. The chart also shows which task correlates with another task and so on, so everyone can see what needs to be completed first and what can be worked on simultaneously. This also allows for everyone to see who is responsible for what assignment and therefore who to communicate with about specific tasks.
A Gantt Chart also has the ability to show what resources are needed for each task. If there are more resources required than available, the Gantt Chart will highlight that issue. This special feature allows for management to schedule tasks accordingly by understanding the resources required.
If a business does not thoroughly plan out their project, things can become especially hectic the closer you get to the deadline. Instead of rushing and worrying if everything will be completed on time, the Gantt Chart already has it all laid out for you. The chart allows you to carefully plan out each step, makes sure you have the required resources, and gives you a bird's eye view of the progression and completion of each task. With that kind of support and organization, you can rest assured that your start-up will run smoothly.
You can download this Gantt chart excel template at the link below.