The southernmost tip of India is Kanyakumari, the best gateway for your weekend trip.
One of the charming cities of Tamil Nadu with beautiful places in Kanyakumari. There are forts, historical monuments, fascinating beaches, religious temples, and churches. Kanyakumari is a place you can visit with your family and friends.
Check PaisaWapas for your travel booking, hotel booking and so much more that will save your pocket.
Places to see in Kanyakumari
Popularly known Kanyakumari tourist places are Padmanabhapuram Palace, Kanyakumari Beach, Thanumalayan Temple, Sanguthurai Beach, and Thiruvalluvar Statue. Moreover, for better discounts on hotels, flight and get better deals.
#1. Thirparappu Falls
Thirparappu falls situated 55km away from the city center of Kanyakumari and is a man-made waterfall.
The water cascades from a height of 50 feet with lush green surroundings.
One of the best Kanyakumari famous places with mesmerizing scenery.
There is a temple of Lord Shiva near the falls.
The water falling accumulated into a small pool for kids to play. This is a proper place for a picnic with kids.
You can also enjoy boating and swimming
Try to carry your water bottles and also lunch as there are no places to eat.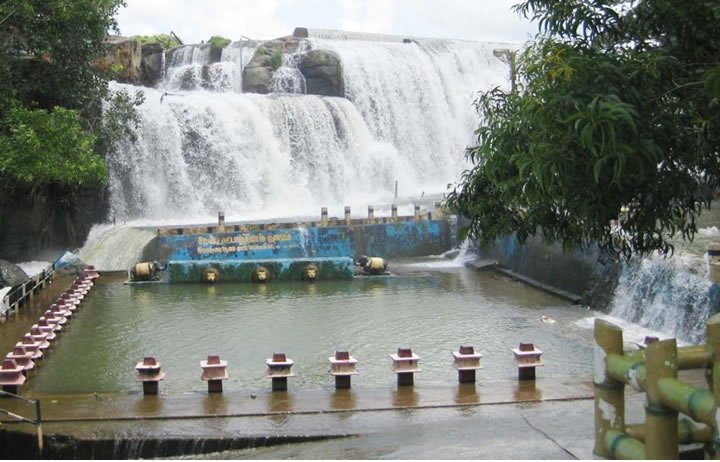 Timings: 7:00 am to 6:00 pm
Time Required: 2 to 3 hours
Entry fees: 2 Per Person
#2. Vivekananda Rock Memorial
One of the must-visit places in Kanyakumari is Vivekananda Rock Memorial.
This place is like a small island surrounded by the Indian Ocean with the statute of Swami Vivekananda.
There are two adjacent rocks comprising Shripada mandapam and Vivekananda Mandapam with projecting Lakshadweep Sea.
Dhyana Mandapam is a meditation hall for visitors to meditate with beautiful architecture and a calming environment.
In Shripada mandapam you can get to know about the life of Vivekanand and also his great works.
Timings: 7:00 am to 6:00 pm
Time Required: 1 to 2 hours
Entry Fees: 10 per person
#3. Thiruvalluvar Statue
Thiruvalluvar statue was started in the year 1990 and got finished in the year 1999.
The statue is dedicated to the great poet and philosopher Thiruvalluvar. He is known for his dedication to Literature and also Tirukkural in Tamil.
The statue stands up to 133 feet and has a 38-foot pedestal.
There are 38 chapters of virtues in Thirukkural.
This is the best place to visit in Kanyakumari with a picturesque and beautiful environment.
You can also check out the best places in Vietnam at the cheapest prices.
Timings: 9:00 am to 4:00 pm
Time Required: 2 to 3 hours
Entry Fees: Ferry ride charges are Rs.20
#4. Kanyakumari Beach
Kanyakumari beach is located in the southernmost part surrounded by three mesmerizing water bodies that are the Bay of Bengal, the Arabian Sea, and the Indian Ocean.
Your Kanyakumari tourism will be incomplete without visiting Kanyakumari Beach.
The beautiful part is that the color of the water also keeps changing according to the seasons.
There is a lighthouse present on the beach, climb up and enjoy the fascinating view of the city and beaches.
You cannot swim or surf on the beach.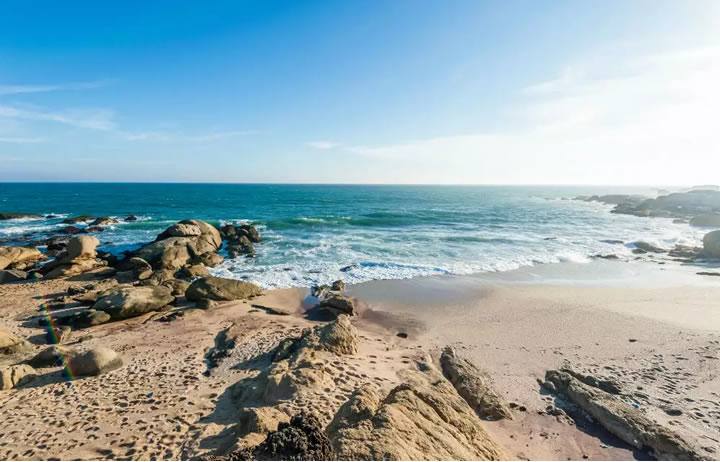 Timings: 9:00 am to 6:00 pm
Time Required: 1 to 2 hours
Entry Fees: Adults – Rs.10
#5. Padmanabhapuram Palace
Padmanabhapuram palace is a very old and nostalgic palace depicting the culture and history of the country.
The main attraction is the architecture of the palace which is built only with wood during the 16th century and constructed by Ravipillai Perumal.
The best Kanyakumari sightseeing place is Padmanabhapuram palace.
You can see the collections of olden-days furniture, paintings, big mirrors, wooden cot, brass lamps, music bows, jars, different types of weapons, and beautiful sculptures.
You can seek blessings from the temple of Lord Saraswathi inside the palace.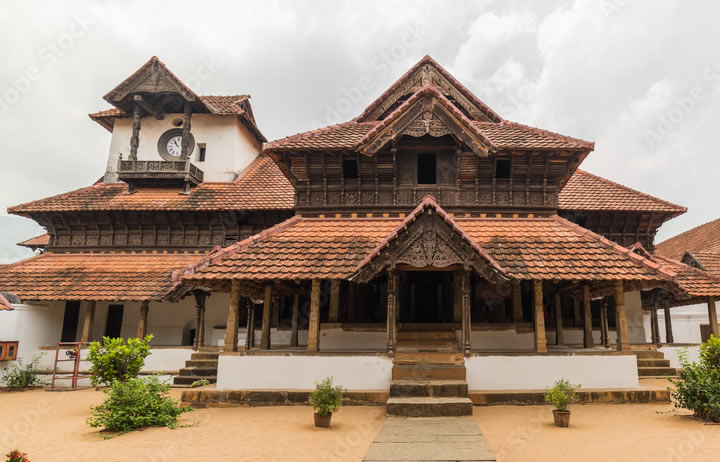 Timings: 9:00 am to 5:00 pm
Time Required: 1 to 2 hours
Entry Fees: Adult – Rs. 10
#6. Thanumalayan Temple
Thanumalayan temple is also known as Sthanumalayan Kovil. This temple is dedicated to the Lord Thrimuthis – Vishnu, Shiva, and Brahma.
One of the best places to visit in Kanyakumari and it has an inscription from the 9th century.
Temple consists of 4 musical pillars which are of height 18 feet and are built in single granite stone.
Another highlight of the temple is there is a statue of Lord Hanuman which is the height of 22 feet.
The architecture of the temple is splendid.
Rathotsava and Teppam festivals are the two main festivals celebrated very beautifully and grandly in the temple.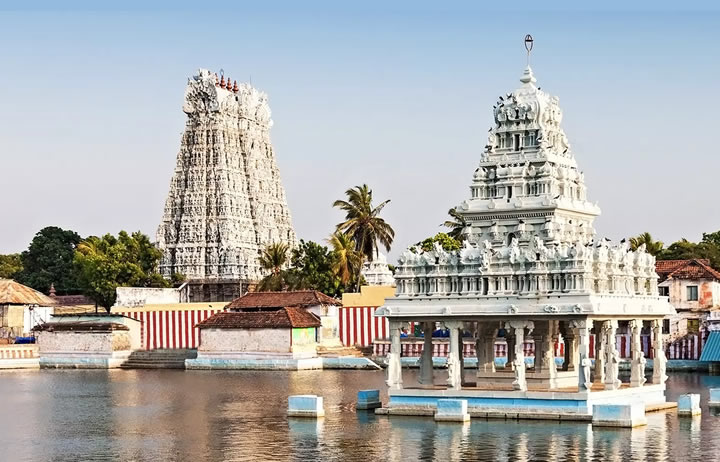 Timings: 4:30 am to 11:30 am and 5:00 pm to 8:30 pm
Time required: 1 to 2 hours
Entry Fees: No entry fees
#7. Kumari Amman Temple
Kumari Amman Temple in Kanyakumari has lots of religious and cultural significance.
Only Hindus are allowed in the temple and one of the Kanyakumari famous places.
The temple is located near the coast and is almost 3000 years old.
It is believed that this temple is one among the 51 Shakthi Beetham.
It is also known as the Bhagvathy Amman temple.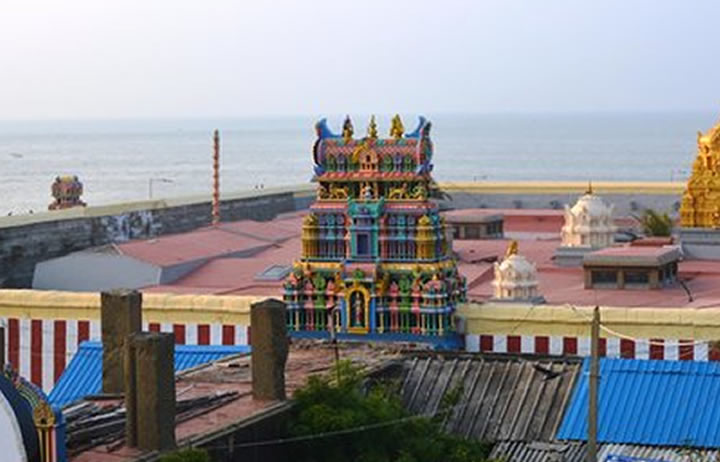 Timings: 6:00 am to 11:00 pm and 4:00 pm to 8:00 pm
Time Required: 1 to 2 hours
Entry Fees: No entry fees
#8. St Xavier Church
St Xavier Church was established in the year 1600 and is also the best place to visit in Kanyakumari.
This beautiful church is dedicated to Lord Mary.
There are thousands to thousands of Catholics who visit the church to seek blessings.
The church is known for the miracles that happened in time immemorial.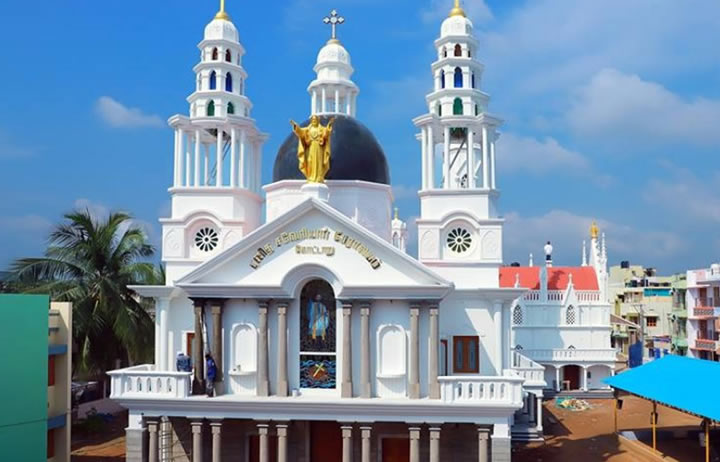 Timings: 8:00 am to 6:00 pm
Time Required: 1 to 2 hours
Entry Fees: No entry fees
Things to do in Kanyakumari
Take a bath in the holy water of TrivenSangamam
Must watch mesmerizing view of the sunset and sunrise
Do Shopping
Explore the history by visiting Vattakottai Fort
Enjoy Courtallam falls
Must taste the delicious local cuisine
Visit one of the World's largest Wind Farms
It is always fun to visit the place at the best times. Check this itinerary for your next destination to the best Vietnam places to visit.
Frequently Asked Question
Are 2 days enough for Kanyakumari?
Yes, 2 days is enough to explore and visit all the tourist places in Kanyakumari
Which month is best for Kanyakumari?
October to March is the best time to visit Kanyakumari, as the weather is cool and pleasant.
Where do the 3 Oceans meet?
Kanyakumari beach is the place where 3 oceans meet.
What is Kanyakumari famous for?
Kanyakumari is popularly known for sunrise and sunset. This is the only place where you can see both sunrise and sunset from the ocean.