The process of painting has always had a calming effect on a person. It is difficult to find someone who did not like to draw in childhood.
However, having matured, many have forgotten this childhood hobby. And in vain, because drawing is the easiest and most affordable way to relieve stress and achieve inner harmony. Unfortunately, not all are endowed with the talent of painting.
If you are not one of these lucky talents, do not despair – for those who want to create, but are completely devoid of an artistic gift, they came up with paint by numbers.
Anti-stress paint by numbers: what is it?
Paint by numbers is a basis (a wooden panel, textured cardboard, or canvas stretched on a wooden frame) divided into certain sections and color segments, and to each segment are assigned serial numbers.
Each fragment of this contour drawing has a specific number corresponding to a certain color with which this part should be painted over. You need to colorize the drawing, painting over all areas with the right colors. Such coloring drawings are also called "antistress painting by numbers" and "painting by numbers".
In addition to the base, the painting kit for drawing includes paints (usually acrylic) packed in jars or tubes with numbers on the caps. In addition to these basic components, manufacturers add to the set brushes, fasteners for hanging the picture, varnish for covering it, as well as for instructions, and a checklist for verification.
Color by number for children differs from coloring for adults not only in the plot, but also in the number and size of parts – for obvious reasons, there are fewer fragments in children's paintings, but these fragments themselves are also larger.
What is the anti-stress effect of coloring pages?
The secret of the anti-stress effect of coloring pages is simple: the paint by numbers kit for adults contains many small details.
Time after time dipping a brush into the paint and concentrating on filling small fragments of the picture by numbers with color, a person completely concentrates on this work, gradually calms down and for a while forgets about all his everyday problems.
How does anti-stress painting work?
Drawing by numbers is a monotonous, creative process, during which a person detaches from the outside world and remains alone with his thoughts, as a result of which the work of the subconscious is activated. It can sometimes help you remember something important or find the right solution to a long-standing problem.
In some cases, the opposite effect is observed – while enthusiastically working on creating a picture, a person enters a state close to meditation, his thoughts "turn off", fly away somewhere far, far away, and a feeling of deep peace comes to replace irritability and anxiety.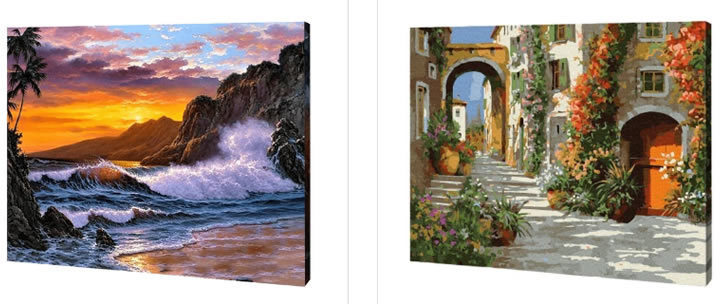 Which paint by numbers to choose?
It is not difficult to buy a coloring book for adults – it is difficult to choose the right one. Despite the fact that paintings by numbers have gained popularity relatively recently, today its assortment is amazing.
When looking at online stores, the eyes of an inexperienced buyer, as they say, run up – so much beauty at once and in one place! Here you can find animals, rural pastorals, still lifes, and seascapes.
If cats, shepherdesses, and angels seem too cute to you, take a look at the brutal biker or the gloomy Dark Knight looking from the roof of a skyscraper.
Don't like comics? Then turn your gaze to the eternal classics – the Degas's ballet dancers, sunflowers of Van Gogh, or landscapes of Levitan – there is where to turn around for a novice painter!
There are so many paintings that it is difficult to resist the temptation to buy several ones at once.