In the last few years, portable technology has achieved tremendous milestones, making the capture of memories easier like never before. Today, tons of devices allow people to save their files, including digital cameras, tablets, and smartphones. However, this form of digital storage is not immune to corruption.
We have all lost some crucial data or footage from time to time. Needless to say, nothing feels more frustrating. Lucky for you, there is a way in which you can recover and even repair corrupt data! This guide will take you through everything you need to know about lost or corrupt files.
Better yet, we will introduce you to the best video repair tool online and show you how to use it to fix corrupted footage. Ready? Let's do this!
The Causes of the Video Files Loss/ Corruption
Have you ever spent hours on end working on a perfect video, only to realize that for some reason, some part of it has awkward lines, some bits skip, or it can no longer play together? Well, this is a sign of a corrupted file. Here, we will outline some of the reasons why this usually happens.
Improper Device Shut Down: Usually, when shutting down your computer, it should close any open content correctly or at least allow you to do so. However, in some instances, when the power goes suddenly off or when your PC crashes, files do not close properly. This could lead to lost or corrupt content.
Hard Disk Issues: If your computer hard disk has some issues, it could ultimately lead to your files getting corrupted. There could be a faulty physical sector therein, leaving you with 'spoilt' videos.
Premature Video Shut Down: A premature shutdown happens when the device on which you are playing the content or opening the file on, say a DVD player, unexpectedly reboots or shuts down. This leaves the files at the risk of getting lost or corrupted in one way or the other.
The use of Poor 3rd party players: You might not realize this, but using a video editor or player that is poorly designed poses severe threats to your content, increasing the chances of it being corrupt. This is because the said third-party device may lack the required properties and standards to handle, decode or encode your media.
A Damage to the Storage Media Device in use: Almost everything requires proper and careful handling. Mass storage devices, including external hard disks and SD cards, if not properly handled, could end up suffering physical damage. If the damage is so grave, such that it gets to the storage device's internal components, the files stored therein are bound to get corrupt.
Virus Attacks and Software Malware: Most media playing devices are prone to malware and virus attacks. These viruses typically alter the extensions to something hardly recognizable, making it virtually impossible to play the media.
Improper management of the Video's Structure: Files carry metadata, headers, and other features, not just visual and audio data. Video files are generally easier to read between device and player. If you tamper with these values, it could lead to your content being rendered invalid and unreadable.
What Can a Video Repair Tool Do?
Just as the name suggests, this is computer software or application designed to restore or repair corrupt video files. These vital programming pieces fetch the lost files and try to fix the media portions and content parts that are not entirely lost. Generally, a good video repair tool will do the following:
Repair of broken up, corrupted, damaged, or truncated files
Fix player files that do not play on some media players, including QuickTime or Windows Media Player
Fix movies or footage that a camera isn't able to finish or encode properly
Reconstruct raw audio stream of the file in recovery, giving it a smooth playback
Reconstruct any missing data such as header parameters and meta-data
Usually, most top-notch quality media players, for example, VLC, will feature their own inbuilt convenience video repair tool. However, if you are searching for a sure way to fix corrupt video files with zero compromises whatsoever, we recommend Wondershare Repairit. Highly ranked and well-reputed, you can rest assured that all your truncated files will get restored, recovered, and repaired.
Features about RepairIt
Wondershare RepairIt is a highly robust video recovery tool that helps you to fix corrupted data. It covers all video formats, including MP4, MKV, MOV, M4V, and so many other types. Using this smart tool, you can even manage to recover an array of files simultaneously. While at it, you can even preview the file before saving it.
Below are some exclusive features that RepairIt boasts, giving it a cutting edge above all the rest:
Up to date and Easy-to-use User Interface: RepairIt features state-of-the-art technology, allowing users to view all information regarding the bit rate, the frame rate, and other details. The tool also allows you to set your personalized thumbnail.
High-Tech Enhancement Repair: With this feature, the user can repair severely broken videos and achieve more tremendous success with them. Additionally, the sample file verification feature will help you in choosing an appropriate sample.
High Definition Video Repair: RepairIt allows you to repair all file qualities, including high definition videos that range from 4K to 8K resolutions.
Multiple recording device support: RepairIt can work with any camera or phone recording whatsoever and successfully repair any media content you offer.
How to fix corrupted video files on RepairIt
Here, the guide is specific to FLV Video files. You only need to follow the easy steps below after downloading the RepairIt PC software or the mobile app on IOS or Android:
Step 1 Using the Recoverit video repair tool, click the "Add" button to add corrupt FLV video files.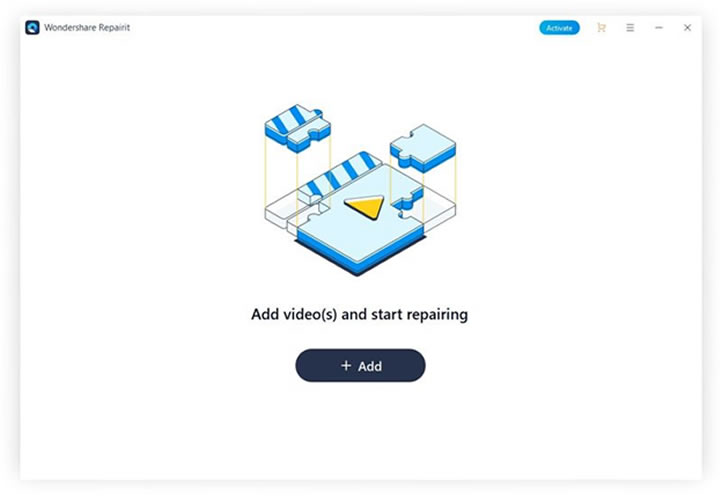 Step 2 Choose the corrupted FLV video file you wish to repair from the list, then click "Repair" to proceed.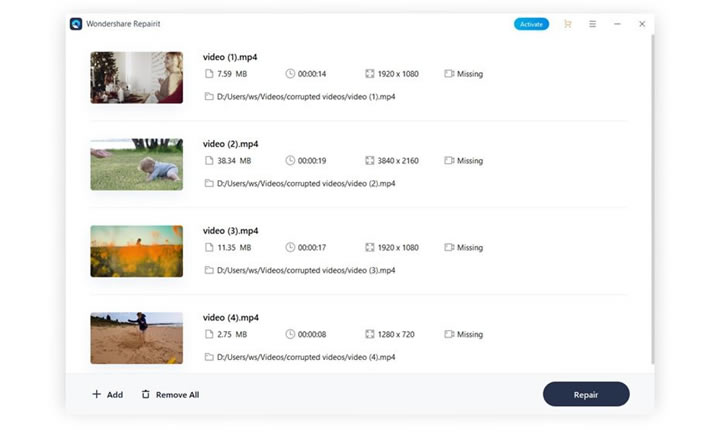 Step 3 Check the preview to ensure the content is correct.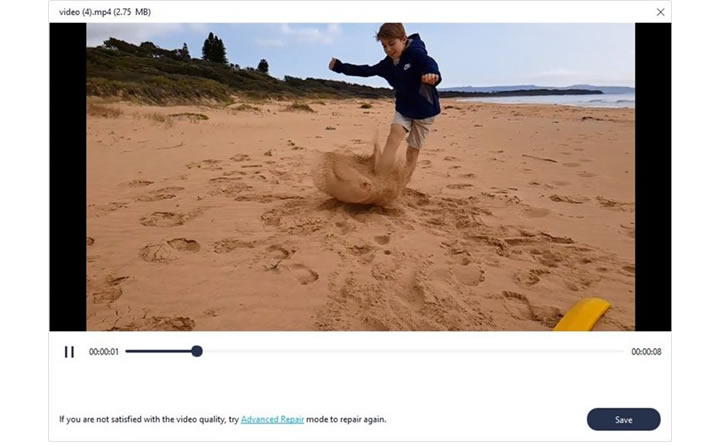 Step 4 Once the repair is complete, choose a computer file location and save the restored videos.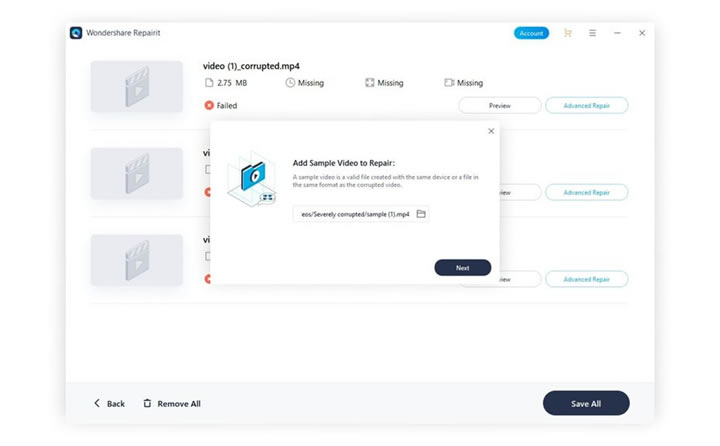 That is pretty much it; you will have successfully repaired your truncated media. To access them, just head on over to the file location in which you saved them and enjoy your viewing.
Conclusion
In fixing corrupted MP4 or other video files, the best thing to do is ensuring that you use a good video repair tool. While there are tons of options all over the internet, we would recommend Wondershare RepairIt, given its sheer uniqueness and high-quality results. However, prevention is always better than cure. As such, have safe backups in which you can save extra copies of your most important media. Be sure to take great care of your players and external storage devices to avoid the data on them getting corrupted.