Are all that junk and cache and large files making your Mac slower than ever? Are you looking for software that cleans your Mac like no other? If the answer to both these questions is a big yes, there is a solution for you.
Regardless of whether you want to remove cache or clear other storage, your best bet is to download BuhoCleaner right away. After taking a close look at the top features of the app, one thing is clear it is hard to find something so comprehensive and easy-to-use for your Mac.
Here are some of the standout features of BuhoCleaner.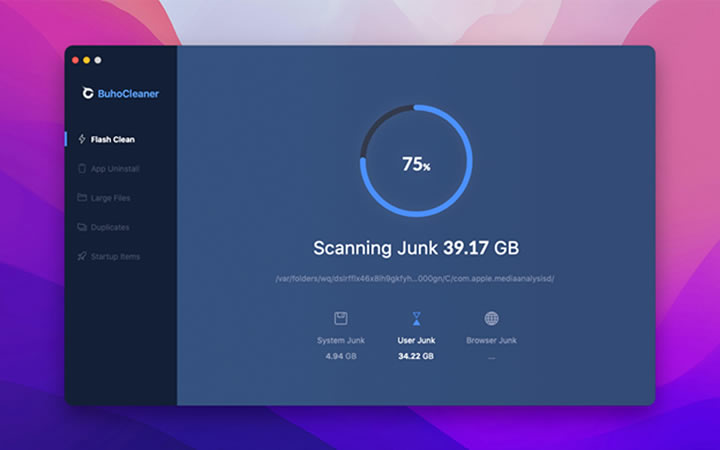 User-Interface: Easy to use and navigate
One of the main attractions of BuhoCleaner is that it's easy to use. Typically, Mac cleaning applications have a somewhat of a learning curve to become more advanced or feature-rich.
However, BuhoCleaner has a simple navigation list where you just need to click on your preferred feature to reach there. The names of the features are pretty self-explanatory as well.
One-tap cleaning for all the junk on your Mac
You simply need to click once to start cleaning and speed up your system. So, you will have to allow the flash cleaner to scan the system to show you the junk that you have on your Mac and clean it all away in the shortest possible time.
In terms of cleaning speed, about 500 GB SSD can be scanned in nearly 48.7 seconds. How fast is that? Then, hit remove and make all the unnecessary junk go away.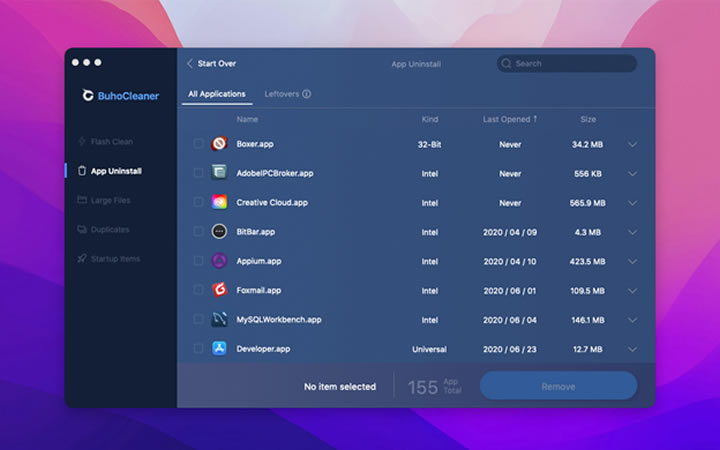 Absolute control over the files-to-be-deleted
BuhoCleaner has a 'smart-selected' screen where all the files are listed for the purpose of cleaning. Basically, BuhoCleaner is equipped with Artificial Intelligence to auto-detect what has to be cleared. But, of course, you do not need to blindly trust the robots!
You are allowed to select the files that you want to remove from the list.
There is a 'view details' option that you can click on to check and manually exclude all those files that you want to keep. You can be assured that BuhoCleaner will never remove any of your important files automatically.
After all, loads of people like holding on to their browser cache, and that's completely understandable.
Fully and completely delete installed apps
Did you know that apps, when deleted, become 'unusable' on the device? They are never completely removed. But the saved files, log files, and more are retained on the system. Thus, as you keep uninstalling the files, more of the HDD is filled with the leftover files.
BuhoCleaner can come to the rescue even in this case. You can use the app to uninstall the installed apps or delete the leftover files from your earlier uninstalls.
Also, it shows all the individual files from different applications. So, you can retain the necessary files, instead of blindly deleting them all.
Deleting large files in a snap
Every system has some rather large files that are either buried or hidden deep inside the folders and become more difficult to find. Now, BuhoCleaner comes with this particular feature that automatically identifies the large files on the system.
Naturally, the process of removal is one-click.
But, remember the word of caution: BuhoCleaner will automatically list files as per their size. So, before deleting, check whether there are any important files listed there.
Duplicate file finder to free up memory
The next much talked about feature on BuhoCleaner is the 'Duplicate file finder' that detects and displays the duplicate files. There are times when you click that download button several times or make several copies of the same file as a security measure.
So, let BuhoCleaner scan the system, show the duplicate files, and allow you to select the copy you want to delete.
Managing the startup apps as you need
Do you know what influences the startup time of a system? One of the factors is the number of apps present on the 'auto startup option.' The more apps you have there, the longer a system needs to start.
Now, the fact is that most of the modern apps are notorious for keeping the 'Auto-launch on Startup' feature turned on by default. Thus, you are basically adding the apps to the startup list by installing them. Gradually, you are slowing the system down by this.
Moreover, there are times when you forget to close the apps after the system is completely booted up. So, the apps keep running in the background. It means they keep eating away your RAM when you are not using them. As a result, the other apps that you are actually using will slow down.
Keeping this scenario in mind, BuhoCleaner has made two different sections and shows 'Startup Services' and 'User Login Items' separately. Again, you just need one click.
So, simply clicking on the enable/disable slider can help you to either disable or enable any app from auto-launching on startup.
The compatibility factor for your Mac OS
Now, of course, BuhoCleaner is made for the Mac OS. Then, you might be thinking what is the point of this subsection in the review?
Well, because there are different aspects of the compatibility that will make you like BuhoCleaner even more. It has been tested on the Big Sur and it worked perfectly well. Furthermore, it not just supports the M1 chipped Macs but also raises the indexation speed three times.
In addition to that, the company has recently shown on its Instagram page that this app runs pretty smoothly on macOS Monterey, too. In short, you can use this application for anything that is either MacOS 10.12 or more than that.
Buho Cleaner: The Pricing
Even though you can download the software for free and have an outstanding experience, you have to unlock all the features of this tool. For that, you need to purchase the software. There are three plans available from which you can choose. These plans are:
The single Plan is $12.99. [1 MAC per Lifetime]
The family Plan is $19.99. [3 MACs per Lifetime]
The business plan is $39.99. [10 MACs per Lifetime]
Even though you can pick a plan that matches your needs, I will advise you to go for the Single Plan because it's affordable for most Mac users, including myself.
***
As you can understand, BuhoCleaner has all the features that you need for your device. It will make your Mac run a lot faster and smoother than before. You can try it for free for seven days. So, hurry up and download it.