Its been a while since the Extreme Nail Forms have taken over the world. Ever since, we have closely been monitoring the author and creator of the Extreme Nail Forms, the extravagant Serbian Nail Artist and designer, Kostka Bojana herself.
By now, many of you have heard this name at least once. This amazing artist and her extraordinary works of pure avant-garde art have been gracing the covers of Worldwide Magazines for many years. Truly, we ask ourselves, is there anything Kostka Bojana can't do? We have been closely watching her official Instagram page looking for her new works and what surprise she has cooking for us now.
Knowing Kostka, we didn't have to wait long. On April 15th, a new photo has been submitted to her official Instagram page. The photo of a Nail, covered in red color, graced with little skulls, with many different motives including chains, crystals, and floral details. We immediately had to reach out to Kostka Bojana herself and ask her about these phenomenal works.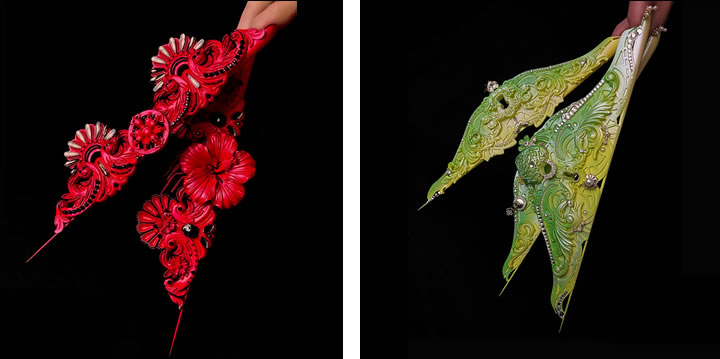 According to Bojana's words, this is the work of her student during her masterclass seminar in Hungary, called Casting Technique.
We asked Bojana to tell us a bit about this technique that set Instagram on fire on April 15th when the first work was published and to tell us about where she got the idea for this extraordinary technique that will leave you breathless at first sight.
" I started doing this job back in 1999 when it was the state of war in my country, in very difficult conditions. Once the embargo hit, borders closed and import and export were impossible. Very soon, the store shelves emptied and I did not have a store where I could supply myself with materials or accessories for nails.
I had to learn to improvise and use what I could find or if I couldn't find it, I had to make it myself. This is how I developed the idea for the Casting Technique. I have been using this technique in my works for over 15. years but, till now, I didn't really hold seminars for this technique. This technique is different from Extreme Nail Forms in many ways.
From creating the prototype that will be multiplied, making a mold out of it, and pouring the product into the mold, to connect all the motives into one story. This is something that only a real artist can do because, for this, technical is not as important as it is creativity and imagination.
I decided to name this technique Casting Technique and that the first seminar for this technique will be with my team.
I traveled to Hungary on April 11th to hold seminars for Casting techniques in the organization by my dear friend and KNS Exclusive Ambassador for Hungary, Katalin Szikszai, a very respectable Nail artist and World Champion.
Besides Katalin, this seminar was attended by my exclusive distributor for Hungary, Kunkline Kariko Orsolya as well as our ambassadors, Adry Orszag Sugar and Lorina Jakab, and students who are not part of our team, Andrea Lippne Kreisz, Beatrix Horvath-Nagy, Eva Bettina Kovacs, Eva Andrea Romvari.
I can say that this seminar was the best one till now, not just because it was with my team, or the great organization which I am thankful for, but also because of all the work we accomplished together on this seminar. What better way to properly present and announce this technique" – says Kostka.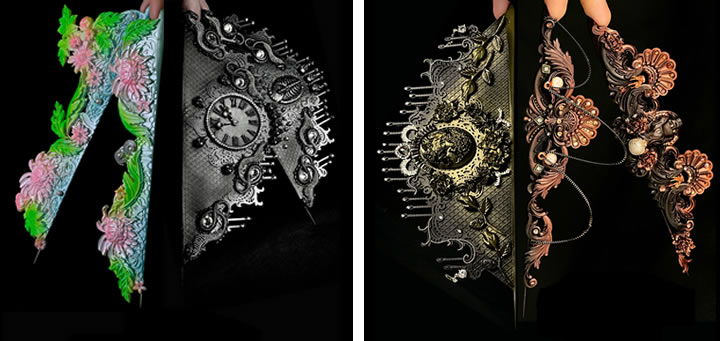 Wow, quite a story Kostka told us, and just by looking at all the works, we understand her point of view. It truly takes an artist to create something like this. All the motives, all the jewels, the colors, and all that connected into one whole, gives us the impression of an art piece out of this world.
In the end, we will let you enjoy the beautiful photos we retrieved from Kostka's Instagram page with her consent and to thank Kostka Bojana for her time and we will for sure continue to closely monitor her work waiting for more surprises from this extraordinary artist.