The world's first China International Import Expo (CIIE)-themed colored airplane jointly launched by China Eastern Airlines (China Eastern) and China International Import Expo Bureau departed from Shanghai Pudong International Airport on Monday and arrived at Australia's Sydney Airport on Sept. 15 local time after nearly ten hours of flight.
The CIIE-themed airplane's recent smooth landing on the southern hemisphere as China Eastern Airlines flight MU561 marked the completion of the colored airplane's other first flight to a new continent following its first trips to multiple destinations in Asia, Europe, and America.
At 11 a.m. on Sept. 16 local time, the aircraft left Sydney Airport for Shanghai. After arriving in Shanghai, the 115th passenger to come out of the airport received loving gifts from China Eastern, including a model of the CIIE-themed airplane and a toy giant panda, Jinbao, the mascot of the CIIE.
A Boeing 777-300ER jet, which is China Eastern's international long-haul wide-body flagship aircraft representing the company's largest passenger capacity, the longest range, and world-leading cabin service system, was chosen as the world's first CIIE-themed airplane.
The dominant tones of the colored aircraft were the shades of yellow and blue, which are also the theme colors of the CIIE. Besides, the lively mascot of the CIIE, Jinbao, was featured on the plane, conveying goodwill of the CIIE to the world as a special messenger.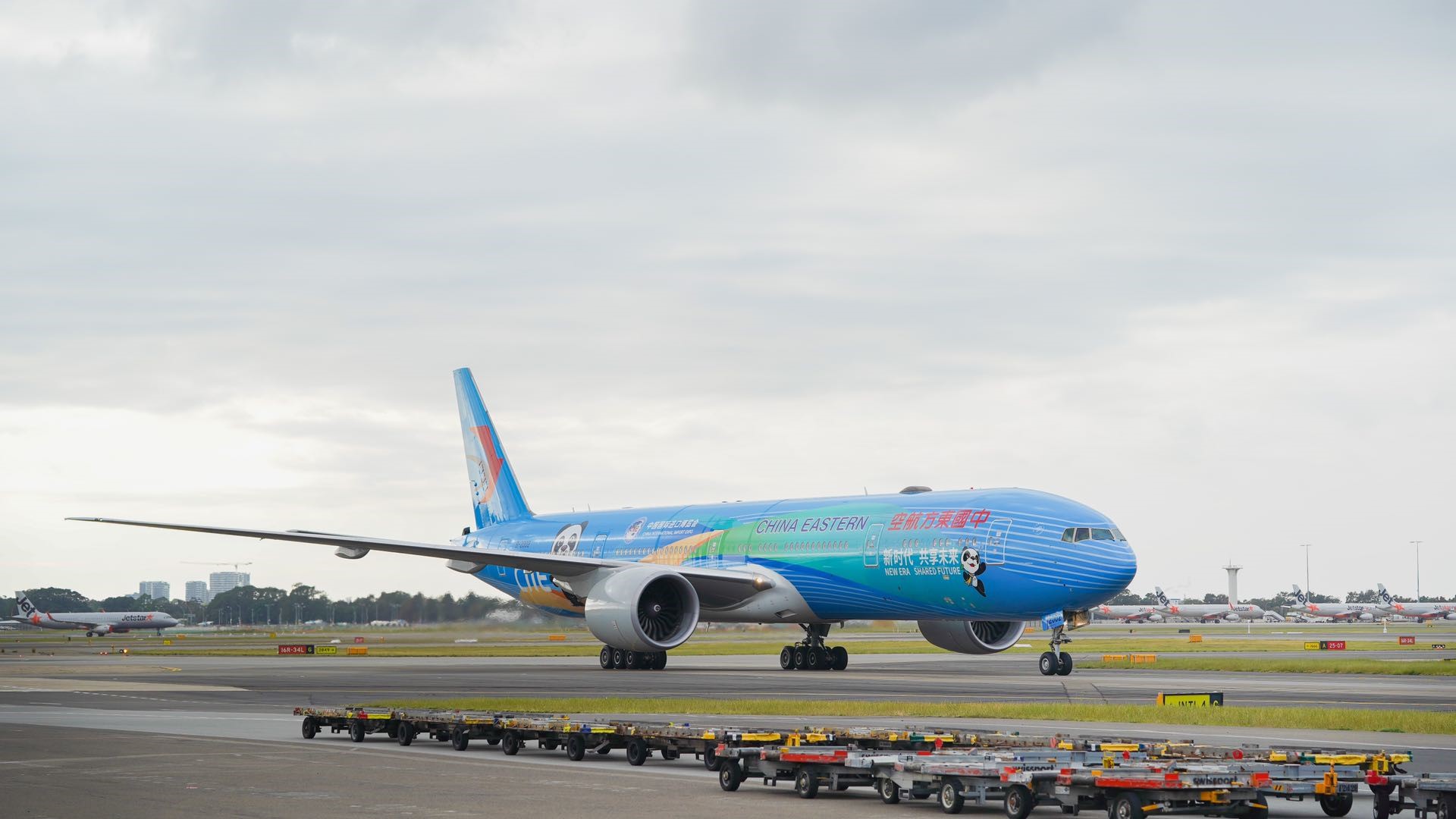 The third CIIE is slated to be held from November 5 to 10 in Shanghai this year. As one of the ten major airlines in the world, China Eastern has contracted to be the key supporter and designated air carrier of the event. Besides, China Eastern will also play such roles as a sponsor, purchaser, and service provider at the event.
The CIIE is the world's first import-themed national-level expo. Last year, over 3,800 enterprises and more than 500,000 buyers attended the second CIIE, during which $71.13 billion worth of tentative deals for one-year purchases of goods and services were reached, up 23 percent from the first CIIE.
Covering an area of 360,000 square meters, the business exhibition area of the third CIIE is expected to comprise four thematic sections and six exhibition zones featuring trade in services, automobile, consumer goods, intelligent industry, and information technology, medical equipment, and health care products, as well as food and agricultural products.
Company: China Eastern Airlines
Website: http://www.ceair.com/
Contact: Liu Jianhao
TEL: (0086-21) 95530
Email: zhangyun3@ceair.com