Every parent wants the best for their child. This can also certainly be applied to the choice of mattress. When a young body grows, it spends almost half of the day in bed, so having a proper and correct sleeping position is crucial.
Of course, the quality of the ZZZs depends on the choice of the mattress. Your baby's bed should meet the best standards and should be made with maximum use of anti-allergic ingredients. Here are our tips for choosing a mattress that will suit your child's needs.
Pay attention to the density: When it comes to choosing a mattress for your baby, you should generally follow the rule – the denser it is, the better. For most people, purchasing a bed and everything that comes along with it is a significant investment.
Therefore, you would not want the mattress to start sagging just after a short period of time. To check its density, here is what you can do – at the sides of the bed, press your hands together. If you can make the movements easily, it is probably not the best choice.
Make sure it's waterproof: Another aspect you should pay attention to is whether the mattress is waterproof. Accidents happen. While children are little, they might accidentally pee, poop, or even throw up in the bed. That is why having a waterproof mattress is a must. If you can't find one – at least purchase a cover that will protect it.
Choose green materials: The best way to know that the mattress is safe (and eco) for your baby, look for the CertiPUR-US certification. It means that the product contains low levels of toxic chemicals, such as polyurethane, phthalates, or bromide. After all – you wouldn't want your child to be exposed to something that could potentially harm them.
It should be ungassed: You have just purchased a new mattress for your baby and are about to unpack it. Then, you might notice a strange smell. This is called off-gassing. Although the bad aroma is not harmful, for more sensitive people, it may cause headaches. That is why it is best to leave the mattress in a room that has good airflow. Depending on the material it has been made of, the smell might be less or more intense.
Firm or soft? It depends on the age
Most mattresses for kids have a medium firmness – that should be alright for children of all ages. However, if you feel like your baby's bed is too soft, it is possible to purchase toppers that are a bit more firm. While hunting for the perfect mattress, pay attention to the ILD (Indentation Load Deflection).
Firm beds are considered to have an ILD of more than 31 pounds, while soft beds – more than 25 and medium – are between 25 and 31 pounds. Overall, it's a good idea to invest in a memory foam mattress for kids. Since it uses the body's heat to mold its shape, it provides great support and spinal alignment.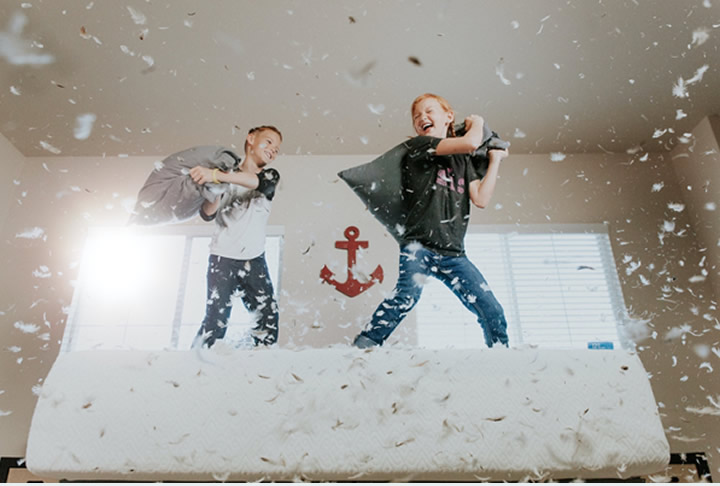 Consider safety: When making changes in the bedroom and looking for a new mattress, keep in mind that your child won't have side support as they had in their baby days.
That is why it is important to check the bounce of the mattress. You wouldn't want it to be too bouncy since that can lead to unwanted accidents. This is even more crucial for a bunk bed mattress and trundle bed mattress.
Look for one that will last a long time: For most people, a mattress is a big purchase. After all – it is not something you buy every month or every year. Normally, a good, high-quality one should be with you for at least a few years. Therefore, choose a mattress that will fit your child comfortably even as they grow bigger.
Pick the right size: Most kids transition from a crib to a standard bed around two or three years. Some parents prefer to continue using a crib mattress even then. But – if you want to think in the long term, it is best to opt for a twin-sized kid's mattress (or a bigger one – if you have the space). Another great idea is to choose a full-sized bed. That means your baby will be able to sleep on it even in the tall teenage years.
Choose a supportive mattress
When searching for the perfect mattress, look either for a pocket-sprung, latex, or memory foam one as they provide the biggest support. Each of them has its pros and cons and should be chosen, depending on your lifestyle.
For example, latex foam mattresses are excellent for kids who can't stand hot temperatures, while pocket-sprung beds seem to be extra comfortable. If your baby is a light sleeper, choosing the memory foam mattress might be your best bet.