Australia is packed to the brim with natural wonders. The weather is incredible and the sheer space of regions such as the outback with its almost limitless horizons beg for exploration. However, the outback is a tough place – and requires intrepid explorers to have a tough motor vehicle that will be reliable, comfortable and able to transport everything that is required for an extended trip into the magnificent Australian interior. It is for this reason that many Australian's with a love for the great outdoors have chosen 4×4 utes as their chosen transport. They are tough and have plenty of space for all those essentials.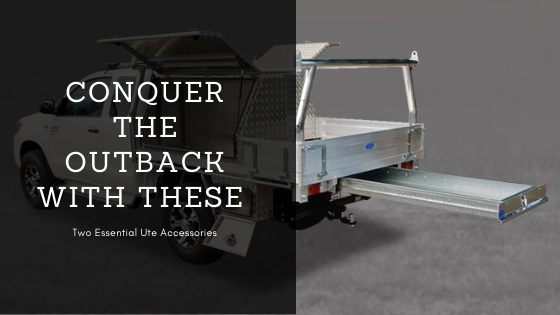 A ute is great straight off the showroom floor – but for those who really want the best outback experience the lure of exceptional accessories is hard to resist – and why should they? There are many quality ute accessories available on the Australian market today – but what are the most essential when it comes to adding value to that long-awaited outback adventure?
Here are two essential ute accessories.
1. The Aluminium Canopy
The tub of a ute is one of its best features. It is tremendously useful when that extra space is required – especially on extended trips into the outback. However, to make the tub even more functional many owners opt to have an aftermarket canopy installed. Canopies are a great way to protect gear from inclement weather and also provide security for the equipment and supplies that are carried in the tray. No one wants idle hands rummaging through essential supplies. There a number of materials used to manufacture ute canopies. These can include composite materials, steel and aluminium. Aluminium ute canopies are gaining popularity for a number of reasons. They are tough and weather-resistant and weigh less than their steel counterparts. They can also be customised to the individual needs of the consumer with a vast array of options including slide-out trays, drawers and storage compartments.
2. Ute Trays
Another must-have accessory is the ute tray. A great ute tray allows for the fitment of a variety of slide-out drawers and other accessories that maximize the space available to those who want to get the most out of their vehicle's loading capacity. Once again, the owner is faced with a choice – either steel or aluminium. Each of these materials has its advantages. Steel is immensely tough – it's the first choice of those who are going to be using the ute as a workhorse and then take it on an adventure when the opportunity presents itself. It can stand the rough and tumble of an off-road adventure, however, it is heavy and there are aluminium versions which are not only lighter, but more than capable of withstanding the bumps and knocks of off-road use. Aluminium is also non-corrosive (unlike steel), an important consideration when there is the possibility of facing bad weather.
For those who want to leave the stresses of the city behind and set off on an adventure to explore the magnificent Australian outback a ute is the perfect vehicle. But experienced adventurers don't accept the standard ute configuration. Accessories can make the difference between a good getaway and a great one. Accessorise today.