How to Make Your Products More Hygienic
The COVID-19 outbreak has called a temporary halt to the production and supply of most industries. Meanwhile, consumers call for more hygienic products with a growing awareness of health and sanitation. In the cases, automatic packaging machines stand out as the best solution to help businesses maintain regular productivity and ensure the sanitation level of products to be delivered to the hands of consumers.
Benefits of Automatic Packaging Machine
It fits beverage, beer, food, chemical, pharmaceutical production enterprises, and other manufacturing companies. Compared to those that mainly depend on manual production, producers with an automatic packaging machine are abler to maintain stable daily production and supply under the state's home quarantine order amid the COVID-19 outbreak.
It remarkably speeds up your production line. During the pandemic, you don't need to worry about a sharply decreased supply with an automatic packaging machine. By substituting manual wrapping for an automatic packaging machine, you will no longer need to complete the tedious and time-consuming tasks of product packaging.
It can help you save production costs, as an automatic packaging machine is much more efficient than manual production. With the machine, you can have more investments in the prevention and control of the pandemic.
It can also help your stock control. When you use the right automatic packaging machine, your products will be securely wrapped to prevent damage from dirt, dust, and moisture, in case of a long lingering pandemic impact.
Tech-Long: One of the Best Automatic Packaging Machine Producer
Guangzhou Tech-Long Packaging Machinery Co., Ltd. (Tech-Long) is a leading liquid packaging machine provider in China and can offer a complete turnkey solution for all filling & packaging line requirements.
Its automatic aseptic packaging machine series outshines similar products on the market, suitable for beverage, beer, food, chemical, and pharmaceutical producers. Moreover, the automatic packaging machine category highlights high automation degrees, reliable control, easy adjustment, and convenient operation and maintenance.
This article will focus on Tech-Long's automatic shrink wrapper, one of its top-selling automatic packaging machines. The automatic shrink wrapper uses shrink wraps, a polymer plastic film, to cover products. When heat is applied, the shrink wrap shrinks tightly over the thing it is covering.
Processed by shrink wrapping, products will be more sealed, far from dampness and light introduction, and well protected during transit. Such product performance well conforms to the current pandemic condition, helping you provide customers with hygienic and aseptic products.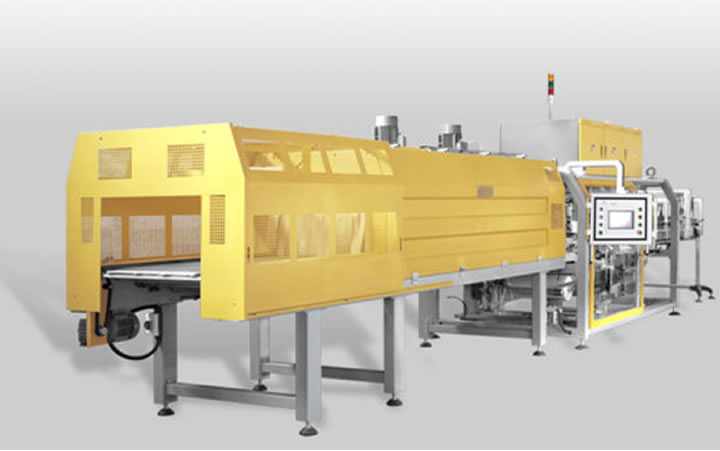 How Does Tech-Long's Automatic Shrink Wrapper Work?
Conveying: Adjust the bottle type mechanism based on the related product packaging specification parameters and put bottles into the conveying belt
Divider: Divide the bottles into several rows for conveying
Bottom seal: Convey paper pad or half tray by the climbing belt to the bottom of bottles, cut the roll packaging materials to a certain length and place it on the bottom of the bottle group, and wrap the packaging materials on the bottle group from the back to front through the wrapping device
Heat: Heat the bottle group, and subsequently the packaging materials will be softened and shrunk and stick to the bottle group tightly
Cooling shrinkage: Complete the package by cooling shrinkage, and the whole packaging process will be finished
What Are Major Design Features of Tech-Long's Automatic Shrink Wrapper?
Multi-servo motor automatic control system: The automatic shrink wrapper is driven by 6-9 servo motors to ensure constant tension conveying of films. Its program presetting guarantees the rapid conversion of production specifications. Moreover, it also has the functions of automatic fault alarm and processing prompt
Film heat shrinkage-used heating oven and automatic temperature control system: The oven is designed with centralized heating, adjustable shrinkage temperature, adjustable film blowing air volume, and adjustable conveying speed. This can enhance the applicability of the oven to various films.
Film constant tension and servo cutting technology: The technique ensures the uniform film stretch.
Film wrap servo control mechanism: It can evenly wrap films of different lengths and widths on the labelled bottle groups, facilitating the uniform heat shrinkage of films and creating conditions for achieving excellent shrinkage effects.
Tech-Long's automatic packaging machine is praised as one of the world's best business solutions against the COVID-19 outbreak. Its automatic system, aseptic and high-quality packaging technology, and accessible operation meet your every requirement during a hard time. Moreover, the series comply with different products and are widely used in several manufacturing industries, which is worth your purchase.