Educational videos have become a big part of a learner's life. Whether you are a teacher who relies heavily on educational videos daily or you are on the receiving end, looking for informative videos. Educational videos have become essential, especially since the whole COVID pandemic started and everyone was limited to their screens.
But suppose you are a creator of educational videos. In that case, you know that if you don't have the proper editing application or the right tools, then making an educational video can be a frustrating process, but don't worry because we got just the editor that you are looking to get. These educational videos can be made easily using a screen recorder with webcam.
Why Do You Need to Record Educational Videos?
There can be various reasons why you will need to record an educational video. For example, you are a teacher who has to record videos for your students, or you are a content creator who makes educational videos and puts them out on social media sites such as YouTube. In addition, there can be different kinds of educational videos, such as lecture recording, tutorials, lectures, etc.
But whatever type of content you make, there is a specific pattern you have to follow. You don't want your students to get confused throughout the video. So now let's talk about the step-by-step guide that you can follow to make the best kind of educational videos.
A Step-by-Step Guide to Make an Educational Video:
For simplicity, we have divided all steps into 3.
Prepare and Record your Video
Compile and edit your video
Add audio effects to the video.
Let's discuss them one by one.
Prepare and Record Your Video:
Get Your Content Ready: To make an excellent educational video, you need to have good content. First of all, you need to decide what type of video you want to make, then do proper research on that subject, come up with an exciting approach, and you are good to go. Make sure your content is not copied from anywhere and is original.
Get Your Equipment Ready: Now that you have decided on your content, it is time to get your microphone and webcam ready. Using a webcam and microphone improves the quality of your video. It makes a one-on-one connection with your students, which builds trust between you two. It is a plus point if you have good equipment.
Content outlines and equipment are ready now. We need software to record the video.
Record the Video with DemoCreator 5.0: You can record with DemoCreator-screen and audio recorder. There are three recording modes that you can use.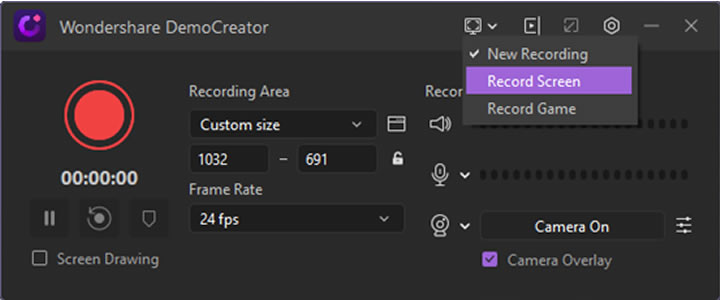 New Recording: In this mode, we can record the screen as well as record the webcam, microphone. We can adjust the webcam on screen or record it separately. If you want to record your reaction over the footage, you can do that in this mode.
Record Screen: In this mode, you can record the screen and microphone, system audio. It's very useful if you want to record an explanatory video.

Record Game: In this mode, you can record games. The new 5.0 update has added a game detecting feature in the application, so now you can detect the game start recording. The list consists of Pubg, Fortnite, Cod, and more.
Select the Quality of the Video: In all three modes, we can record in different qualities, which are 2k, HD, Full HD, or custom.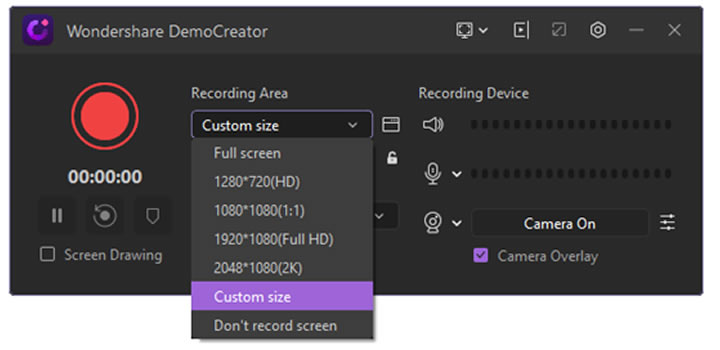 AI Face Recognition: You also have the AI face recognition feature, which can help your webcam footage to blend with your background. If you are using a face cam over your footage, it automatically detects your face.
Okay, now that you have learned about preparing and recording the video, let's talk about editing videos using DemoCreator 5.0 and making them attractive.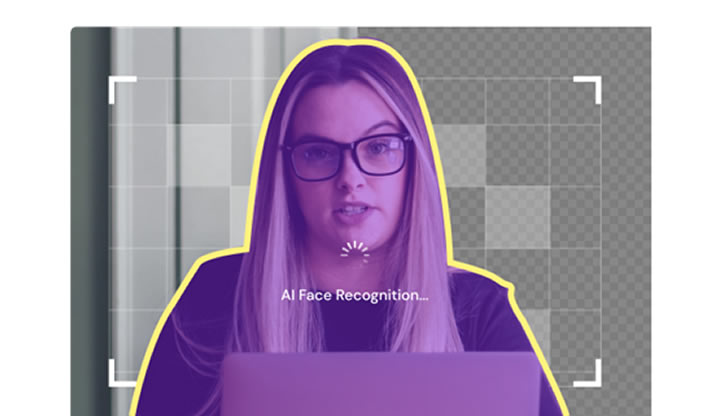 Compile and Edit Your Video:
Editing is an essential part of making educational videos, and with DemoCreator 5.0, you can focus on editing without getting confused.
The application is specifically for Educational videos. The app has a lot of features. It gives you the comfort to keep the essential parts in the video and leave out all the unimportant details. Let's talk about these features more!
Editing Features of DemoCreator 5.0:
Basic Editing: You can crop, split and trim the unwanted parts from your footage. So, for example, you have 10 minutes of footage, and the first two minutes of the footage are not needed, you can trim the first two minutes and keep the rest in, or if in some clip you want to focus on one part and not the whole footage, you can use the crop effect and highlight that one part.
Texts Effects: The DemoCreator 5.0 has one of the best text effects for you to use. You can choose from a lot of options. These texts make your video seem professional. You can also edit the texts, text borders, text shadows, add behaviors like the typewriter, cinema effects right from the application.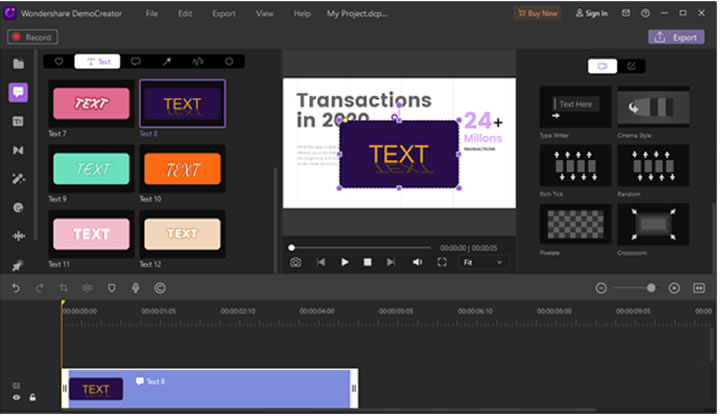 Stickers: In the new version, DemoCreator designed more sticker effects like a hashtag, following, check out.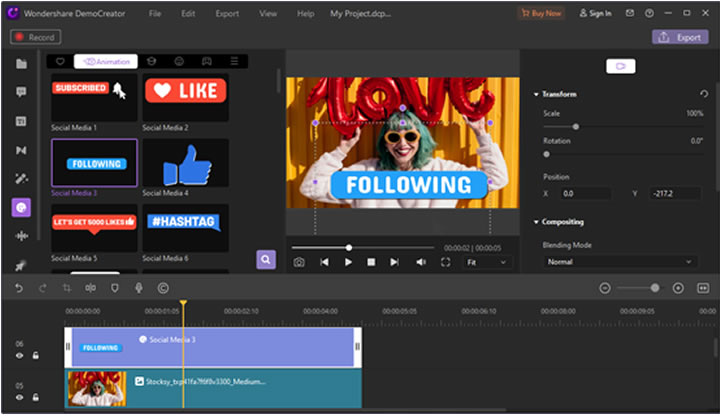 AI Facial Recognize Effect: The new 5.0 version has an AI facial recognition feature that is green screen friendly. It removes your background and helps your footage to blend in with your environment.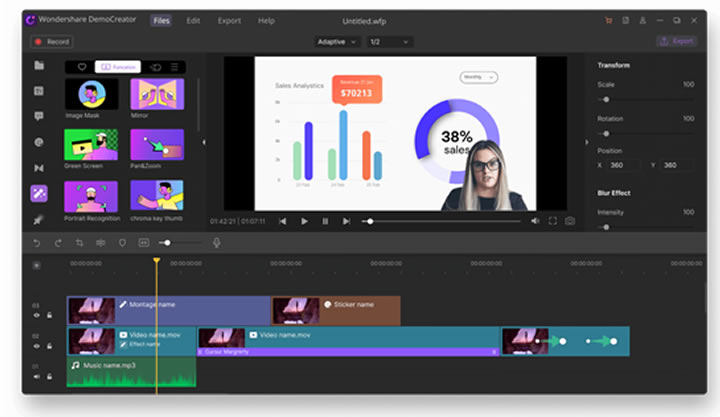 Mask: This feature allows you to create a mask of your footage. You can also adjust the width, size, and height of the mask. You can use the effect to mask footage. For example, if you are doing a face cam video over your educational video, you can add the mask and make it more appealing to watch.
Mirror: This effect helps you create an exact image of your footage. There are two types of mirrors in the effects panel, Horizontal and Vertical. You can add this in case of an error. For example, if you shot your video at the wrong angle. You can use this effect to mirror your video and correct your angle.
Okay, now that you have learned about the video editing effects of the new 5.0 version of DemoCreator, now it is time for you to learn about the application's audio effects.
Add Audio Effects to the Video:
The DemoCreator 5.0 has many new audio effects that you can use to make them more entertaining in your educational videos. Many people have a minimal attention span, so keeping the tape more and more entertaining throughout is very important.
Correct Answer Effect: You can use this effect whenever there is a correct answer appearing on the screen.
Wrong Answer Effect: You can use this effect whenever a wrong answer comes up. Doing so makes your video more engaging.
Question effects: You can use this effect whenever there is a question being asked.
Typing effects: Adding this effect while you are typing something in the footage cab make your video attractive.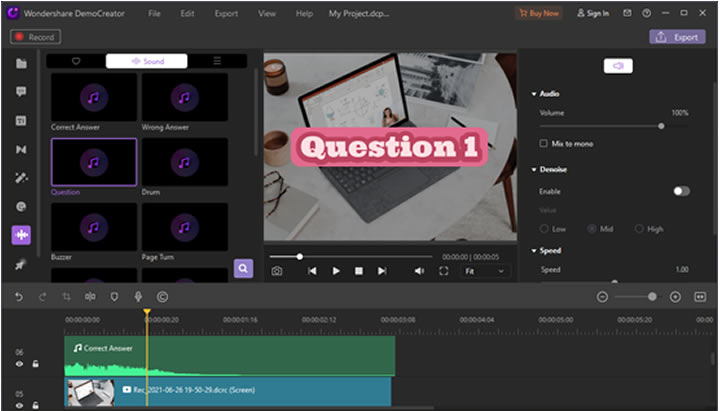 DemoCreator Launch Many New Effects Assets for Education:
DemoCreator has launched a lot of new effects and assets for people who rely heavily on educational videos. The education pack is very fit for your training course recording, tutorial, instructional video, presentation video, school introduce the video, as assets in your video to make it more professional and interesting.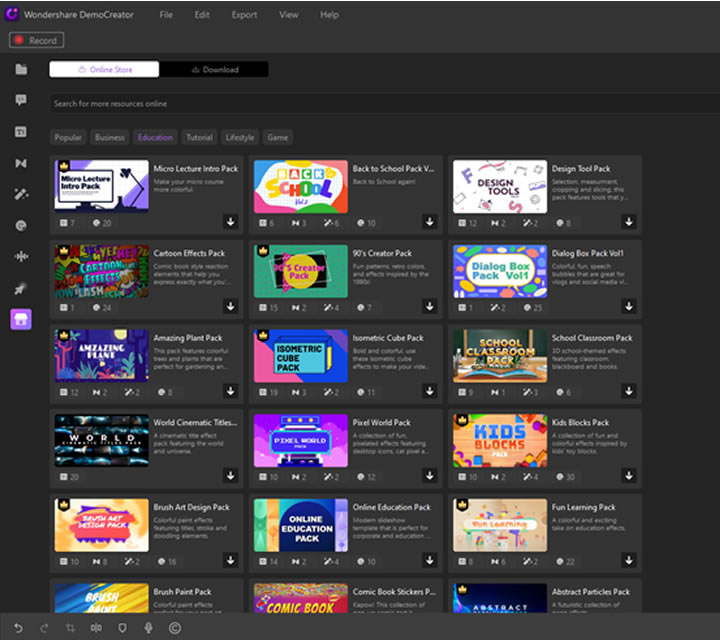 Use DemoCreator for Educational Videos:
Today we learned about the DemoCreator 5.0 and how compatible it is to make educational videos. The new features in the application have made it exciting to make educational videos, features like AI face recognition help you make face cam videos.
The new DemoCreator 5.0 cannot be more perfect! There are new sound effects to use and help build that connection with your audience. New templates that will make your video more professional, annotations will let your audience know what you are trying to tell them. Most importantly, an educational pack that will expand your knowledge even further.