Aluminium is a popular material that can be used to build a variety of construction structures. The construction industry is one of the three main markets for aluminium extruded profiles, about 20% of the world's total aluminium production is used in the construction industry.
In some developed countries, the amount of aluminium extruded profiles used has accounted for more than 30% of its total production, and its percentage is continuing to rise. Why are aluminium extruded profiles so popular?
The following article will cover the features of these aluminium extruded profiles and the finishes, which are the key reasons why it's such a popular choice when creating building structures today.
What Is Aluminium Extruded Profiles?
Aluminium extruded profiles are extensively used in construction and engineering applications such as architectural hardware, window frames, and staircases. This is because aluminium tends to be more pliable than other metals. Even though it is very lightweight, it can still rival steel when it comes to strength.
Aluminium extrusion is made from high purity aluminium injected into a die that blows molten aluminium through a ram to create the profile shape via pressure and forced cooling.
The force of the ram pushes out a thin coating of aluminium on both sides of the formed cross-section to create an even surface area with no surface porosity or corrosion.
Features Of Aluminium Extruded Profiles
Aluminium profiles are becoming increasingly popular for residential use due to their impeccable features.
Stability and durability: Aluminium has the highest weight-to-strength ratio among all metals, which prevents it from bending under its weight. Plus, the manufacturing of these aluminium panels is done by using extremely high pressure, which makes them extremely durable.
Wind resistance: The aluminium profile has a high tolerance for extreme weather so that you can use them in any climate. This metal will not rust or oxide in the harsh wind.
Easy to process: Aluminium profiles are easy to cut and work with other structures. These materials are easily manipulated to just about any size, shape, or design that you can come up with.
If you're looking to build something that requires a lot of customization to size or shape, aluminium profiles are the way to go.
Simple repair and maintenance: Aluminium is also resistant to corrosion and therefore requires very little maintenance over its lifetime.
Cost-Effective: Aluminium is the most cost-effective profile in the market. It is small density and lightweight. The price of the same length of the same section of the aluminium extruded profile is only 1/3 of the steel, with high economy.
Environment protection: Aluminium extruded profiles can be recycled after use. Aluminium recycling has a lower energy consumption which is equivalent to 5% of the original aluminium production.
Moreover, the recovery rate is high at 3.5%-8.5% per cycle, which can be recycled repeatedly, avoiding the waste of resources and pollution to the environment.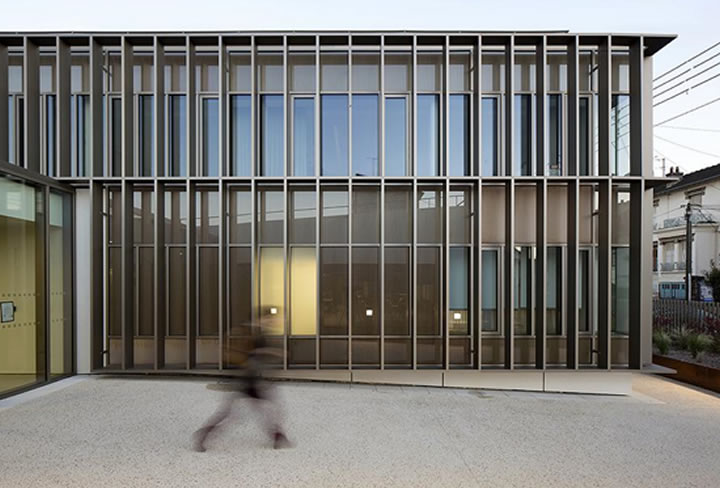 Applications of Aluminium Extruded Profile in Construction Industry
Some common applications of aluminium construction profiles are given below.
Aluminium curtain wall: Aluminium curtain walls have been used in the construction of buildings for decades. Standard aluminium curtain walls are skin-mounted glazing composed of toughened transparent aluminium alloy attached to a steel frame with a durable silicone adhesive.
The aluminium curtain wall has the advantages of advanced structures, good technics, high security, and wide ranges of versatility.
Aluminium profile for windows and doors: Aluminium profiles for windows and doors can be manufactured in various shapes to cover the standard window or door openings without additional hardware.
The profile is installed with simple screws or other fasteners, which keeps construction costs down relative to other materials such as wood. This is particularly important for commercial construction, where significant cost savings can be achieved.
Finishes and Merits of Aluminium Extruded Profiles
Mill finish: Mill finish is one of the most popular surface treatments for aluminium profiles. This anodizing produces a silver, finely textured, and soft feel on the surface.
Some of the most popular applications for mill finish are decorative aluminium profiles, handicrafts decoration, furniture decoration, automotive trimming, and architectural trimming.
Clear anodized: Clear anodized is a diffusion-strengthening and corrosion prevention method on aluminium. It is accomplished by immersing the metal in an acidic electrolyte bath and passing an electric current through it.
The reaction causes the metal surface to be covered by a thin oxide film, preventing further reaction with atmospheric oxygen and weathering. This process does not harden or form a layer as thick as steel but is effective for increasing the strength of uncoated aluminium or alloys such as magnesium.
Electrolytic anodizing: In the electrolytic anodizing process, a protective oxide layer is formed on the surface of a metal by passing it into an electrolyte solution that contains a highly oxidizing agent.
This coating is bonded to the metal when exposed to sulfuric acid, and it is dissolved and removed from the surface. The process leaves a porous alumina film on the surface, which protects against corrosion and oxidation.
Powder-coating: Powder coating is a thermoplastic applied by dipping, spraying, or brushing onto the surface of metal parts. The powder melts and penetrates the microscopic pores on the surface of the part and then hardens to form a continuous film that is solvent and corrosion-resistant.
A great advantage of powder coating over liquid coatings is its ability to impart very smooth surfaces, even on complicated shapes with difficult radii bends and undercuts.
PVDF painting: PVDF painting is suitable for both exterior and interior surfaces. It does not require a primer and can be applied directly onto aluminium profiles without adhesion problems. PVDF paints are quick-drying and give a durable, glossy surface that is resistant to scratches and abrasions.
The chromatic range of colours in the range of 10CO-11RG is designed to allow customization, including matching existing colours or obtaining the desired shade from the RAL palette.
Woodgrain finish: Aluminium is known for its natural sliver look. However, when you apply a wood grain finish on this metal, it brings out its beauty. It highlights the different grain patterns in the metal; there is a clear contrast between light and dark areas, making it even more appealing.
How to Improve the Quality of Aluminium Extruded Profile?
Here are some ways by which the manufacturers can improve the quality of the aluminium extruded profile.
Reasonable chemical composition: Low-quality aluminium profiles are more vulnerable to cracking issues, which affect performance. Many companies use special compounds for aluminium profiles like iron oxide and indium oxide to increase the density and quality.
Advanced production technology: The manufacturing of aluminium profiles has been gradually transformed through the use of advanced production technology. Many companies use laser cutting, bending, welding, stamping, and deep drawing to enhance the production quality of profile products.
How Can You Choose an Aluminium Extruded Profile Supplier?
It is very important to find the right aluminium profile supplier for your project. Look for a company that will offer you competitive pricing, products made with high-quality aluminium, and excellent customer service.
Xingfa Aluminium Profile is a well-known aluminium extrusions supplier in China. Xingfa has been committed to providing customers with high-quality products and competitive prices for more than 20 years.
They have specialized in producing all kinds of extrusion profiles and have passed ISO9001 certification, QMS certificate, and OHSAS certificate, which proves that their product meets international standards. If you are interested in any aluminium profiles, please feel free to contact them!