Roger Federer and the Australian Open go together like shrimp on the barbie. He's won six times in Melbourne. Among Federer's 20 Grand Slam triumphs, only more have come at Wimbledon (seven).
He's won more matches (102) at the Australian Open than any of the four Grand Slam events. It was also the site of Federer's triumphant return from a 2016 knee injury that scuttled his season in the summer months.
He kicked off 2017 in spectacular fashion, winning on the hard courts of Melbourne. His run to the title was highlighted by an epic five-set semi-final verdict over longtime rival Rafael Nadal.
Federer is poised to return from another knee injury. In February, Federer underwent arthroscopic surgery to correct a right knee injury. However, the surgery didn't correct the issue. In June, Federer announced that he would be required to undergo an additional arthroscopic procedure on his right knee.
The Swiss star hasn't played a competitive match since losing to Novak Djokovic in the semifinals at Melbourne Park on Jan. 30. This injury was remarkably similar to the one he suffered during a five-set Wimbledon semi-final loss to Canada's Milos Raonic in 2016.
In this instance, though, it would appear that time is not on Federer's side.
"I would have hoped that I would be 100 percent in October," Federer told The Guardian. "But I am still not today.
"The second knee operation was a huge dampener, but in the last six months, there has been steady progress. Let's see how the next two months will unfold. I've been doing a lot of physio and physical work lately, now let's see how tennis is doing.
"It's a race against time for the Australian Open. I'm curious to see whether it will start on February 8. Of course, it would help if I had a bit more time.
"It will be tight for the Australian Open."
On that note, the news is not good for the Swiss legend. Tennis Australia is expected to confirm the Feb. 8 start date for the event any day now.
Since 1999, Federer has competed in 21 consecutive Australian Opens. That's a tournament record.
Getting On In Years
Federer will turn 40 next August. His established goals for 2021 are to be 100 percent ready for Wimbledon and the U.S. Open, as well as the Tokyo Summer Olympic Games. Federer intends to compete in men's singles at the Olympiad. An Olympic gold medal is about all that's missing from his incredible resume of success.
"The big plan is to be there for the Olympics," Federer told BBC.com. "This is for me, is the big one. Maybe selfishly for me, it is not a bad thing that it was moved a little bit because of the problems I had last year.
"Let's hope for the best for the Olympic Games coming to Tokyo this next year. This is clearly also one of my big goals. I really hope I can come back to Tokyo for that."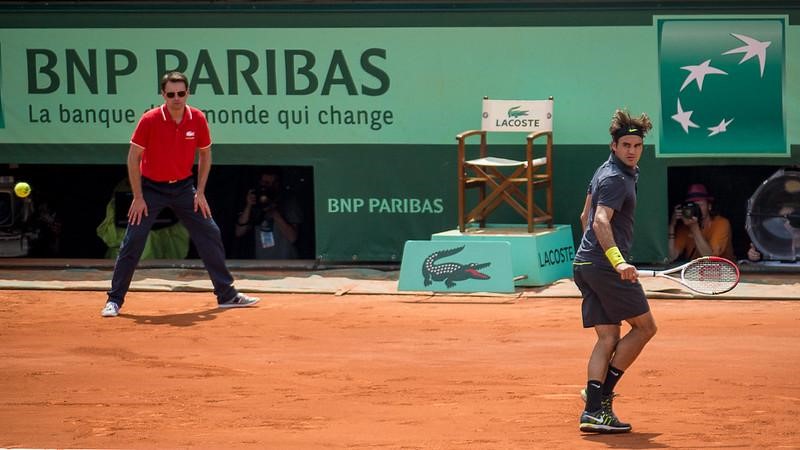 "Roger Federer" by y.caradec is licensed under CC BY-SA 2.0
COVID-19 A Help To Federer
Originally slated to begin Jan. 19th, the delay to the start of the Australian Open was implemented to give Tennis Australia extra time to prepare their site to encompass all COVID-19 protocols.
Australian regulations require all entrants into the country – even nationals returning home – to quarantine for 14 days in a hotel room. The Australian Open participants won't be permitted to enter the country prior to January so as not to overburden the hotel quarantine system during the busy holiday season.
"The rest of the world is on fire, so there will be quarantine for anyone coming to our city or state," Victorian Prime Minister David Andrews told Australia's 7 News Sunrise program regarding the COVID-10 pandemic..
"You've got 250,000 cases a day in the United States, Europe is not much better, many parts of Asia are really struggling.
"As important as a tennis tournament is, we're not going to jeopardize our coronavirus status by anything other than the highest standards."
Expectations that take into account social distancing regulations indicate that tournament seating will be able to be filled to between 25-50 percent capacity.
Tournament officials did get some good news this week. Nadal confirmed that he would be in Melbourne.
"Rafa is confirmed he is traveling to Melbourne and playing in the Australian Open," Nadal's spokesperson, Benito Perez-Barbadillo, told the Melbourne Age.
Nadal skipped last year's U.S. Open rather than a journey to the USA.