Folx is a free application that combines both the download manager and torrent client functionality for Mac. Folx is also in the PRO version. Folx for Mac is one of the best ways to track downloads and torrents after the Catalina update. With the auto-resume option, it is helpful if there is some interruption in the download. It's simple to use and has various features that make it one of the robust managers. This works perfectly with Catalina. You can use without concern whether you need or want to run the most up-to-date OS.
Additionally, Folx supports downloading the torrents from trackers and magnet links. The BitTorrent Mac content is much easier to access via the magnet links. Folx is typically a free download manager, but it's also available in a PRO version. Folx PRO lets the user find Mac torrents on multiple trackers directly from the device at the same time so that you can find the best torrent files without searching multiple torrent websites online.

What does folx do?
Many who know the older version of this application may well wonder why Folx is one of the best torrent  downloaders for mac. Eltima Software, the developer, released version 5.0 last year. This is a 64-bit program which means it works with Catalina and Mojave work seamlessly. For starters, Folx includes a plugin that enables the application to take charge of downloading tasks from safari, Chrome, Firefox, or Opera browsers. The fact is that Folx splits transfers between two threads to make files download faster; the plugin also works more efficiently than Speed Download has ever done. The app resumes from where it has been downloaded automatically if the update is interrupted for some reason.
Folx lets you set speeds for downloads. It even has options that it needs to do when you finish a download. It is particularly helpful when you download overnight because you can:
Have the system placed in sleep mode
End the session and stop the program
Enable the system to shut down when a download is completed
This means that you don't have to stay late waiting to finish this download.
Did you know Folx can download YouTube videos for you? It also has a handy "audio-only" option. That means you can get the audio from the video to stream later on your devices. If you download a lot from websites that need authorization, Folx can help too. You can save login data to up to two websites with the free version. You can store login data on a variety of limitless sites using the Pro version.
An easy-to-use Interface
The implementation of a user-friendly GUI is the main changes to this latest edition of Folx. One of the problems with Folx has been for years that it wasn't that great to view.
The UI also meant the program couldn't be used as easily as it is now. Version 5.0 has given the device a very important makeover and has been updated for Retina displays. This makes it even more user-friendly and intuitive.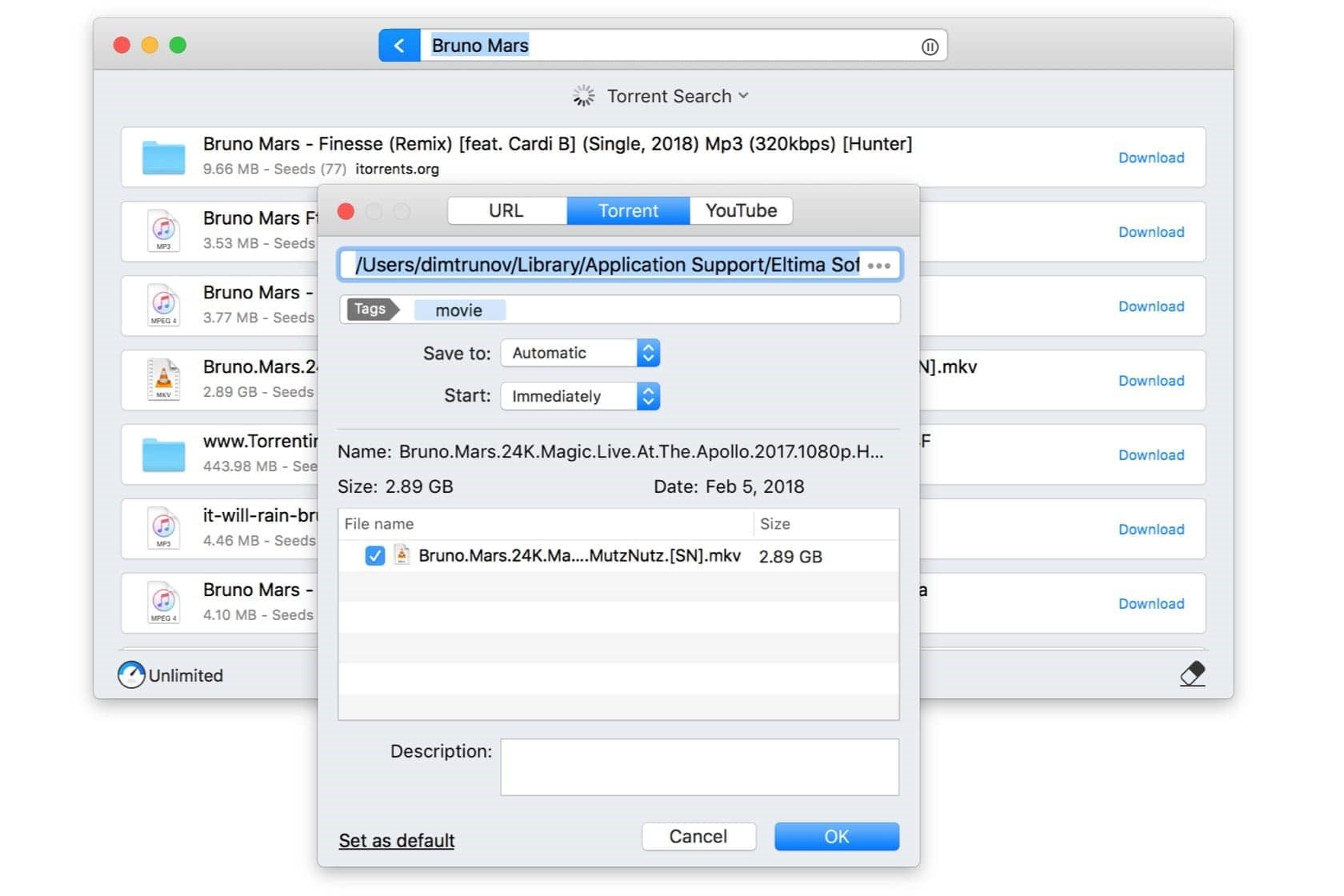 Folx's Advantages –
Folx is one of the easiest to use torrent Mac downloader. The user interface of Apple is highly intuitive and completely supports on Catalina, the new Apple operating system.
Folx allows users to add "tags" to each file that defines the type of content you download (photos, films, etc.). These can be stored on their hard drive in different directories.
Makes sure the user downloads to be the most secure and BitTorrent files to be the highest quality.
Folx's Disadvantages –
The only thing that can be counted as a disadvantage about Folx is that some of the best features can only be found in a PRO edition that costs $20.