Getresponse vs Mailerlite – which email marketing tool is better?
Both GetResponse and MailerLite are great choices for your email marketing efforts. They offer several options to manage subscriptions, send emails, and analyze statistics (among other options). But sometimes, you have to choose one of the available email marketing solutions. So how do you know which one is better?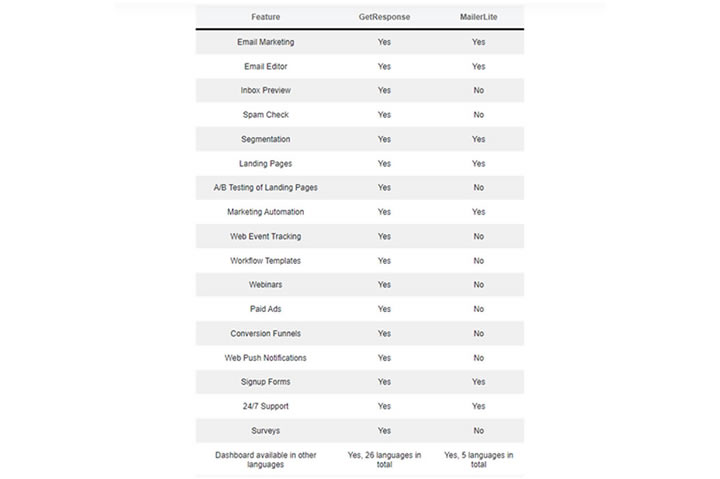 Table 1 GetResponse – vs. MailerLite – feature comparison
If you read the review for GetResponse vs MailerLite, you'll discover a complete comparison between both applications in terms of prices, plans, features, integrations, etc. If your decision depends on this information—and these are important factors when choosing an app—you should continue reading.
When it comes to choosing between one of these apps, there is no correct answer: both applications work perfectly well and will help you achieve your goals. But if you decide to choose one of them over the other, be sure to make the right decision based on all the available information.
In this article, we will compare the main functionalities offered by each application so that when it comes time to decide which program to go with, you can take into consideration all the characteristics and make a sensible choice based solely on facts. Let's get started!
Both Getresponse and Mailerlite have their unique benefits and drawbacks which should help you make a well-informed decision about the email marketing software provider you should choose. Let's take a look at Getresponse vs. Mailerlite to help you make an analytical decision about this subject matter
Both Getresponse and Mailerlite are designed to create, send and track your email marketing campaigns
Getresponse is an easy-to-use tool for everybody who wants to be successful with their campaign. According to the Getresponse review, it has a great number of features that enable you to personalize your communication with customers.
Founded in 1998
Headquarters in Gdansk, Poland
7 offices located in 6 countries
350,000+ customers in 183 countries
400 employees across all countries
The platform is available in 26 languages
34 agents in 24/7 support
Getresponse's tools help you in the process of creating newsletters, registration forms, and surveys, etc. The Getresponse apps feature helps you in engaging with prospects and customers in real-time by using chatbots and other widgets in the customer care area.
It also allows you to control day-to-day operations by setting up automated marketing tasks that can run unattended 24/7 without having any technical knowledge required from your side.
Getresponse has many plans to choose from whereas MailerLite only offers one plan with a limited number of features. Getresponse has a monthly payment plan while Mailerlite has a free plan up to 1000 subscribers.
Getresponse constantly inspires you to boost your campaign performance by offering features like Getresponse apps which can be useful in modernizing your customer care service or increasing customer engagement through live chatbots and widgets on your website etc.
Want to use an email marketing service?
MailerLite helps marketers create and send more profitable emails with less work. In this MailerLite review, you find a thorough analysis of MailterLite features and pricing plans. you  So you can make up your mind whether it is the right fit for your business or not!
MailerLite is a tool that is very simple to use. It also has a lot of its own features such as newsletters, marketing automation (available in a free account), and surveys.
Founded in 2005 but since 2010, MailerLite is their main focus tool
More than 900,000 businesses, start-ups, and freelancers around the world trust MailerLite
MailerLite send more than 1 billion emails every month
Headquarters located is in Vilnius, Lithuania – half of the MailerLite team works remotely from 32 different countries like France, Singapore, Mexico, USA, and Poland
The average age of MailerLite team members is 28 year
MailerLite is an email marketing platform that was launched in 2011. The company's headquarters are located in Montreal, Canada. They provide businesses that range from small e-commerce companies to Fortune 500 brands with a convenient and easy mail solution.
Marketers and companies that send promotional mailings to their subscribers. Event organizers who use MailerLite to create signup forms for people interested in attending events or seminars.
One thing many marketers like about MailerLite is how it enables them to do A/B testing right from within their account panel.  This means they can test out different headlines, images, subjects, etc . on their lists without relying on a third-party email marketing tool or service! You can also edit your mail template and preview mail using MailerLite.
Also, MailerLite has automation available in a free account which is quite a unique feature. Usually, automation is only available in paid tiers of email marketing tools including GetResponse.
MailerLite has a very user-friendly drag and drops email builder that allows you to edit your mail template without writing any HTML code. This makes your mail campaigns simple to create, while still looking professional!
You can also preview your campaigns before sending them out to ensure they are exactly the way you want them. With MailerLite, you get unlimited mail design so whether you have one or multiple mailers in progress at once, there is no restriction on the number of copies being sent at one time.
It might be hard to choose the appropriate one for your needs with so many e-mail marketing solutions on the market. You now have to compare and invest in each instrument, which may assist you to meet your unique requirements. You will payout in the long term if you take time to choose the proper instrument for Marketing objectives — and your budget.
Getresponse vs Mailerlite – Our Recommendation
Use MailerLite if you start your business as you can have a free account with most features and automation. Use GetResponse when you have more than 1000 subscribers and you want more advanced marketing tools that MailerLite does not have.