Slide sandals are utilitarian. They are comfy and are best worn after a tough workout so your feet can get a breather. But nobody said that slides can't be trendy and fashionable. If you are looking for trendy women's slide sandals then you've come to the right place. Here you'll find slide sandals that you won't be ashamed to wear outside the gym.
Under Armour Women's Ignite Sandal
The brand Under Armour has a somewhat macho image. Maybe it's the name. Or maybe it's the overall aesthetic of the brand. Surprisingly, however, they make very good products for women. And they look good too. A very good example is their Ignite Sandal. The company did a very good job to reinvent the slide sandal to make it trendy and fashionable. This is a pair that you can actually wear on casual trips. They are super comfortable too. But that is expected of Under Armour. It has a double layer footbed and a re-engineered EVA outsole that offers outstanding cushioning. But it is also very light. Get this pair. Your feet will surely thank you.
Adidas Women's Adilette Aqua Slide Sandal
You really can't go wrong with an Adidas slide in terms of comfort and functionality. The brand practically invented slide sandals. This particular model is designed for water sports. It's something you can wear when you get off the pool. So it's made of a quick-drying material. In terms of durability, it's hard to beat Adidas too. Their sandals will serve you for years. This pair may not be the trendiest on this list. But they have a classic style that will go well with any casual outfit. If you're looking for a simple and comfortable slide that will last for a long time, then you should consider getting this pair from Adidas.
Nike Women's Benassi Just Do It, Slide Sandal
Nike is a brand that definitely knows style and it shows in their shoes and in their line of apparel. And this pair of slide sandals may just be the trendiest that you'll see. And the best thing about it is that the strap comes in different colors. It even comes in gold. And because it's affordable you can get several of them. These slide sandals are comfortable too. It features an injected Phylon midsole that provides excellent cushioning but still helps keep the sandals light. Compared to other slide sandals on this list, this pair has a more premium feel thanks to the soft midsole foam and jersey lining.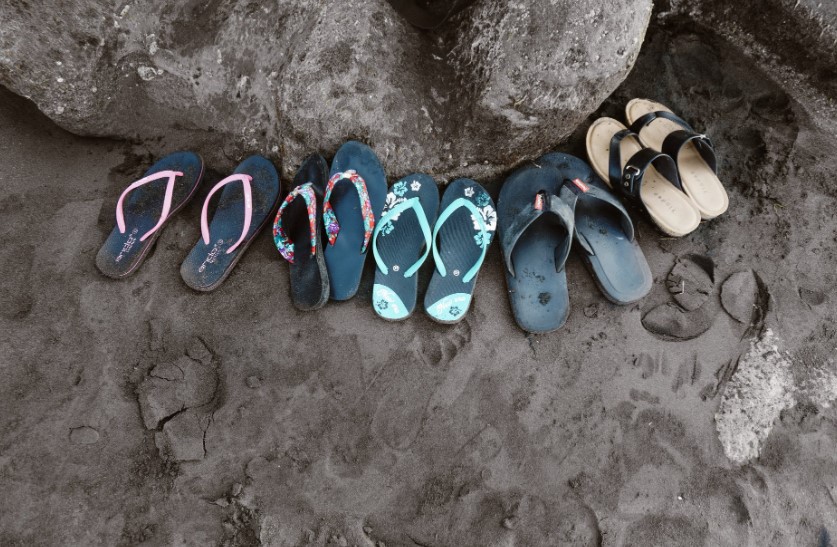 PUMA Women's Popcat Slide Sandal
This pair from Puma is a little bit on the wild side thanks to the design of the strap. But it does come in tamer versions for those who don't want the extra attention. Like Adidas, Puma is also known for making comfortable and durable slides. After all, the two are sister companies. This is another safe choice if you're looking for something that will last. This pair is also very comfortable. It features a molded footbed and a padded strap that will make you want to wear these all day long.