An organization's failure to find the right change management tool causes 70% of organizational change programs to fail. In the case of a successful project, only 25% are successful in the long term.
When you are conducting an organizational change program, a change management tool can help reduce confusion and uncertainty, improve employee engagement, and see a significant reduction in project durations.
How change management tools eliminate the dread of change
Let's discuss first, what a change management tool is. A change management tool is a software application used by organizations to plan, manage, and track changes that result from critical change management initiatives.
There are many different types of change management tools that provide their own features to fit the inevitable needs.
There are many examples globally where intervention has caused many changes for employees and is naturally resulting in resistance. If you are proactive, you can also minimize this resistance.
Some people struggle with change and don't want to adapt to new norms. However, everyone in an organization has to keep an open mind because they are the ones who will help push things forward.
Usually, there are two different types of resistance: employees who verbally object, and those who don't openly resist but silently refuse by refusing to cooperate or doing the bare minimum.
This is all related back to fundamental patterns and predictability that humans are programmed to feel anxious and insecure when faced with change.
The most important part of change management is helping people adapt to changes in a controlled, strategic manner. Clearly, the best way to do so is to have the most suitable change management tool that will help leadership from beginning to end of the change initiative.
How to use change management tools in your workplace
Using a change management tool allows you to organize the different phases of change effectively.
These phases include preparation, implementation, and reinforcement. A change management tool includes options for employee feedback, as well as accountability. Additionally, it also supports employees through dashboards and offers validation features.
All of these will enable employees to trust the organization more, identify with the goals of the change initiatives, and resistless, and most certainly the entire initiative will be a lot easier.
Organizational network analysis (ONA) is becoming a useful methodology or tool since it maps out and empowers employee trust networks, as well as reveals points on how to optimize communication and feedback processes in the organization.
There are many benefits to being able to analyze your organization from a network point of view.
Generally, there is an average of 10-15% increase in productivity, and an increase in net promoter score by 10%, and it is possible to optimize workflows to achieve savings of up to 15%.
Additionally, the ONA process has led to a 15-25% chance that project duration would be shorter, as well as an increased understanding of the value of employees.
To speed up change and create team efficiency in an organization, you can use this map which is the result of ONA, to identify influencers who can pass on your messages to the entire organization.
The OrgMapper | INFLUENCE is a unique solution geared towards change management. It can help pinpoint trust networks within the organization, which helps the transition process in any situation.
This change management tool can find your organization's influencers and help boost buy-in from employees.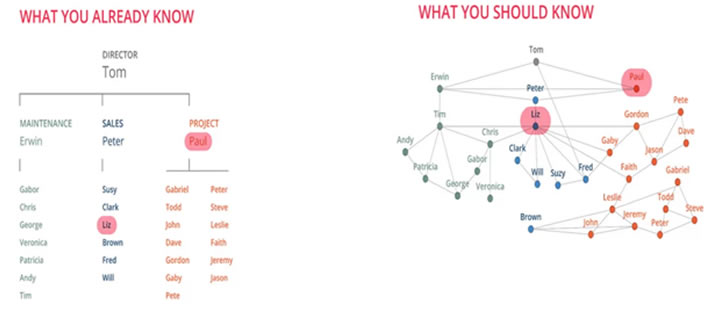 With the help of a visual report, you can identify where your message is ineffective and then explore that message more closely with your team. Using a collaborative AI can help you bridge the gap between your employees and improve project duration by 25%.
How can Change Management Tools enable you to succeed with change initiatives?
You can choose resources to help make any type of change easy. Adopting change faster and staying ahead of the game is possible through the use of a few guidelines.
Before entering the pool of available options, make sure you know exactly what your company needs in order to achieve its goals with regard to change management.
This will go a long way in shortlisting software that fills these requirements and choosing the one that suits your organization best.
Reference
OrgMapper provides consulting on how to expand communications quickly in all pockets of the organization to tackle business problems effectively. Over the course of more than a decade, we have found ONA to be beneficial for employee engagement.
It increases the cohesion and satisfaction with the company, which becomes a personal and empowering experience for employees.
Author: Lotti Ács-Biró, Marketing at OrgMapper, developed by Maven7