The Russian railway system is one of the largest in the world, touching almost every city and town in the country and stretching from Europe to Asia and from the Arctic Ocean to the Sea of Japan.
But beyond its vast scope, Russia's train system and the famous Sapsan train is a marvel of efficient, dependable, and timely transportation and a great way for tourists to travel between the historic capital of St Petersburg and the modern capital city of Moscow.
So how do you go about getting the Sapsan tickets?
Know the Schedule: Russia's rail system is famously prompt. Delays are rare enough to be shocking to the average rider. That means you can plan a trip from St Petersburg to Moscow by train with confidence that your train's departure and arrival will happen when it's scheduled to.
Check the government's Russian Railways site to find information about trains, routes, schedules, and fares.
For a more streamlined experience, you can also use third-party sites like Russian Rail, which provide schedule information often in a clearer and more focused format, especially when you have a clear route in mind.
Buy Online: Unfortunately, actually booking through the government's official site isn't always straightforward. It can be confusing and doesn't give a lot of information on what to expect or what travelers might need.
Research carefully before booking, and be aware that only limited forms of payment are accepted on the site.
A better option when buying Sapsan St. Petersburg to Moscow train tickets would be the Russian Rail website, which offers a smoother interface for finding and booking your train ticket.
The site also offers information on what to expect when taking the train in Russia, amenities, rules and useful tips to make your experience smoother, safer, and more enjoyable.
They also allow a wider array of payment methods, making booking a ticket easier for foreign travelers. Note that using a third-party site involves a small mark-up, but the wealth of information and ease of process makes the difference well worth it.
Buy Ahead: Russian train tickets can usually be purchased up to 90 days in advance, and it's a good idea to do so. Buying Moscow St. Petersburg train tickets ahead can ensure availability, especially on popular routes or trains, or when traveling during high-traffic times and holidays, and can often get a cheaper price than buying at the last minute.
Note that some trains, like the high-speed Sapsan and the Red Arrow, can book as far out as 120 days in advance – and again, buying as early as you can for these popular trains is a good idea.
Or Buy At the Window: You can, of course, buy tickets the old-fashioned way – walk into the railway station and buy your tickets right at the Window. While this is straightforward and allows you to make last-minute travel plans, there are also definite issues to beware of.
For one thing, you are at the mercy of availability – the train you want or the departure time you want may be sold out, especially at peak times, forcing you into a less desirable substitution. You could walk in wanting 1st class on the Sapsan, and have to settle for economy class on a slower train.
The other major issue is the potential for miscommunication. Unless you are fluent in Russian, you may have issues communicating with some of the station staff. At the very least, learn enough of the Russian alphabet to write down destinations and dates for the ticket agent.
When writing dates, use Roman numerals for the month (e.g., "V" in place of May, etc). Use extreme care when buying tickets if there's any question about how clearly things are being communicated.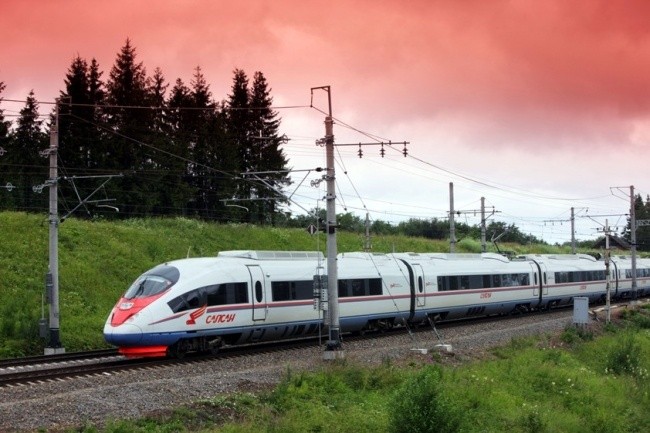 What You Get
Depending on how you book your Russian train ticket, you'll get one of three different types of tickets. To avoid hassles when boarding, you should know which you have and the differences between them.
Electronic Ticket with Registration – these are electronic tickets that you will receive via email. They do not have to be printed before boarding, just shown along with your passport. Printing a copy may still be a good idea, however, just for added peace of mind.
Electronic Ticket without Registration – this will also be emailed to you, but this one must be printed. You will have to convert the printed copy into a hard ticket either at the designated ticket office (look for the e-ticket sign) or at exchange points in the station.
Show your passport and printed e-ticket to receive the paper ticket you will show (again, with your passport) when boarding.
Paper Ticket – straightforward enough.
However, be careful not to lose a paper ticket – you cannot use a copy or photo, and may not be able to get a reissue. As with the other options, show your ticket and passport when boarding.