PDF is indeed a wonderful format for sharing documents from one person to another, but it gets very frustrating when you realize that you can make changes to a PDF document from your iOS device.
Well, editing a PDF document is not possible from any kind of device as these PDFs are meant for viewing only. To make changes to any PDF document, you must have a PDF editor app that can easily convert files into an editable format.
PDFelement is one of the best PDF editor apps that is equipped with all the top features and runs perfectly on iOS devices. Let's get to know more about this tool in detail and how you can easily convert scanned files into editable PDF documents.
Introduction of Wondershare PDFelement for iOS
Wondershare PDFElement is a PDF editor to help users in converting scanned documents into editable PDFs.
This tool is absolutely compatible with Windows, Mac, iOS, and Android. The newly updated version of PDFelement has released a PDF OCR and text recognition feature for iOS V3.0 that can convert scanned files to editable PDF documents on your iPhone or iPad in no time.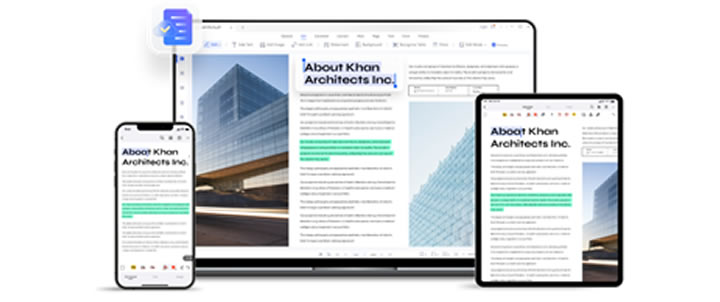 How to Edit Scanned Files on iPhone and iPad
There are multiple ways of editing PDF documents with the help of the PDFelement app but here we have listed two best ways through which you can edit scanned PDF files on iPhone and iPad. Let's get started.
1. OCR PDF on iOS
PDFelement for iOS is equipped with an OCR scanner that can easily recognize the text in 18 different languages from the scanned images and documents. This way your document will easily be changed into editable PDFs. Here are the steps that you are required to follow:
Select "Recognize" – Just choose the PDF document you wish to edit and open it in the PDFelement app. Then click on the three dots available in the top right corner and select "Recognize".
Tap on "OCR PDF" – Look for "OCR PDF" in the popped-up window and click on it.
Select the language – Here, select the language of the text in the PDF file. Later, click on next to proceed with the process.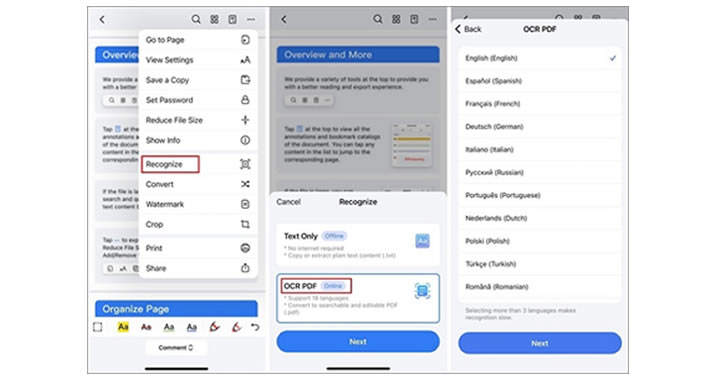 2. Edit Text in PDF on iPhone and iPad
PDFelement for iOS is a wonderful tool that smartly recognizes the characteristics of the text in PDF documents. This makes the editing process quite hassle-free as PDFelement identifies the font size, type, color, etc quickly.
Check out the below-mentioned steps you need to follow if you want to edit the text in PDF on iPhone and iPad.
 Open a PDF document – As the first step, you are just required to look for the PDF document you are going to edit in the PDFelement app just by tapping the + symbol and uploading a file form from your device.
Tap the Text tab at the top – After selecting the document, tap on the text tab available at the top of the window.
Tap on a text section to select it – Later, click on the text section to choose it, and proceed.
Editing the text – Once you are done with the above steps, just start editing the text by tapping on the edit button available in the floating toolbar.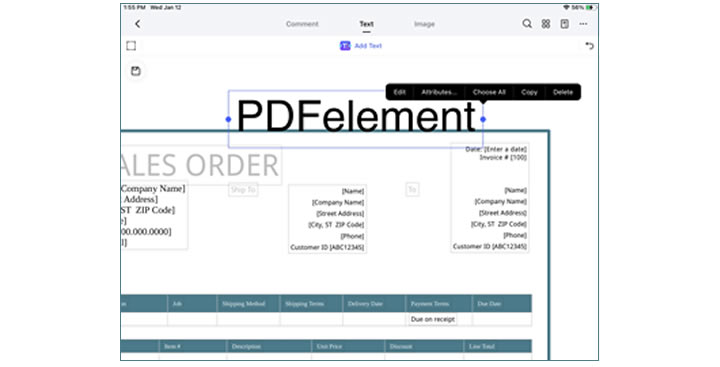 Pros and Cons of OCR Function of PDFelement
Pros:
The best part about PDFelement's OCR function is that it can support the recognition of 18 languages.
Apart from just recognizing 18 languages, it can easily generate editable PDF documents directly.
PDFelement can also recognize text, symbols, images, etc without using any extra features.
Cons:
You are going to need an internet connection to take help from this app for editing PDF documents.
There are a few restrictions on use as well, like the number of pages you can edit should be less than 100, the size should not exceed 100M and the number of other documents during the process must be less than 10.
Other functions of PDFelement for iOS
The function of adding hyperlinks in the text has been introduced which can help users in jumping between pages and web pages effortlessly.
 PDFelement has a new picture/camera signature feature that can be used for convenient remote signature and proxy signature.
 PDFelement can also work perfectly as a PDF Filler. The tool can automatically identify the area which is required to be scanned, add a smart filter, and can provide the best scanning results.
PDF documents can easily be shared with the help of the Document cloud feature present in PDFelement.
The UI and interface of the PDFelement have been improved to provide a hassle-free experience to its users while editing a PDF document.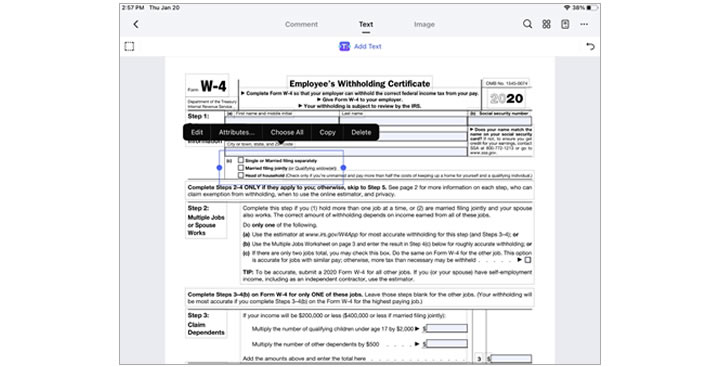 After the optimization of the document-level menu, the image and text editing have been merged to keep the UI more concise and user-friendly.
Verdict
Looking for suitable PDF editors for an Android device on the search engine is easy but if you have an iOS device, then things might get tough for you. There are very few options available for iOS devices and almost all of them work badly.
You don't need to worry if you own an iOS device, Wondershare PDFelement can work nicely and help you in editing PDF documents.