PDF and Word format are the most popular and widely used document formats all over the world for making and sharing information. People from every walk of life prefer these formats for managing their content and sharing it from one device to another without any hassle. Whether you are a teacher, a student or a researcher, you may probably prefer word format for creating an article within a short period.
There are many applications that are being used to create and manage word format; such applications are known as word processors. However, the word processor presented by Microsoft is considered as the most efficient word processor. This famous application is included in the MS Office suite. There are many additional features that are offered from this amazing word processor which enables you to create high-quality content within a few minutes. If you are looking for a platform that can assist you in writing a lengthy content without any hurdle, and provide you with the most user-friendly interface, then your search is over. You can use MS Word to write appealing and unique content within no time.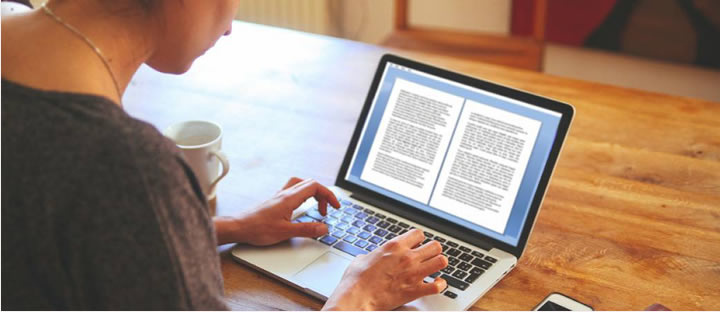 This amazing Format enables you to type a massive size content with much higher speed. There are some other amazing features such as spell checker, and grammar identification is also available in this word processor. Not only this, but you can also include images, fonts, and amazing clip-arts in your content in this fantastic document format. The editing of a word file is also straightforward, as you can simply open a document in word format and make changes in the content without any hesitation. That's why this amazing document format is very much appreciated in the writers' community for creating a high-quality material without any hard effort.
However, as every good thing usually has some cons too, similarly there are some limitations of using a word format. The word document format is not suitable for sharing data over the web, or from one device to another. There are many reasons behind this serious issue, and one of the biggest problems is its inconsistency. Once, you want to share a word document file from one device to another, the formatting or alignment of the content may get disturbed, and you might get a different layout of the document on another device. Moreover, the word format is also not considered as the safest Format for sharing content, as anyone can make changes in your word format file without any hesitation. That's why it is recommended to convert your word file into PDF to overcome these severe issues and share your content without any problem.
Convert a Word to PDF for secure sharing 
We all know that PDF is the best format sharing a file from one place to another over the internet safely and without any hassle. This amazing format provides you with the most secure and safest transmission of your document file over the web. If you are worried about the privacy of your data while uploading it over the internet, then you don't need to anymore; as you can convert your Word to PDF file within no time. You can apply a strong password to your PDF file, which enables you to make your data secure and safe from any unauthorized access. Moreover, if you want to share your data from one device, and want to have the same layout and design of that document, then the best option is to convert it into PDF format. The PDF file is famous for its consistency and its ability to offer you the error-free transfer data from one device to another. But, you might have a question in your mind that how can we convert our word file into PDF. Well, we have got you covered, as you can use any efficient online Word to PDF format to turn your doc into PDF. This amazing online tool enables you to convert your word file into PDF without going through any hassle of typing all the content again by yourself. You can turn your doc file into PDF with a few clicks on your device quickly.
If you are having some doubts in your mind that this online word to PDF converter may charge you a huge amount of money to turn your files, then you don't need to get worried, as you can turn your files into PDF without paying a single penny. Also, there is no need to make an account on any website or go through any boring sign-up process to use this efficient online tool. You will also not be asked to choose any payment plan or give your banking details for using this fantastic online word to PDF converter. There is also no trial period of this amazing online doc to PDF converter, so you can convert as many word files into PDF as you desire without any hassle.
Final Words
Word and PDF are considered as the most powerful and reliable software to manage your document files. However, PDF format has the edge over Word format due to its amazing consistency and ability to transfer a file without affecting the quality. The PDF format also guarantees you the secure transferring of your content from one device to another. So, it is recommended to use any efficient online Word to PDF Converter like onlypdf.net to turn your word files into PDF without going through any hard procedures. You can use any online doc to PDF converter from any part of the globe without paying a single penny.