A newsletter is an email that you send out to your subscribers on a regular basis. It can be used to promote or advertise your products, services, blog posts, or anything else that is relevant and of interest to the subscriber. There are many ways in which you can grow your subscriber base with this marketing technique.
Here are some ideas for getting more people subscribed to your newsletter:
1. Include a sign-up form on your blog. This is one of the best ways to increase your subscriber count because it's really easy for users to subscribe. There are many different styles and formats you can use, depending on how you want it to look.
Some forms are bar-shaped while others are rectangular or even horizontal. You can include it in your sidebar, at the bottom of each blog post, or anywhere else you want.
2. Use social media sites to attract more subscribers. One of the most popular places where users go for information is online social media websites like Facebook and Twitter.
You can share a link to your newsletter on these sites using widgets when possible so that users can subscribe. You can even create a group just for people who are interested in joining your newsletter.
3. Add links to popular sites. Insert links from websites that have huge followings so that they will potentially share the link with their followers too, which could gain you even more subscribers.
For example, if you blog about football and have a link to the official website of the Super Bowl, you will have a higher chance of getting more subscribers due to the huge following this site has.
4. Organize an online contest. Give your subscribers something for free like an eBook or software in order to get them interested in subscribing. If they like the product, it is likely that they will subscribe. The contest can be about anything you want it to be, depending on your business and target audience.
You just need to choose the prize carefully.
5. Run a product launch campaign. If you are launching your own product or service, create an exclusive subscriber list for people who are interested in buying it and send them information about it. You can even offer a discount or other incentives for early buyers.
The email will contain a link that the interested users need to click on in order to subscribe to your newsletter. Once you have established a relationship with these people, you can continue sending them newsletters with links included where they can learn more about the product or service you are offering.
6. Use email marketing services. There are many different ways that you can promote your newsletter using software like AWeber, Mailchimp, and Constant Contact so that they will automatically send emails on your behalf with links where interested users can subscribe.
These tools allow you to track which links are clicked the most so that you can know your subscribers' preferences. You can then include these links in future newsletters to ensure that they get read by the intended demographic.
7. Solicit feedback from subscribers. This will let you know what kind of information interested users want to receive via your newsletter, helping to establish an even stronger relationship with them. You can include a section in your newsletter (or even create an entirely new one) where users can tell you what they like and don't like about it, as well as other requests or suggestions.
This will make users feel more valued because you are making the extra effort to listen to their opinions.
8. Create high-quality content. The most important thing to do before you start sending newsletters is to make sure that your content is of the highest quality. Make sure it's informative and includes links where interested users can learn even more about your topic or product.
You should also offer a freebie in order to entice them into subscribing. Your content needs to be interesting and engaging so that subscribers want to look through it right away.
9. Be consistent. Once you have started sending newsletters, continue doing so at regular intervals in order to establish a strong relationship with your readership. You don't need to send daily or weekly emails if you don't think that they will be interested enough for them to read them every single time.
One or two sent out a month should be enough to keep them informed and interested in what you have to offer, without overwhelming them with too many emails.
One great tip when making a newsletter design is to use Venngage — an online infographic maker that offers free newsletter templates for everyone. To give you an idea about what a newsletter format looks like, here are some newsletter examples: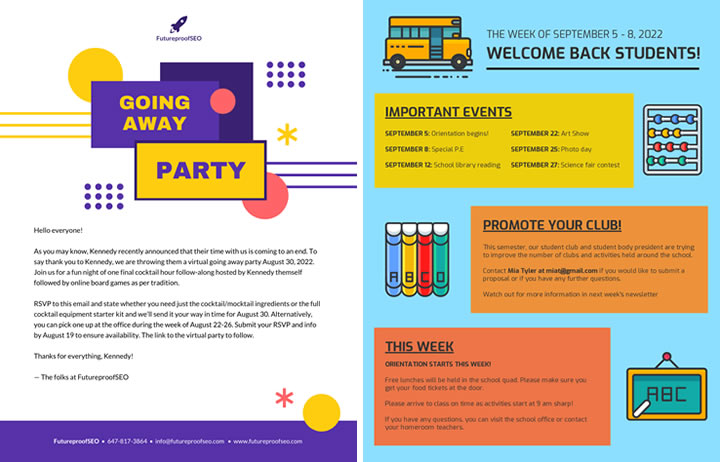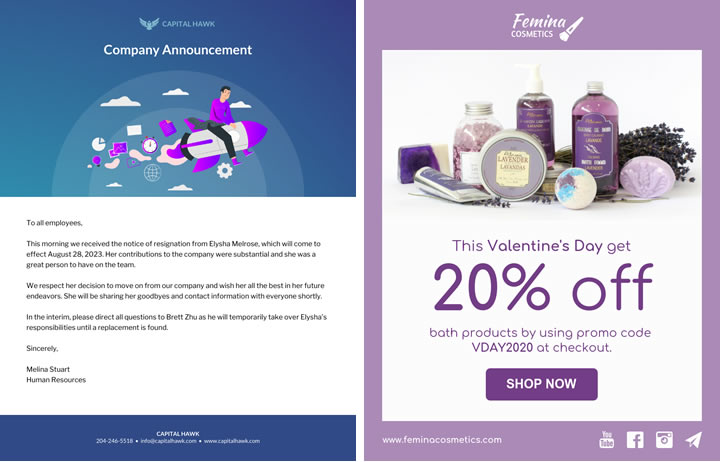 With these nine different strategies, you can increase your chances of developing a loyal following for your newsletter, which will equate to more sales.
It's important to be patient and test each strategy before employing it fully. You also need to make sure that the content is informative and offers insight into whatever topic you are writing about or the product/service that you are selling.
This will allow them to see your website with their own eyes and form their own opinion, instead of just reading promotional material that you have written about yourself. This will let them understand who you are and why they should do business with you, which is vital in establishing a lasting relationship with the customer base.
By following these strategies and tips you can inspire and inform your readership, offer them a freebie in order to get them to subscribe, and provide lots of useful information so that they cannot only benefit from doing business with you but will also learn something new.
Lastly, if you're having a hard time starting from scratch, use Venngage. This way, you'll be able to draft and produce high-quality newsletters without taking up too much of your time. Start making your own newsletter today by visiting the Venngage website here.