Countik is frequently used to calculate followers in real-time or to serve as content directly. How should it be used?
Tiktok is a popular social media platform today. Many content creators on other platforms have begun to use this short video application. Yes, users can upload and watch short videos in this app. Short videos that are watched can come from a variety of categories.
Tiktok is also frequently used to gain popularity. There are many Tiktok content creators who have made a successful career by gaining millions of followers.
Importance of followers on TikTok
Having a large number of Tiktok followers is a great accomplishment, but it is a shame if it is not immortalized. As a result, many Tiktok content creators have amassed a large number of followers by immortalizing themselves in Tiktok content.
The moment that is frequently used as content is a calculation of the number of followers when it reaches certain numbers such as 100,000 or 1 million followers.
Content creators on YouTube can use a site called Social Blade or Real Youtube Followers Counter. Countik can be used by Tiktok content creators.
Countik is a TikTok Live Followers Counter
Countik is a website that can calculate followers on a Tiktok account directly or in real-time. Also called a TikTok Counter.
The number of followers that increase or decrease will be calculated directly. As a result, content creators can precisely determine the number of followers on their accounts at that time.
Countik can be found at countik.com. If you are a content creator, you can also use this site to see how your followers are growing.
You can directly track the growth or decline of your followers. You can also record the progress.
How to use Countik?
For those of you who are curious about how to use this site, you can follow the guide below to use it right away..
Use your browser to navigate to countik.com.
Now enter the TikTok username you want to get statistics for.
After entering the user account name, click the search icon.
Wait for the page to completely load.
After that, you can immediately monitor the growth of your Tiktok account followers in real-time.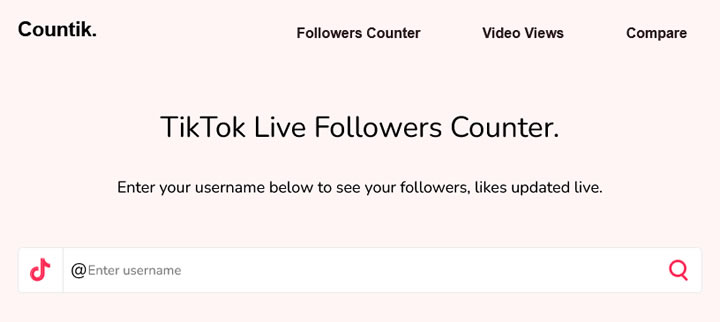 Countik not only displays the number of followers directly, but also a variety of other information such as the number of likes, videos, and followings.
Comparing TikTokers
The next feature worth mentioning is the ability to compare TikTok accounts. With this feature, you can compare both accounts at the same time and track the progress of the two TikTok accounts.
This feature is ideal for people who are starting a business and are heavily influenced by social media accounts such as TikTok. This feature allows you to compare your friend's account to your competitor's account in terms of your customers' interests on TikTok.
To sum up
The advantages of TikTok's live follower count are that users can accurately see their live follower count on TikTok, check the followers' drops, and receive daily analytics.
If a video went viral, you can see how quickly TikTok hearts increased in those videos and share it with your friends.