There are great pleasures in life, but to experience tasting different styles of hot chocolate is a pleasure that has no comparison, this food of an attractive shiny brown color, has been considered throughout history as food for Gods.
The benefits of hot chocolate are infinite, among the most attractive, it is said that it is a drink with intense aphrodisiac properties, the reason for this is logical since chocolate promotes the release of endorphins, these small proteins produced in the body feelings of well-being.
Chocolate also provides theobromine, a phenylethylamine known as a love drug, and another called dopamine, which generates pleasure and stimulates arousal.
A good cup of hot chocolate is the best remedy to feel better when you are depressed, and the best ally for the cold days of autumn and winter.
There are a variety of ways to prepare this delicious drink.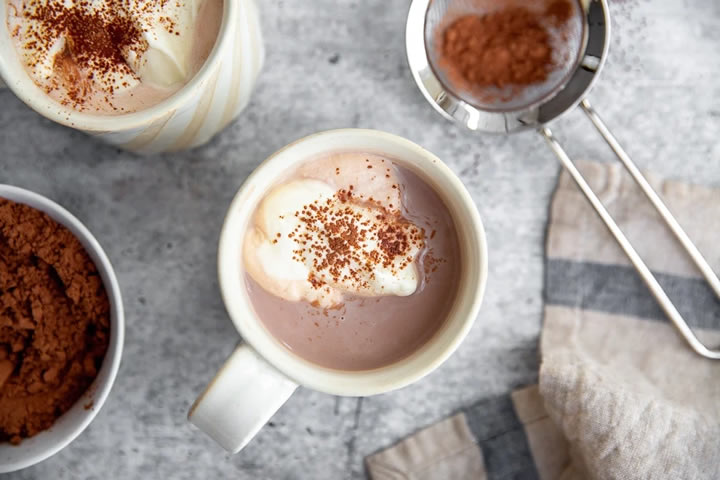 With ingredients that can be found at OnlineKade, here we present the best 6 different styles of hot chocolate, they are very easy recipes that you can not miss, and so that in just moments you can enjoy without limits the food of the Gods.
1. Hot chocolate without milk
This preparation is ideal for those who suffer from lactose intolerance, for vegans and vegetarians, as well as for those who prefer to feel the aroma and pure flavor of chocolate, it is believed that milk can reduce the antioxidant benefits of chocolate.
Ingredients
Chocolate without milk, 125 gr
Cloves, 5 gr, optional
Cocoa, 25 gr
Grated nutmeg, a pinch, optional
Salt, a pinch, optional
Sugar, 3 tablespoons
Thickener can be cassava or corn, 1 tsp
Water, 1/2; liter
Preparation:
Pour the water with the cocoa into a saucepan and place it on the stove over medium heat.
When the mixture boils, add the rest of the ingredients, except the thickener, and reduce to low heat.
Cook for about 10 minutes, and gradually add the thickener to your preferred consistency.
Serve hot in cups, and delight the palate.
2. Without cocoa powder
There are several alternatives to preparing hot chocolate, without using cocoa powder, let's see this recipe.
Ingredients:
Cinnamon, liqueur, or vanilla, to taste, optional.
Chocolate in tablet, 400 gr
Cornstarch, 1/2; teaspoon
Milk, 1 liter
Salt, a pinch
Sugar, 3 tablespoons
Preparation:
Place the milk mixed with the sugar in a saucepan over medium heat.
When the mixture has heated, add the chocolate and salt and reduce the heat to low.
When the mixture boils, add the remaining ingredients, and stir slowly for 5 minutes, until it reaches the thickness you like.
Remove from heat and serve hot in a cup.
3. With a chocolate bar
Using the chocolate bars that come with milk is a great idea, to improve the flavor and appearance that is achieved with the cup of chocolate, let's see the recipe.
Ingredients:
Milk chocolate bar, 3 of 50 gr each.
Milk, 1/2 liter
Salt, a pinch
Sugar, to taste, optional
Thickener, to taste, optional
Preparation
Pour half of the milk into a saucepan, together with the chocolate bars, and put it on the stove over low heat, stirring constantly, until the chocolate is completely dissolved.
Once dissolved, add the rest of the milk and bring to a boil, stirring constantly.
Add the sugar, salt, and thickener, and cook for 3 minutes over low heat, or until it reaches the desired thickness, use a whisk to make it frothy.
Remove it from the stove and serve it hot in a cup, if you want to give it an original touch, you can add pieces of cheese.
4. With Nutella
Among the different styles of hot chocolate, preparing it with Nutella is a level of pride, it is a deliciously incomparable flavor, here is how to make it.
Ingredients:
Bonbons, or marshmallows, are optional.
Cocoa powder, 1 teaspoon
Milk, 1 1/2 cup
Nutella, 1 tablespoon
Salt, a pinch
Preparation:
Place the milk in a saucepan, and bring it to medium heat.
When it starts to boil, add the salt and the cocoa powder, stirring until it dissolves completely.
Add the Nutella and mix well.
Remove the pot from the heat, and serve piping hot in a cup.
If you chose the bonbon or marshmallow option, add it to the cup when serving.
5. Hot Chocolate Pudding
Another of the different styles of hot chocolate is this pudding that we bring you to enjoy the exciting flavor of chocolate.
Ingredients:
Brewed espresso coffee, 2 tablespoons
Cocoa powder, 6 tablespoons
Cornstarch, 2 tablespoons
Flax flour, 1 tablespoon
Salt, ¼ teaspoon
Skim milk, 2 cups
Sugar, 5 tablespoons
Vanilla, 1 teaspoon
Preparation:
Mix the flax meal with the coffee in a bowl and keep it aside.
Dissolve half of the sugar and salt in half of the milk, and bring to a boil over medium heat until it boils.
In another bowl combine the remaining sugar, cocoa, and cornstarch, with half of the remaining milk, and add the boiling milk from step 2, whisking evenly.
Bring the latter mixture to a boil over medium heat for 4 minutes, stirring constantly, until thickened, and remove from the heat.
Add the coffee mixture and the flax flour from step 1, whisk until homogenized, and bring this mixture to a simmer, stirring constantly for about 2 minutes.
Remove it from the heat before it boils, and add the vanilla while whisking it, the hot chocolate pudding is ready, serve it warm, and enjoy the fluffiness of this delicacy.
6. Hot chocolate bombs
These bombs are an exquisite way to eat hot chocolate, do not deprive yourself of this delicacy, which is also very easy to prepare and in just 15 minutes you will have them ready.
Ingredients:
Chocolate for pastry, 200 gr
Cocoa powder, 1 tablespoon
Marshmallows
Filling to taste
Preparation:
The preparation of these bombs is something very simple, just melt the chocolate, you can do it in a bain-marie, or use the microwave, but in this case, you must do it at intervals so that the chocolate will not burn, one option is to place heating intervals of 15 seconds.
Once the chocolate is melted, you can use molds, coolers, or kitchen ladles, the idea is to use the bottom of these containers to prepare chocolate sphere halves.
You can use cling film to facilitate unmolding.
Pour melted chocolate into each mold, making sure there is a layer of sufficient thickness.
Place the molds in the freezer for about 5 minutes, until the sphere halves are hardened.
Remove them from the freezer and unmold them, being careful not to deform them.
Add the cocoa powder inside half of the molds, the other half will be to cover them and form the bomb.
You can place the marshmallows inside, and the filling of your choice, pastry cream, Arequipe prepared by cooking condensed milk, Nutella, liquid caramel, it will be your choice.
It is time to close the bombs, heat the halves of spheres on the edge in a clean frying pan, then place them on the halves that have the filling pressing so that the chocolate is integrated, and wait for them to harden.
To serve, you can do it over hot milk, or if you prefer to present them on a pancake.
Conclusion
There are different styles of hot chocolate, and it is one of the most beneficial ways of consuming this delicious and tempting food, a little effort and creativity will be enough to achieve a preparation that allows you to enjoy it.