Gamers always like to improve their gaming experience. From gaming peripherals, powerful graphics cards, CPUs, SSDs, and high refresh rates monitors, they want to get the most FPS they possibly can in their favorite game.
But not all gamers think just about high FPS, they seek also image quality. Here is where a 4K gaming monitor can actually make a difference. Don't believe us? Have a look at this video from Wolfgang and see for yourself.
4k Gaming Monitor: What is it?
A 4k monitor is a monitor with 4 times the resolution of a Full HD screen. 4K resolution, still referred to as Ultra High Definition, therefore provides an image format with a definition greater than or equal to 3,840 pixels.
4K gaming monitors with their high resolution provide extraordinary picture quality. With this type of screen, gamers, movies and series consumers will enjoy a great viewing experience. In addition, there are several advantages.
The 4K gaming monitor is very responsive (especially 4K gaming monitors at 120Hz or more) and offers great visual comfort as the images are crisp, clear, and more contrasted. You basically have an endless amount of features.
How to choose the best 4K PC monitor?
With the myriad of 4K gaming monitors available in the market, it is often difficult to make a wise choice. Therefore in order to make the best choice that meets your needs, we suggest that you take certain criteria into account before any purchase. These criteria are :
Screen size
You will come across screens varying in size from 20 to over 32 inches. You must make your choice according to the mount or the location you have reserved to accommodate your 4K PC screen.
Response time
This criterion is essential especially when choosing the best 4K gaming PC monitor. Gamers should opt for a 4K monitor with very low latency to enjoy excellent responsiveness. In order to have a fantastic gaming experience, therefore, priority should be given to screens that have a response time of less than 5ms, and at least a 120Hz refresh rate o.
The refresh rate or scanning frequency of your screen
The refresh rate is a necessary criterion to also take into account. Measured in Hertz, it is defined as the number of times the screen can refresh in one second to display a new image. Opting for a 4K 144Hz PC screen having a high frequency i.e. between 60 and 144 Hz is very beneficial. This is the condition for enjoying good stability and especially better display fluidity in games and series or films.
The panel
Choosing a 4k gaming monitor according to the screen type is a criterion that should not be neglected. The panel favors the display of the monitor. If you are looking for more fluidity and responsiveness, you should opt for a TN panel. On the other hand, if you want images of exceptional quality, the choice to be made is the IPS panel.
The ideal option if you want to take advantage of all the characteristics of the two panels above, we advise you to opt for a 4K gaming monitor with the VA panel. The latter combines the strengths of the TN and IPS panel with minor compromises.
Connectivity options
These are the USB ports, DisplayPorts, VGA, and HDMI available on your 4K PC display monitor. These ports are essential because they allow you to connect multiple devices to your display.
Although 4K PC screens are the latest generation monitors and therefore supposed to have multiple ports, you need to make sure that everything is there. Confidence does not exclude control.
Hardware Requirements for 4K Gaming
To play on a PC in 4K definition, you have to choose the right components, those that will be suitable for this high-performance situation.
Which graphics card to choose to play in 4K?
There aren't many graphics cards out there that allow you to play in 4K in good conditions. As a graphics card to take full advantage of 4K, we would recommend:
MINIMUM graphics card to play in 4K
RTX 2070 SUPER
AMD 5700 XT
AMD Radeon 6800
RTX 3060 Ti
Graphics card recommended for playing in 4K
RTX 2080 SUPER
RTX 2080 Ti
RTX 3070
RTX 3080
RTX 3090
AMD Radeon 6800XT
From RTX to SLI?
It is a technology that has always been at risk from a result point of view. We are not necessarily fans of SLI here, since SLI is slowly fading away, being available only on the RTX 3090 for the current generation of graphics cards.
Indeed, this requires investing a large sum of money without being certain of the result and of the fact that you will be able to enjoy it properly! Here is why we think SLI is currently not an option:
 Strong increase in power consumption (2 graphics cards)
 Strong increase in heat generation in the PC
 Instability of DRIVERS
 The NON-availability of the drivers allowing the support of the SLI at the exit of the games
 NON-performance (example on the graph below of Assassin's Creed Origins where the SLI does less well than the map alone)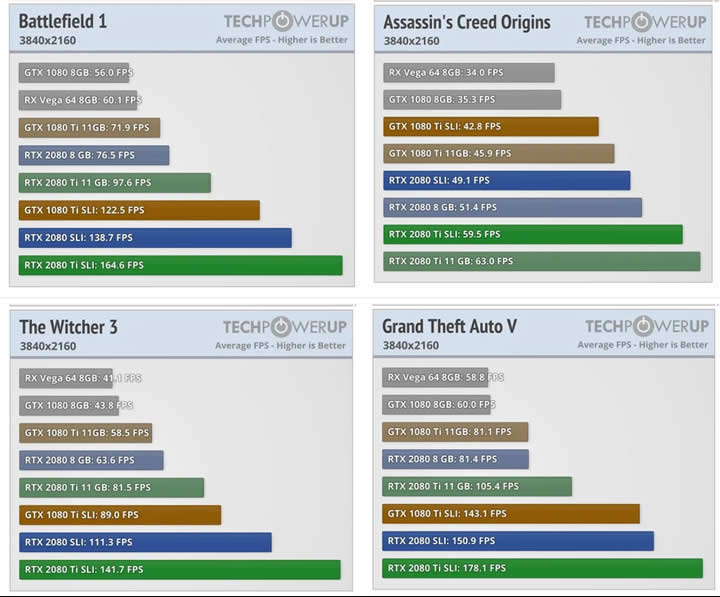 Which CPU to choose for 4K gaming?
In order to avoid the phenomenon of "CPU Bottleneck" between the CPU and the GPU, the choice to go with a powerful processor range such as "Intel I7 / AMD Ryzen 7" or "Intel I9 / AMD Ryzen 9" is obvious.
Since 4K high definition entails a significant computing load, Intel i5 type processors are less suitable for this use.
We did not choose an Intel Core i9 processor, because we remain in the spirit of "PC games". These are CPUs that will work fine for 4K, but the additional purchase cost should only be done for professional use. Thus, as a processor for 4K gaming, we recommend:
Minimum CPU 4K
AMD Ryzen 7 2700
AMD Ryzen 5 3600X
AMD Ryzen 5 5600X
Intel Core i5 9600K
Intel Core i5 10600K
Recommended CPU 4K
AMD Ryzen 7 2700X
Intel Core i7 9700K
Intel Core i7 10700K
AMD Ryzen 7 3700X
AMD Ryzen 7 5700X
4K ideal CPU:
Intel Core i9 9900K
Intel Core i9 10900K
Intel Core i9 9900KF (Without integrated GPU)
Intel Core i9 10900KF
AMD Ryzen 9 3900X
AMD Ryzen 9 5900X
Final Words and Conclusion
Gaming at 4K is probably the next step in development for the gaming industry, but it comes at a cost. At this moment, 4K monitors are getting more and more popular and widely available but if you want to properly improve your gaming experience you will have to pair your new gaming monitor with powerful PC parts as well.
Luckily NVIDIA, AMD, and Intel are releasing better graphics cards and CPUs with each generation, and with each generation, prices are getting more affordable as well. But not all of us have the possibility to get brand new hardware, and in this case, the good news is that the second-hand market can provide the required components for your PC to be usable on 4K gaming. If you dig well enough you can find great deals for previous generation CPUs and GPUs that are capable of running games in 4K without drying your wallet.