About Kareo Software
Kareo EHR software is a cloud-based program designed for independent medical clinics. The EHR system includes a patient portal, scheduling, information visualization, a calendar, a configurable dashboard, productivity tracking, and progress reporting, among other features.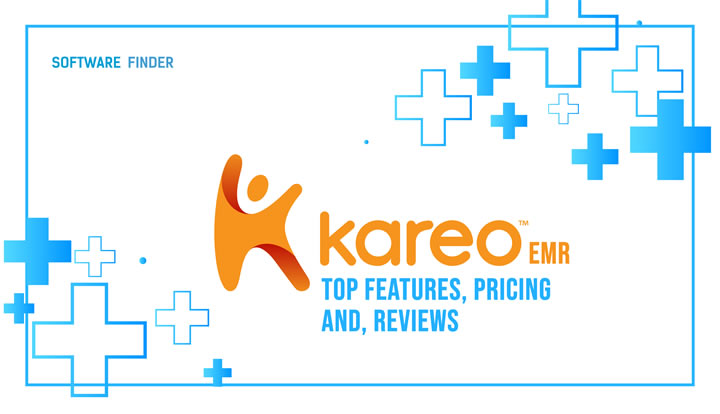 In Kareo EHR these features allow medical professionals to focus more on patients while streamlining their day-to-day activities.
In addition, you can also perform various back-office functions, including patient registration, health record administration, billing management, and prescription management.
Kareo Software hopes to improve patient care while increasing revenue with its features. According to Kareo software reviews, the EMR enhances communication between patients and providers. In addition, it allows users to handle financial, medical, and administrative data.
Kareo, being a prominent provider of business and clinical management solutions, enables physicians to access insurance companies swiftly. Recently, the platform revealed new features such as faster charge collection, more easy patient statements, balance due warnings, and more. To help you stay focused, we've compiled a list of the most important things to look for when choosing Kareo EMR.
Dashboard
Kareo EMR provides doctors with fully customized dashboard features to track, present, and analyze patient data. It enables users to manage patient appointments, navigate different system areas, and access high-priority tasks.
The dashboard's user-friendly interface allows physicians to browse the calendar and verify task lists quickly. In addition, the dashboard displays the day's patient appointments.
Kareo reviews state that the software allows users to manage the complete appointment workflow, including collecting patient payments and completing insurance eligibility checks from check-in to check-out.
Patient Portal
It can be tiring for a doctor to schedule visits, send out appointment reminders, and fill out paperwork after paperwork. However, with Kareo EMR's patient portal feature, you can relax on some points.
Patients can schedule appointments through the Kareo EMR patient portal. According to Kareo reviews, the software automatically sends appointment reminders to patients, reducing the number of no-shows at your clinic.
In addition, the software enables you to connect and engage with patients securely via a messaging and video conferencing platform.
Electronic Prescription
Kareo's electronic prescription feature saves physicians time by automating the prescription process. First, patients can obtain a prescription for a common medical concern using their phones' automated prescription system.
Then, when they request a refill, the system automatically transmits information to pharmacies.
Using this function, doctors can check for potential drug-to-allergy or drug-to-drug interactions, reducing the number of prescription-related phone calls.
According to Kareo EHR reviews, you can reduce errors by viewing all patient information, including medication history, on a single screen, with the e-prescribing functionality. As a result, it enables healthcare workers to provide high-quality care quickly and efficiently.
In addition, clinicians can view patient histories to keep track of their patients' needs. Kareo software reviews claim that the e-prescribing tool also provides reminders to fill out the strength, dose, route, and frequency fields.
Calendar
Kareo EHR software offers a calendar to handle critical communications and tailor calendars for staff scheduling and patient appointments. It allows you to personalize your calendars and save time by streamlining essential communications of the patient.
Physicians can also quickly and rapidly print their schedules from any calendar view in Kareo. According to Kareo EHR reviews, the software allows you to choose a daily, weekly, or monthly calendar view. In addition, you can enter a date range, and filter by service location or provider before printing or saving your calendars to Adobe PDF or Microsoft Excel file formats.
Digital Superbills
You can capture an all-inclusive list of charges for a patient visit within the patient note using the Kareo electronic Superbill tool. You may produce and submit filled and accurate Superbills with a few clicks. It includes a variety of form designs, diagnosis codes, and a list of procedures that you may sort into predefined categories.
Clinicians can even choose a custom print design for their Superbill from Kareo's library of Superbill and encounter forms. They can also keep Superbill documents and link them to other providers in their practice. In addition, they can print Superbills for individual appointments and daily or weekly batches based on location or provider.
Flowsheets
Kareo software provides flowsheets that allow customers to review and alter individual laboratories and vital trends on a single screen. These flowsheets provide physicians with a comprehensive perspective of their patients' critical data throughout time, allowing them to analyze progress effectively.
You can rapidly examine a patient's health trends with Kareo flowsheets by displaying a glimpse of their data. As a result, you no longer have to waste time looking for important patient information.
Kareo EMR Pricing
Kareo EMR is the best alternative for small practices because of its low cost. You can buy the software on a monthly subscription, with no contract or set-up expenses, and without worrying about software maintenance and upgrades. The software doesn't disclose pricing details; however, you can get a complete quote from the provider.
Unlike other software on the market, Kareo's subscription covers the cost of deployment and training, making it a viable alternative for small practices looking to establish themselves.
Kareo EHR Demo
The most important thing for you is to schedule a Kareo EHR demo before purchasing. A demo can be a fantastic way to gather helpful information about EMR Software.
The Kareo EHR demo allows you to test the software in a real-world scenario. In addition, it can assist you in determining whether the EMR Software you are about to adopt in your medical practice is suited for your operations and will help you optimize your workflow.
Kareo EHR Reviews
Kareo software reviews provide a complete picture of the product and allow you to see how genuine users perceive it. Kareo EHR reviews are available on various online sources. The benefits and drawbacks of Kareo EMR are outlined here.
Benefits
Kareo's user interface is straightforward to use, especially for non-technical individuals.
The dashboard is fantastic, with many functionalities and a clean, professional appearance.
Customer service is also excellent, and they answer immediately to all of your inquiries.
Drawbacks
Navigating through the software to find the information you require can be challenging.
The cost of data transfer is high, and many individuals and small businesses may not afford it.