Attractions That Come from a Land Down Under
Australia is a dreamland. The world's smallest continent, and the world's largest island, is nearly the same size as the United States but has a population the size of New York. Australia is also a land of stunning contrasts and breathtaking beauty.
Explore vibrant cities, vast sand islands, ancient rainforests, and one of the world's most awe-inspiring natural wonders. Add to that a laid-back vibe and friendly people, and it's no surprise that Australia ranks high on bucket lists worldwide.
You can plan your own adventures with our list of Australia's top attractions.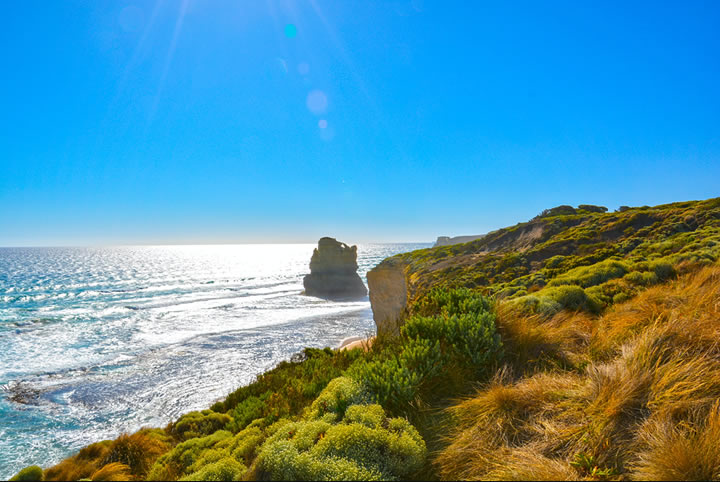 Fraser Island – Fraser Island is just a short ferry ride from Hervey Bay, or you could travel in style and take a private jet there.
It is the world's largest sand island and a popular tourist destination in Australia, and it provides one of the most unique four-wheel-drive adventures in Australia. Ferries are also available from Rainbow Beach.
In fact, because of the pleasant weather in March, it is one of the best places to visit in Australia.
Great Ocean Road – This is one of Australia's most spectacular natural wonders, a 150-mile drive along the continent's hemisphere.
The Twelve Apostles, where the raging Southern Ocean has gnawed the limestone cliffs, leaving tall pillars of more resilient rock stranded out at sea, is the climax.
Great Barrier Reef – It's Australia's most famous attraction for a reason!
One of the world's seven natural wonders is the Great Barrier Reef.
The Great Barrier Reef stretches 3000 kilometres along Queensland's coast and is a diver's paradise. Whether you are an experienced scuba diver, a casual snorkeler, or a first-time underwater visitor, there is something for everyone.
Sydney Opera House – The Sydney Opera House, considered a 20th-century architectural masterpiece, was designed and built by architect Jorn Utzon to resemble a massive sailing ship. It houses several venues that host over 1,500 performances each year.
The famous Sydney Opera House is one of Australia's most famous landmarks, surrounded by the beautiful scenery of Sydney Harbour and the Royal Botanic Gardens.
Whitsunday Islands – The Whitsunday Islands in Queensland offer some of the best sailings in the world, thanks to perfect winds, calm seas, stunning scenery, and 74 islands to explore, 69 uninhabited.
So whether you want to chart your own course and hire a yacht with some friends or simply relax on a private tour, seeing the beauty of this tropical oasis from the water is one of the best Aussie experiences available.
Eyre Peninsula – The Eyre Peninsula, a 45-minute flight from Adelaide's vineyard city, is where the ocean meets the outback. This dramatic landscape is the backdrop for some of the country's best experiences.
This area is for those who enjoy spending time in the water.
Swimming with wild sea lions and pods of wild dolphins, as well as spotting Southern Right Whales, are just a few of the incredible aquatic adventures available along the 2000km of pristine coastline.
The peninsula is known as Australia's Seafood Frontier, and there are numerous ways to take advantage of its delectable bounty.
Blue Mountains – There are many national parks in Australia, so no matter where you go, you'll find one that you and your family will enjoy. We enjoy visiting the Blue Mountains, which are only a one-hour train ride from Sydney.
Take the Scenic World Cable Car Ride when you arrive. You will be treated to a breathtaking view of the valley below and the famous Three Sisters rock formation. Stay the night and go camping to take advantage of all the outdoor activities available.
Year-round, the small mountain towns have a great selection of luxury boutique hotels and excellent gourmet food.
Kakadu – Kakadu National Park, a UNESCO World Heritage site, is undoubtedly one of Australia's most spectacular national parks. The park's outskirts are about a two-hour drive from Darwin.
Explore the 200-metre Jim Jim Falls waterfall; swim in Gunlom, the crystal-clear infinity rock pool made famous in Crocodile Dundee; hike through the 30-odd walking trails that crisscross Kakadu; or take your 4WD to the park's crown.
Uluru – Uluru (Ayers Rock) is the dramatic touchstone of this ancient continent, rising out of the dried red heart of the country. To its Aboriginal custodians, it is a sacred site worth travelling thousands of kilometres to see.
St. Mary's Cathedral – St. Mary's Cathedral is located in the heart of Sydney. Many artists have contributed to St Mary's Cathedral with their designs in stone and glass, resulting in a unique space of solitude in Sydney.
The Cathedral is thought to be the city's most treasured historic structure. More importantly, St Mary's Cathedral is one of the world's most surprisingly beautiful English Gothic churches.