If you've ever had a landlord, we presume you never wanted to be in your landlord's shoes. Why? You probably can't cope with the constant calls and complaints of tenants about the house. This reason is why many people run from investing in real estate.
The truth is that you can invest conveniently in real estate without facing those fears. You don't have to be a landlord to invest in real estate. Acquiring real estate is a satisfying and lucrative investment strategy.
Unlike stocks, potential real estate owners can use leverage to purchase a property by paying a tiny percentage of the total cost upfront and paying off the rest, plus interest, with time. However, many investors looking to exploit this gold mine don't know how or where to invest in real estate – if you're one, then this is for you.
Real estate investments have long been a lucrative way to add revenue-generating assets to your portfolio. The property investing industry is a hot cake, and everyone yearns to have a piece, or more, of it. You can do so through online real estate investments.
Today, the advent of technology has made it easy for you to become an online property investor. While other investments may require hard work and long hours, there's a growing number of affordable ways you can invest in real estate, especially with the introduction of real estate technology.
The beautiful thing about real estate investment is that there's always a way for you to invest in the industry, even if you don't have much to invest in at the moment. You can begin making money from the comfort of your home, and the following are the splendid ways to invest in real estate online:
Dive into Real Estate ETFs
A real estate exchange-traded fund is a collection of bonds or stocks in one fund. Real estate ETFs are somewhat similar to mutual and index funds as they allow for the same diversification and, overall, low cost.
So, instead of selecting one or two REITs (Real Estate Investment Trusts) to invest in, you could put your money in a REIT ETF. That way, your investment is spread across a portfolio of REITs, and it helps you overcome investing in a limited number of markets.
As an investor, you can also buy shares in an ETF or REIT mutual fund, just like any other public stock – some see this as real estate share investing. Importantly, consulting a financial planner, broker, or investment advisor for recommendations on appropriate investments will help you make better investment decisions.
Pump Funds into Real Estate Investment Trusts (REITs)
A real estate investment trust is an organization that manages and trades in real estate investment properties with invested funds. Investors purchase shares of a REIT and get a piece of the revenue generated from the properties traded in the REIT.
For instance, a REIT may comprise a group of laundromats across the United States, offering investors to own a piece of all the laundromats without having to worry about managing the properties themselves – cool, right?
In simple terms, buying a REIT is similar to buying stocks of a company that manages real estate properties. And it affords investors an opportunity in non-residential investments. More importantly, you wouldn't need a realtor or title transfer to withdraw your investment in REITs because they're exchange-traded.
Real Estate Crowdfunding
Real estate investment crowdfunding is a digital-based investment platform that allows investors to fund specific real estate projects. Simply put, the platform connects investors with real estate developers.
For instance, if a real estate expert is looking to renovate an apartment complex, which could take five years or more, the investors get their share of the profit on completing the project.
It's advisable to give in to crowdfunding investments rather than flying solo, as you're sure that your investment is monitored and managed by a team of real estate experts.
Putting funds in online property investing in real estate is relatively easy. There are several accredited companies you can register with online. Select one, create an account, choose a real estate investment, and input the amount you wish to invest.
From that moment, all you need do is sit back and track the growth of your investment.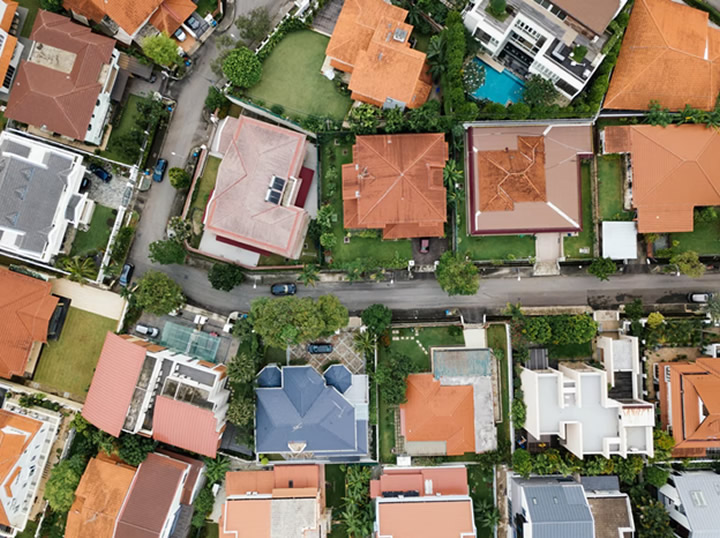 Invest in Home Construction
If you take your time to study the real estate industry market growth over the years, you'll notice that lack of housing inventory contributed to its not-so-slow progress. Meanwhile, experts have predicted that the development of new properties will continue to boom over the coming decades.
You see why investing in the construction arm of the real estate industry is a brilliant idea. Several groups of real estate developers are looking to renovate old neighborhoods and even develop new ones. They'll need housing inventory to achieve their goals.
You can go online and research homebuilders, select, and invest. It's one of the many ways you can invest in real estate online.
House Flipping
Experts best explore the house flipping aspect of real estate investment through renovation, marketing, and property valuation. Further, house flipping requires time and capital. Flipping is done in various ways.
Some developers purchase the property, keep it for a while, and re-sell at an increased value. Others renovate and sell the property at an increased value.
Not everyone can dive into house flipping because of the capital constraint. However, if you have significant experience and the capital to take it up, go for it.
Rent Out a Room
Finally, to bring it down to the lowest level of real estate investing online, you could rent out part of your home. Thankfully, you can do so easily through a website such as Airbnb. The company will vet potential renters before they come over to your home.
Renting out extra space in your home seems more straightforward than the complex world of real estate investment. If you have a spare room, make some money from it – it's that simple.
When looking to invest in the real estate industry, you'd want to get first-hand tips from a real estate advisor. Aside from that, you also get to know the terms, fees, and duration for which your investment will run.
If it's too good to be true, it probably is. So, it'd be best if you steer clear of firms that promise unreasonable returns when you are about to invest in real estate online or simply contact Holdfolio to get started on earning passive income from real estate investments.