Poet and activist Artem Kamardin, 31, was arrested in Moscow. According to his lawyer, Kamardin was beaten and then raped with dumbbells during a search on September 26th
Around 2 a.m. on September 27, on Telegram channel was posted a video of Artem Kamardin coming out of the Investigative Committee's Tverskoi district office in Moscow, accompanied by medical staff and police officers.
An ambulance was called for the activist because of a concussion sustained in the beating, the lawyer said.
Doctors did not detect any external bleeding.
In the morning, Solovyov reported that Kamardin was refused hospitalization and that he was now in temporary detention. Kamardin was arrested for 48 hours as a suspect in an extremism case (part 2 of Article 282 of the Criminal Code).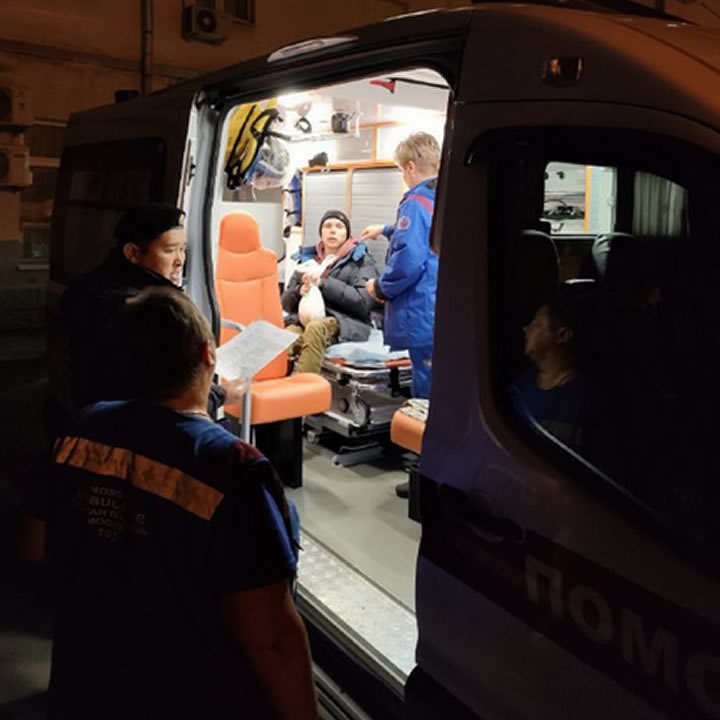 Artem Kamardin is hospitalized from the UK in an ambulance reports
Artem Kamardin is hospitalized in an ambulance according to reporter Leonid Solovyov.
Earlier Novaya Gazeta. Europe reported, without citing a source, that after the arrest, "law enforcement beat Kamardin badly and put a dumbbell in his anus." Solovyov confirmed this information to Meduza. He says that he heard about the incident from Kamardin himself.
On September 26, "Grom" riot policemen with submachine guns raided the apartment where Kamardin, "Kovcheg" administrator as well as his girlfriend Alexandra Popova, and activist Alexander Menyukov were staying.
Footage of the arrest was published by the Telegram channel "112."
According to Novaya Gazeta. Europe, during the search the activist was forced to apologize on camera because he said, "Glory to Kievan Rus, Novorossiya – suck it!" on September 25 at the anti-mobilization Mayakovsky Readings on Triumfalnaya Square in Moscow.
The video, published by "112," shows Kamardin kneeling in an apartment with handcuffs behind his back, his face showing signs of beatings.
In the recording, the activist apologizes for what he said at the Mayakovsky Readings: "I apologize, ask for forgiveness, and repent in front of the multinational Russian people for what I said yesterday in Triumfalnaya Square."
In the recording, Kamardin promises "never again to read" the poem "Kill me, militiaman!" which he delivered at the Mayakovsky Readings, and to not engage in political activity.
Kamardin's girlfriend, Alexandra Popova, told OVD-Info and Novaya Gazeta.
Europe that during the search she was also subjected to violence: her hair was torn out, her face and mouth were covered with stickers and superglue, she was kicked and "groped," and she was threatened with gang rape.
The activist told the TV channel Current Time as well as Doxa that the police filmed the abuse of Kamardin and showed her the tape. According to Popova, the detainees heard Kamardin screaming through the wall.
She also said $600 was missing from the apartment.
After the arrest, Kamardin and Popova were taken out of the apartment in handcuffs, while Menyukov was without them. An administrative report on "discrediting" the Russian army was made against Popova, who was then released.
She is now a witness in the criminal case on extremism.
At a medical center, Popova was diagnosed with a concussion and contusions of the soft tissues of the head, hips, and lower legs, Sota writes. Alexander Menyukov, who was beaten during the search, is also a witness in the criminal case.
He was found to have multiple contusions in the right ear, left wrist, and back.
Two other participants of Mayakovsky Readings were also arrested as suspects in the criminal case on extremism: 26-year-old Nikolai Dayneko and 21-year-old Yegor Shtovba.
Both detainees were sent to temporary detention for 48 hours. Telegram channel "112" published a video where Dayneko and Shtovba, as well as Kamardin, apologize on camera.
Source: meduza.io