New research from Portico reveals that landlords in Fairfield, Liverpool, UK, are achieving the best yields in the North West's largest cities of Liverpool and Manchester.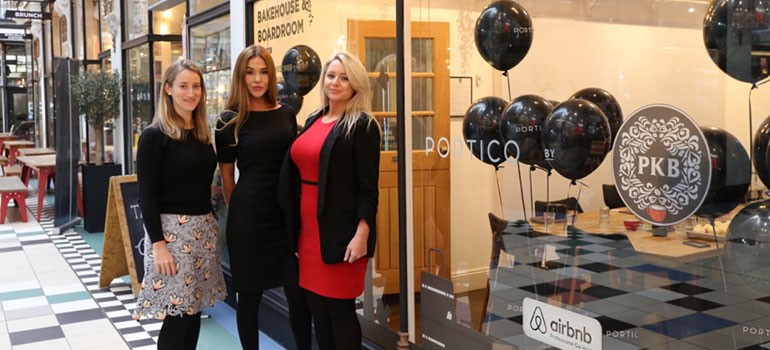 Portico Host team in Manchester
According to the London estate agent, who offers both lettings and short-let services, landlords letting out properties in the Fairfield area on a short-let or holiday-let basis can expect to achieve an astonishingly high rental yield of 27.2%, whereas longer-term rentals in the area can expect a strongyield of 13.6%. As well as the highest short-let rental yield, Fairfield also offers the highest available long-term rental yield in both Liverpool and Manchester put together. Portico state that the short-let yield is based on an occupancy rate of 50% of the year, which is typical for these types of properties due to seasonal demand.
Fairfield is located on the outskirts of Liverpool city centre. Recently the area has becomemore populated and developed to keep up with the increasing student population who are calling affordable Fairfield home. There is a newly constructed shopping centre, and a number of new trendy eateries have opened. Despite this gentrification, property prices remain very affordable – and are still just a quarter of the average property prices in the capital – hence why landlords stand to seriously cash in by investing in bricks and mortar in this northern town.
Portico's data shows the ten best performing locations for short term let yields in both Liverpool and Manchester, and interestingly, the top eight are in Liverpool postcodes: L6, L4 and L7. The highest short let yield in Manchester was in Hulme (M15) at 15.1%.
Portico's data below shows the best performing locations for short term let yields in Liverpool and Manchester
Area
Short-let Yield (%)
Short-let Gross Income
Rental Yield (%)
Rental Gross Income
Avg. House Price
 

Postcode

Fairfield, Liverpool
27.2%
£32,883
13.6%
£16,716
£126,779
L6
Walton, Liverpool
25.5%
£18,493
7.9%
£5,700
£72,317
L4
Kensington, Liverpool
24.2%
£27,405
9.8%
£12,260
£119,150
L7
Kirkdale, Liverpool
23.9%
£15,930
8.5%
£5,786
£73,564
L4
Anfield, Liverpool
22.7%
£23,766
9.6%
£10,457
£102,772
L6, L4
Toxteth, Liverpool
20.9%
£13,779
9.0%
£5,775
£74,250
L8
Orrell Park, Liverpool
17.5%
£13,779
7.5%
£6,360
£91,500
L9
Vauxhall, Liverpool
15.5%
£20,885
6.8%
£ 20,885
£ 139,061
L2, L3, L5
Hulme, Manchester
15.1%
£20,158
6.9%
£9,080
£133,333
M15, M16
Levenshulme, Manchester
13.6%
£19,385
6.2%
£8,700
£140,000
M19
Portico also shared Airbnb's latest insight report, which revealed that there are currently 10,200 active listings in the North West on Airbnb. These short term lets aren't just popular with holidaymakers, but also those who are between properties and are seeking flexibility with no overheads.
Portico Host's Regional Manager, Rachel Dickman, commented "It isn't surprising to find that the properties that are achieving the greatest returns are those that are situated in areas surrounding Liverpool and Manchester city centers. These places typically have excellent transport links, proximity to popular tourist attractions, employment hubs, and good restaurants and cafes.
She continued, "Liverpool is becoming increasingly popular on the tourist trail, with 1.34 million people visiting the city in 2018, including business travelers, students, and young professionals.
It's also continuing to host and attract major sporting events, such as the Netball World Cup 2019 which recently took place in the M&S Bank Arena. These factors are resulting in a growing number of people wanting to stay in short-let properties in Liverpool, and the increased demand for this type of accommodation is underpinning the rents that can be achieved."
It's expected that landlords will continue to invest and profit from property in Fairfield, Kensington, Walton and other up-and-coming Liverpool towns, thanks to ongoing £14 billion regeneration plans for a new stadium for Everton Football club and £250 million investment in road infrastructure.
The same can be said for Manchester, which has one of the fastest growing populations outside of London, and alongside Liverpool has seen a huge influx in tourists and visitors, as improved transport links have made it easier to visit. In 2018, Manchester hosted 4.9 million visitors.
For individuals contemplating letting out their property on a short let basis, there are now an array of specialist lenders who offer specific 'Airbnb mortgages', and there are also tax-efficient ways to manage short let properties through a company.
Portico has recently launched a property portfolio investment service, Portico Portfolio, to enable landlords to invest in buy-to-let or short lets in Liverpool and Manchester in a tax-efficient company structure. The agent has partnered with London based Accountancy firm, Accounts and Legal, to handle the tax side of the operation.
Portico Marketing Director, Fiona Veitch, said "Portico Host expanded into Liverpool and Manchester earlier this year which has been successful, and we've seen a growing number of landlords look to invest in these areas. In line with this, we wanted to create something unique that makes it easy for London landlords or those sitting on savings to invest in the booming northwest.
Launching the Portico Portfolio allows us to combine our lettings or Portico Host service with Portico Finance, to generate impressive and tax-efficient yields for property investors."
And there's more good news for landlords up north: Liverpool and Manchester investors cannot only benefit from high short-let yields. Going off Land Registry Data, Portico has discovered that an average property price in Liverpool has increased by 19.34% over the last five years, rising from £108,267 in June 2013 to £129,562 in June 2018. In Manchester, the average property price has increased by a staggering 47.76% – from £119,951 to £177,243 in the same period.The agent and supporting reports indicate that north-west will see property price increases of at least 21.6% over the next five years – boosted by supportive government policy, regeneration plans and a surge of companies relocating from London to up north to lower costs.
To find out how much your property can achieve from short term letting, use Portico Host's online property valuation calculator.