Australia-based Aristocrat Leisure has been on the casino technology market since 1953. Over this 50+-year history, they became one of the largest corporations in the industry, focusing on innovation and player experience. 'Australian Math' made Aristocrat pokies famous in land-based casinos, while a move into digital gaming during the early 2000s solidified their financial growth.
There is a method Aristocrat's creation of new products. It consists of working with creative developers, iterating on older solutions, and focusing on immersive experiences. Because of a unique position on the market, the company can bring about innovation on a large scale, creating new trends on the market as a whole.
Let's explore the Aristocrat Leisure approach to product development in more detail.
How Aristocrat release more innovative products
Aristocrat is headquartered in Sydney and operates in over 80 countries. As a publicly-traded company, they regularly release financial figures and reports on results. A recent 2019 investor presentation accompanied by an Annual Report reveals record performance on the market, with revenue up 23% to $4.4 billion, operating cash flow up 16%, and income before taxes up 20%. Revenue figures and general company information illustrated below: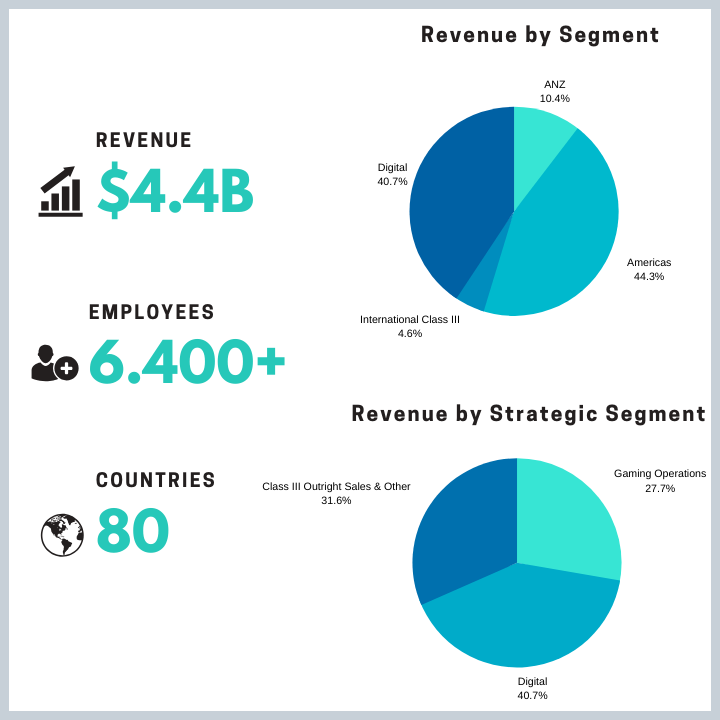 Source: 2019 Annual Report
A large part of Aristocrat's revenue still comes from physical table games, gaming operations, and pokie machines – they're among the biggest suppliers in Las Vegas. As a traditional casino game developer, they continue introducing new exclusive products such as cabinet designs, bar top screens, and machine prototypes.
Some notable physical innovations throughout 2019 and 2020 include:
MarsX and EdgeX – are cabinets focused on immersive player experiences, complete with new sound systems and uniquely curved LCD screen placement.
Arc Canopy – is a prototype machine installed on casino floors in the form of an archway. It hosts up to 4 players in a small arena-like environment.
Winners World – are bar-top cabinets and screens that add popular pokies as well as in-demand digital features to Vegas bars.
Linked Progressives – pokie links synchronized across many casino sites that allow players to get higher jackpot chances with an increased payout.
As CEO Trevor Croker summarized the year in a recent statement: "Throughout the year, Aristocrat strived to meet the evolving needs of customers and players by investing in our product portfolios and expanding into attractive new segments and genres."
It shows a dedication to continuing moving in this direction – introducing new products and iterating on successful project launches. At this growth stage, expanding their portfolio seems to be the highest priority of Aristocrat Leisure. 2019 also marked high market performance for digital products.
Digital performance
Aristocrat operates 10 Digital studios, employing over 2,400 professionals in the sector. During 2019 they made a record of $1,23 billion in profits, also increasing marketing spending for new products by a large margin. Overall, digital now represents 41% of all company revenues, showing a significant shift into this industry with announcements of 12 new mobile titles and social casino games.
The current Aristocrat digital portfolio has 9 games, with another 4 in a soft launch mode, which can mean various stages of beta testing pre-release sales, or first stages of player acquisition. 52% of revenue comes from social casino games, with the other 48% from casual mobile games.
Aristocrat Strategic Cycle is designed to ensure successful launches of new digital projects and their ongoing financial stability: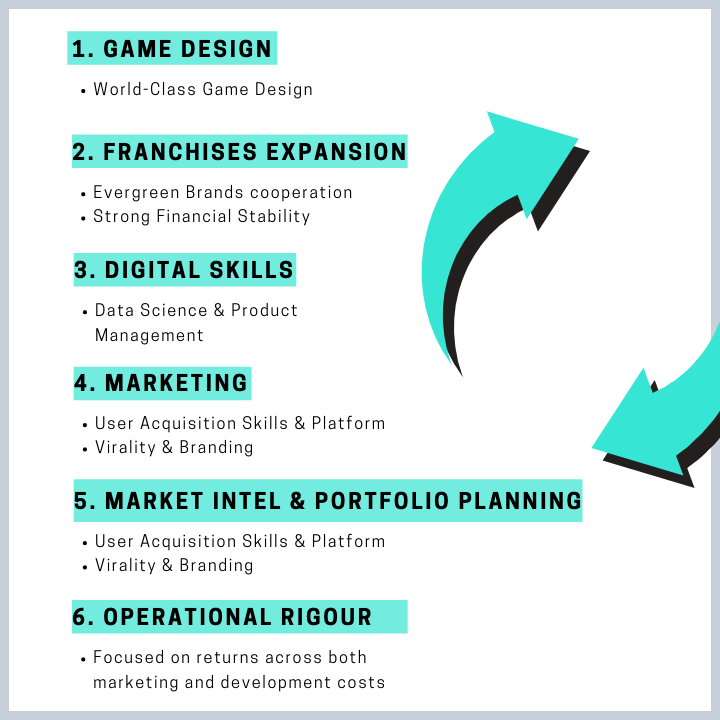 Aristocrat Digital Strategic Context 2019
Going over cycle parts in additional detail:
Game Design – prototyping and quality assurance, creating titles that are both technologically secure and optimized for user experience.
Evergreen Brands – recognizable titles and settings. It can mean purchasing well-known licenses such as Toy Story or using iconic historical time periods.
Digital skills – player marketplaces, premium features, cosmetic options, and other ways to monetize social and mobile free-to-play games.
Marketing – use of all advertising verticals, including viral YouTube campaigns, player referral rewards, and other means of enlisting new users.
Market Intel & Portfolio Planning – using all the acquired data from previous game launches to plan out new titles as well as updates to existing games.
Operational Rigour – optimization of games for return on investment. Events at various lifecycle stages, management, planned sequels, etc.
Some of Aristocrat's most profitable games have been alive for over five years. Their entry into the market was made possible by some key studio acquisitions made in the 2010s:
Plarium
Plarium Global is an Israel-based studio founded in 2009. They were acquired by Aristocrat in 2017 for $635 million after their hit mobile game Vikings: War of Clans has made the top 10 highest-grossing strategy game lists. Since then, Plarium grew to over 1200 employees with 8 offices and development studios in Europe and the United States.
The company focuses on casual mobile and social media games, specializing in strategy and roleplaying niches. Their portfolio counts 15 games, and over 290 million users playing across all titles, regularly making top played ranks in Google Play and App Store.
The most successful titles of this studio are:
Vikings: War of Clans – released in 2015 and available for mobile and as a browser game. Despite being over four years old, this strategy game still has a large player base, with regular updates keeping it afloat on the market.
Lost Island: Blast Adventure – released in 2018 for Android and iOS, this is a puzzler that's telling a story about an expedition in search of ancient secrets. It's a casual game with simple Match Blast gameplay and island customization mechanics.
Raid: Shadow Legends – released in early 2019, this is the most recent Plarium mobile game. It mixes fantasy roleplaying with collection mechanics, allowing players to create a party of champions and compete against others in raids.
Big Fish Games
Big Fish Games is a Seattle-based studio established in 2002. Aristocrat Leisure acquired them in 2017 for $990 million. In addition to mobile and social games, this studio also develops PC and Mac titles. Big Fish has a portfolio with over 50 games, specializing in casual experiences such as puzzles, hidden object games, match 3, etc.
This particular acquisition firmly placed Aristocrat into a leading role in the social casino games market. It allowed them to acquire main licenses such as Toy Story for new puzzle games aimed at the casual market. Additionally, Big Fish studio could now take popular Aristocrat slots and digitize them for mobile/browser games.
Big Fish Casino became the main hit of this partnership as a result. It's one of the largest social casino games in the world, available on mobile and as a standalone app. The casino offers players over 35,000 jackpots daily, rotating popular slots and classic table games such as roulette and blackjack. The game also has tournament and leaderboard features, allowing for versus matches and player-created lobbies.
To date, Big Fish Casino remains social, allowing players only to use virtual currency with no real money gambling options.
Product Madness
Product Madness was one of the first Aristocrat digital studio acquisitions, made in November 2012 for an estimated $40 million. They started in 2007, developing social casino games, having reached 500,000 registered users for their titles on Facebook alone. Since the acquisition, the studio grew almost three times the size, with new offices in London, Seattle, Vegas, Austin, Minsk, and Lviv.
Heart of Vegas is the most successful Product Madness title to date, having reached #1 most downloaded app in Australia for both Google Play Store and App Store shortly after its 2013 launch. The game was the first in a series of social casino games to come, boasting dozens of popular Aristocrat slots available for play both online and offline. In 2019 Heart of Vegas accounted for 15% of all Aristocrat digital market revenue flow.
Further social casinos called Cashman, Lightning Link, and FaFaFa Gold were released between 2015 and 2019. They have different slots and jackpot opportunities, with each offering its theme and user experience. As with Big Fish, none of the virtual casino games offer real-world gambling – they incorporate social features such as leaderboards to create a Vegas casino simulation without actual money wagers involved.
Queen of the Nile
Queen of the Nile is one of the most popular slot machines ever to grace the floors of land-casinos, which is why it's been promptly digitized and is now available on almost every social casino app discussed in this article. This poker machine was mostly played in Australia before getting a full online release.
In-browser and with no app download, people can also play free pokies Queen of the Nile on this page, looking for virtual big wins. The game is a good representation of Aristocrat free play pokies since it has all the mechanics they use elsewhere in almost every game. It includes Free Spin scatter symbols, progressive Jackpots, and Wild symbols which, like in most Cleopatra slots, are represented by the Empress herself.
Creating digital releases of pokies like this is only a part of Aristocrat Leisure's new digital strategy. This strategy includes mobile RPGs, strategy games, puzzles, and other casual titles. Those investments have been paying off with record financial figures in 2019 – the new decade will mark even more online experiments from the Australian gambling giant.