Mexico is one of the well-known and most popular travel destinations. Located in the southeast of the country, the Yucatan Peninsula is one of the most popular Mexican destinations and a wildlife lover's paradise! It is home to several hundred species of birds, almost a hundred species of mammals, many reptiles, including crocodiles and turtles.
Lengthwise the peninsula extends the Mesoamerican Coral Reef, a well-known and worldwide place for diving and snorkeling. Here you can swim with whale sharks or go diving. Diving into the luxurious underwater world will leave the most enthusiastic impressions of the natural attractions of the Riviera Maya.
The historical treasures of the Yucatan Peninsula also include the monuments of civilizations of the pre-Columbian era. You will find ancient Mayan ruins, old Spanish-style colonial villages, and modern entertainment options.
So, what to see in Mexico to make your vacation memorable for a long time?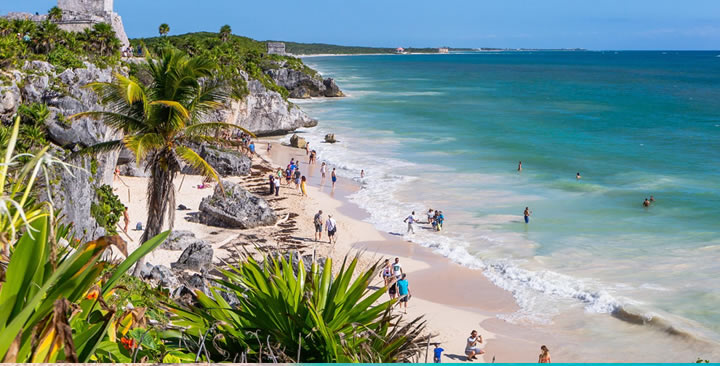 Riviera Maya
The Riviera Maya is known for its many all-inclusive resorts, such as Cancun and Playa del Carmen.
Sightseeing The Riviera Maya should start with its natural treasures. These are, first of all, the barrier reef and the famous cenotes. A stunning experience of visiting these unique natural phenomena, beautiful photo-mysterious caves with stalactites and stalagmites.
Cenotes are the only source of fresh water on the peninsula, and for the ancient Maya, they were also sacred. The water in the cenotes is clean and absolutely transparent, its temperature almost does not change during the year and is 22-25 C. On the Riviera Maya, diving in cenotes and underground caves is organized for divers. Some underground rivers are also available for walking and swimming.
Riviera Maya's most popular islands destinations and tours
Isla Mujeres ("The women's island") is a 15-minute ferry or boat ride from Cancun. The island is 7 kilometers long and 500-800 meters wide. The island has a small town, several hotels, an airfield, yacht marinas, and a beach. The island's attractions include a turtle farm, a museum of underwater figures, and Punta Norte, one of the most beautiful beaches in Mexico.
Contoy Island is a nature reserve with strictly regulated visits. Only a limited number of tourists per day are allowed here. The island's symbol is a magnificent frigate. In addition to frigates, the island also features pelicans, cormorants, Mexican stilts, gulls, and terns, as well as iguanas and hermit crabs.
The only building on the island is a biologist's research station with a museum and a tower from which you can observe the panorama of the island.
Cozumel Island is one of the most visited islands in Mexico. There is a pier for cruise ships. Entrances to natural parks and some beaches are chargeable. A visit to the island can be recommended for those who come on a cruise ship and want to spend a calm, relaxed day.
Holbox Island is a typical paradise tropical island where you can stay overnight in a bungalow on the ocean shore, enjoy deserted sandy beaches during the day, and watch the Milky Way at night. Most of the island is a nature reserve where flamingos and other birds can be seen.
Natural reserves

on Riviera Maya
There are a large number of tourist parks on Riviera Maya that offer entertainment for all tastes: you can ride ATVs, jet skis, horses, go down on bungee between towers (zip-line) and on ropes along sheer walls (rappel), take part in excursions to caves and underground rivers.
Zoos and animal rehabilitation centers provide guests with the opportunity not only to look at animals but also to pet and feed them.
Separately, it is worth noting the educational park Shkaret, where you can spend the whole day. There is a bird and butterfly park, a mushroom farm, a jaguar island, a Mayan village, a Mexican cemetery, a Catholic chapel, and much more.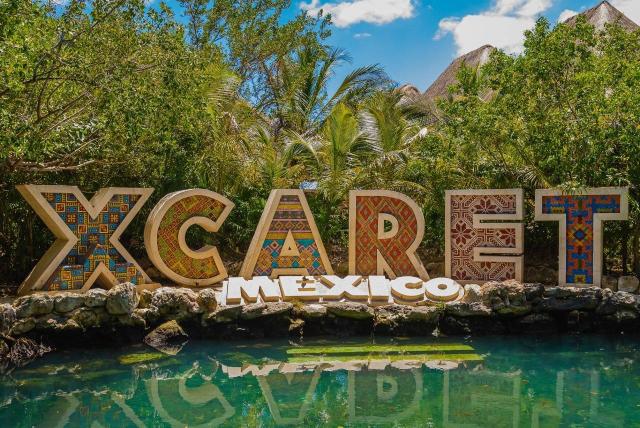 Visit Xcaret Park to see the famous evening show, which features hundreds of artists in colorful outfits, introducing viewers to the history and culture of Mexico in their performances.
Playa del Carmen
Playa del Carmen is a picturesque town, located in the middle of the Riviera Maya, just 1 hour by bus from Cancun and less than 1 hour from Tulum. Playa del Carmen is a great resort for beach lovers and outdoor enthusiasts. Many local attractions and entertainment venues are geared towards family travelers.
Playa del Carmen has hotels for every budget
It will not be difficult to find a good hotel or resort for a romantic getaway or family vacation.
The Fives Beach is a suitable beachfront hotel Playa del Carmen located 35 minutes south of Cancun International Airport with modern architecture surrounded by cenotes and Yucatan jungle perfect for family vacations or romantic getaways.
The Fives Downtown is one of the best resorts in Playa del Carmen all-inclusive steps from the best restaurants, bars, and boutiques of Fifth Avenue that offer luxurious rooms with a modern and cozy interior, rooftop, infinity pools, spa, restaurants, gardens to relax and friendly staff.
Located in Playa del Carmen, between the noisy center and the amazing Caribbean coast, this resort in Playa del Carmen invites you to experience the real magic atmosphere of Riviera Maya.