When you google YouTube in Iran, you come across this phrase from the very beginning: "You cannot watch YouTube in Iran unless you have a VPN on your device." Yes! YouTube is not available in Iran, and Iranian YouTubers must use a VPN to work with this platform.
In an unexpected move, the government decided to filter out some social networks, and YouTube was one of them. At least part of this decision was ideological; that is, the country's officials thought that by doing so, they would prevent the youth from deviating.
But the gradual growth of VPNs called into question the government's main goal; and in practice, there was no choice but to cut off the Internet to prevent access to this platform, which causes a lot of economic damage to Iranian businesses.
YouTube accounts for more than 60 percent of online videos, with more than 100 million videos viewed daily, and more than 20 hours of new videos uploaded every minute.
And most importantly, more than half of these videos are uploaded from outside the United States. Therefore, YouTube has great potential for small and large businesses.
YouTube is the most attractive platform to produce video content. Apart from the fact that you can sponsor the video yourself, YouTube also pays you based on the number of visits you receive.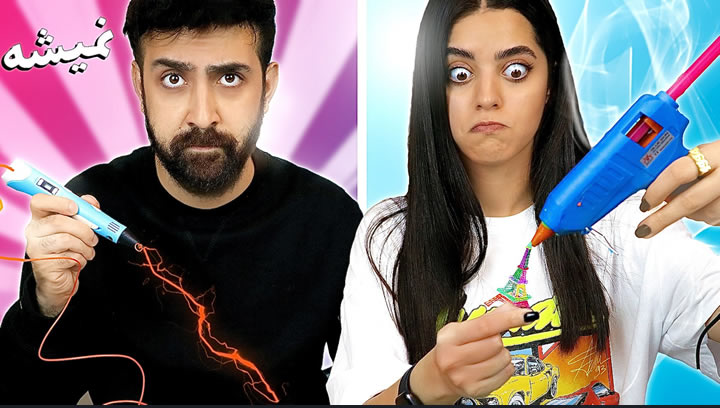 However, most Iranian Youtubers and their videos are not approved due to users' VPN, and always their authenticity is challenged. In recent years, the issue of YouTube filtering in Iran has been shown in the international media to such an extent that many people around the world think that Iran has no Internet at all.
Khotan Shams is one of these Iranian YouTubers. Despite all the problems we mentioned above, she has been able to achieve significant success on YouTube. Khotan was born in the mid‐1990s in Tehran, Iran. After primary and secondary education, she entered the university and studied.
Accounting. But Khotan quickly realized that she was not made for it. She was interested in editing videos and visual arts and tried to be self‐taught in this field. She worked with several graphic companies for a while but soon understood that she was interested in making videos for YouTube.
So, she started launching her own YouTube channel, and it was a great experience for Khotan. In December 2018, she was the first Iranian woman who did a reaction channel, and many users welcomed his challenging videos. Having more than 70 million views, she is one of the most successful Iranian YouTubers.
Despite all the problems Khotan faced, she tries to use the unique features of YouTube as much as possible. She is the first Iranian woman who wins the YouTube Silver Play Button.
The fact that Iran's government has filtered YouTube is just one of the problems Iranian YouTubers like Khotan face.
For example, using a VPN slows down Internet speed. Even if YouTube was not filtered in Iran, due to US sanctions and money transfer issues, unfortunately, Iranian YouTubers like Khotan cannot use YouTube like their non‐Iranian counterparts.
https://www.instagram.com/khotaaan/