At Express Digest we love a good home transformation, which is when the story of a mum of two's incredible bathroom transformation was plastered across the web recently, we were all ears. What we really liked about it was that transformation only set her back £95 – around the price we pay for a weekly shop.
Charlotte Greedy, 27, from Wales is no stranger when it comes to a bit of DIY and has become somewhat of a social media influencer on her Instagram account @missgreedyshome which currently has 104,000 followers.
The Instagram account is following the progress of her home renovations she's been carrying out on her home for the last couple of years. Her home features a lot of neutral décor; white and grey with matching accessories and plants throughout the house.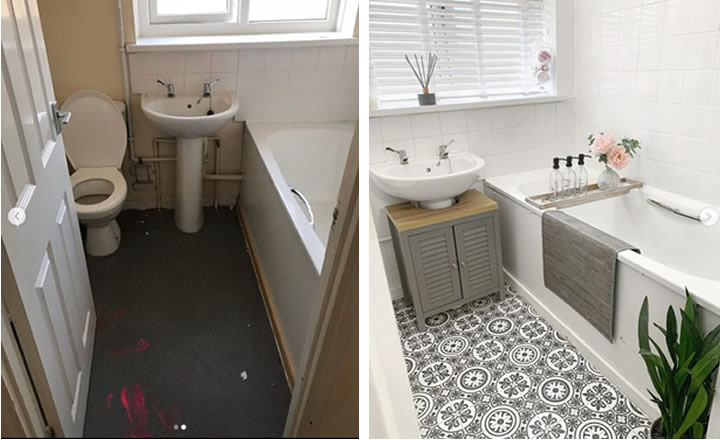 Her bathroom transformation was actually one of the first renovations she did on her newly purchased home. It was a big project and she was short on cash, she revealed to latestdeals.co.uk.
"The bathroom was completely run down, dingy and grubby, so it needed a makeover but I needed to do it on a budget as I had just moved in," she said.
Her biggest expense in the whole project? The floor, and it's surprisingly made of vinyl!
"I bought a roll of funky vinyl from B&M for £39.99, bought some spray glue and a penknife and fitted the new flooring over the existing floor"
"I then bought an under-sink storage unit from eBay to hide all the pipework you could see, painted the walls with a tub of cheap £10 white paint from B&Q and it was completely transformed."
"The total cost was just under £95!" she added
Ms Greedy's creative transformation came from perusing the aisle in a DIY shop local to her, where she fell in love with Morrocan-style tiles. Unfortunately, they were out of her price range so she was beyond thrilled when she saw something similar in B&M for a fraction of the price. It was even the last roll of vinyl in her local store.
She said she was surprised at how easy it was to fit and encourages others to do the same if they're on a budget.
One of the co-founders of Latest Deals, Tom Church praised Ms Greedy in her endeavours saying "If you showed me the before and after photos of Charlotte's bathroom, I would have thought this transformation cost at least £1,000". Which just goes to show it's not what you use it's how you use it.
Ms Greedy isn't the only mum to have taken Instagram by storm with an incredible transformation. In September last year, the Mirror Online reported a similar story about a mum who transformed her garage into a dream bathroom after receiving excessive quotes from contractors.
After being quoted in excess of £11,000, 33-year-old Kelly Magness and her husband  Sean set to work on their dream bathroom themselves, using as much internet inspiration as they could find.
They used kitchen cupboards cut to size for their floating vanity sink units saving them hundreds of pounds on just one item and ensured they shopped around for the rest and kept it in mind that the most expensive items didn't always mean the best.
The result? A brand-spanking-new bathroom that looked like it came out of a celebrity mansion for just £3,250; less than a third of the price they were quoted by contractors.
Fancy A Bit of DIY?
Charlotte and Kelly's bathroom projects are just the tip of the iceberg and are a true reflection of how young homeowners can spruce up their home for a fraction of the price with a little bit of determination and a few tools in their kit.
With spring just around the corner, there's also no better time than to think about doing some DIY in preparation of longer and (hopefully warmer) days. From full-on bathroom renovations like the one we see here, to just making simple storage solutions, or even sprucing up your home décor and interior design.
With a wealth of inspiration on Pinterest and Instagram there's something that DIYers of all experience levels to sink their teeth into. Just be sure to plan ahead and really visualise the end goal in your head, ensure you have a dedicated place to keep your tools neat and tidy, having equipment such as a toolbox with wheels is a lifesaver and, as always remember to enjoy the creative process.
So, which DIY projects will you be getting to work on this spring?