Digital marketing is showered with all the praise and attention in the internet age, with spending on web-based ads set to overtake traditional platforms in the next half decade.
However, tech-savvy consumers are very hard to impress given their constant exposure to an onslaught of online campaigns across every website and social media platform they visit.
This means that if a brand really wants to turn heads and drop jaws, it needs to look elsewhere. Billboards hold the answer, although again it is only possible to guarantee engagement if they are used in an imaginative and outlandish way.
Consumers appreciate the sheer work that is involved in creating large scale ad hoardings; whether lifting vast frames into place using equipment like a lever hoist or delivering compelling creations with cranes, gantries and scaffolds, putting in the effort is always worth it.
With that in mind, here are just some of the most inventive and impressive billboard ads of the recent past, providing an insight into the approaches that are most effective in this marketing niche.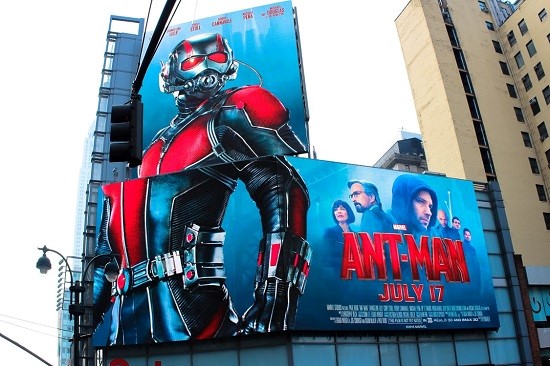 Camper – Imagination Walks
Arresting the attention of passers-by in busy cities is tough, so there are lots of tools that advertisers need to use to drown out the other distractions in these pedestrian-packed arenas.
In the case of the Imagination Walks campaign from footwear manufacturer Camper, the two biggest assets leveraged were colour and counter-intuitive imagery.
Various pastel shades and unusual image combos were used throughout this campaign when it was launched, and the example captured in Paris below is indicative of the general theme. It features a pair of human figures set against a baby blue background, yet in place of their heads are a pair of open shoe boxes from which vibrant helium balloons pour.
This ad manages to do what all good billboards do; say a lot without relying on text and convey the message of the campaign succinctly across all language barriers.
Like the other ads we will discuss, it is left of field in its aesthetic styling and yet not so bizarre as to be off-putting to a mainstream audience. It encapsulates the youthful, adventurous personality of the brand it represents and is sure to be an ad that stuck in the minds of all who saw it because of its uncanny nature.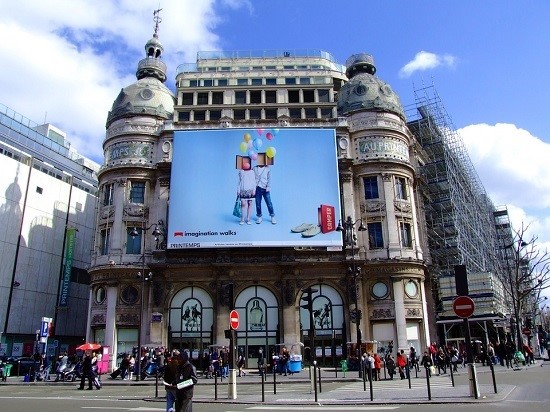 Camper's billboard towers over the streets of Paris.
Marvel Studios – Ant-Man
Marketing for Hollywood blockbusters is becoming more and more expensive, with average costs of $200 million associated with simply promoting the cinematic big hitters that arrive by the bucket load each year.
While much of this cash is splashed on TV spots and digital campaigns, billboards remain essential to the arsenal of any movie marketer.
For Ant-Man, one of the many flicks in Marvel's expansive universe of comic book capers, a multi-tiered billboard was erected in New York City; a feat made all the more impressive because the ad actually wraps around the building it occupies, as well as standing proud of it on a separate scaffold up top.
Aside from the technical aspects which are worth applauding, this also manages to exemplify the way that billboard ads can be used in a humorous way, depending on the project or product that is being pushed. In this case, having a hero who famously shrinks down to sub-atomic sizes expanded to fill a space that stands several storeys tall is both independently entertaining as well as adhering to the tongue in cheek nature of all Marvel's recent cinematic canon.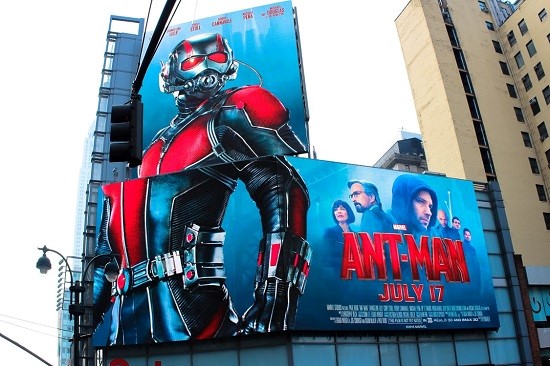 The size-shifting superhero Ant-Man got a suitable expansive billboard.
Prada
Using billboards to advertise fashion brands is still commonplace, even with almost a third of all sales in this industry now being conducted online.
From high street outlets to boutique fashion houses, more than anything it is necessary to use real world hoardings like this to simply show people that your brand is relevant and make sure that it is in the public consciousness, rubbing shoulders with rivals rather than being eclipsed by them.
Prada might be seen as a brand which hardly needs to advertise at all; it is amongst the most valuable luxury names and generates almost $5 billion in sales annually. Yet in order to keep its current momentum, promotional efforts must be perpetual.
In the case of the following Prada billboard ad, what is especially noteworthy is its relative simplicity. Almost a third of the expansive area is taken up by white space and the firm's name; a kind of decadent move that shows it is not willing to have too much focus drawn away from its branding.
The rest of the ad features a precisely posed picture of models sporting the firm's clothing and accessories, set against a retro backdrop of a filling station with a 1950s car acting as a leaning post for one of the featured faces.
Another noteworthy facet of this billboard ad is that it does not contain any more information. There is no reference to the name of the campaign, the products being featured, the location of a bricks and mortar store where they might be procured or even the website of the company behind it all.
This clearly makes it a case of reputation-bolstering marketing, carried out to remind prospective customers of Prada's existence and hopefully plant the seed of a potential purchase which will likely blossom a lot further down the line.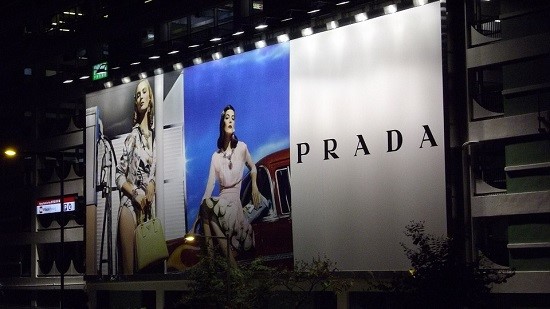 Prada's billboard provides an unmistakable imprint of the brand's identity.
So, it seems that the reports of the death of traditional advertising have been significantly exaggerated. The truth is that there is not only ample opportunity for creativity in this medium, but also for audience engagement across all parts of the price spectrum.
Where billboards go from here is another question. There is increasing demand for the integration of digital features with these classic hoardings, playing on the possibility for interactivity that this affords.
Of course, this drives up the cost and the amount of development time involved in creating the ads themselves, which effectively means that it is only larger brands that can get in on the action. Even so, it promises a long-term future for billboards which will see them staying in contention at a time when consumers' attentions are so thoroughly divided.