No destination offers the adventures, leisure, and peace of mind as the beaches do. As you will see further in the article, we've discussed some of the top beach destinations around the US. Most of these are located on the seashore, however, there are a worthy few located on lakes such as Michigan Lake and Lake Superior. All of these locations offer many activities ranging from swimming and snorkeling to great cuisine and live shows. Some of them go as far as to offer unique aspects in the world such as sea glass, and rare endangered species. Hold on tight for top beach destinations in the US!
Napili Beach, Hawaii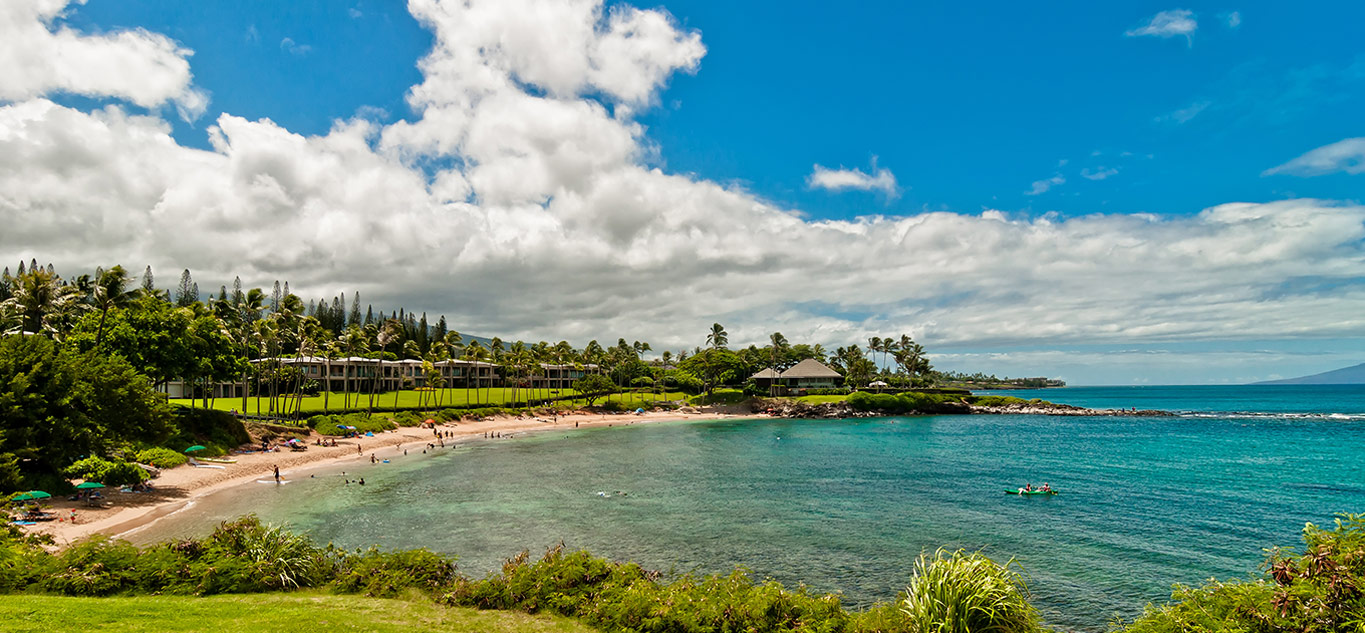 Napili Beach is one of the top beaches located on the northwest side of Maui, Hawaii. It's famous for its calm waves full of a wide array of fish. This is why many states that bringing snorkeling gear to Napili Beach is a necessity! In addition to a lot of interesting fish, this beach is famous for a big turtle population which is protected by the law so make sure you don't do anything to hurt them! It's best advised to use a car to travel to this destination and to get there very early as it can be tricky to find a parking spot.
Poipu Beach, Hawaii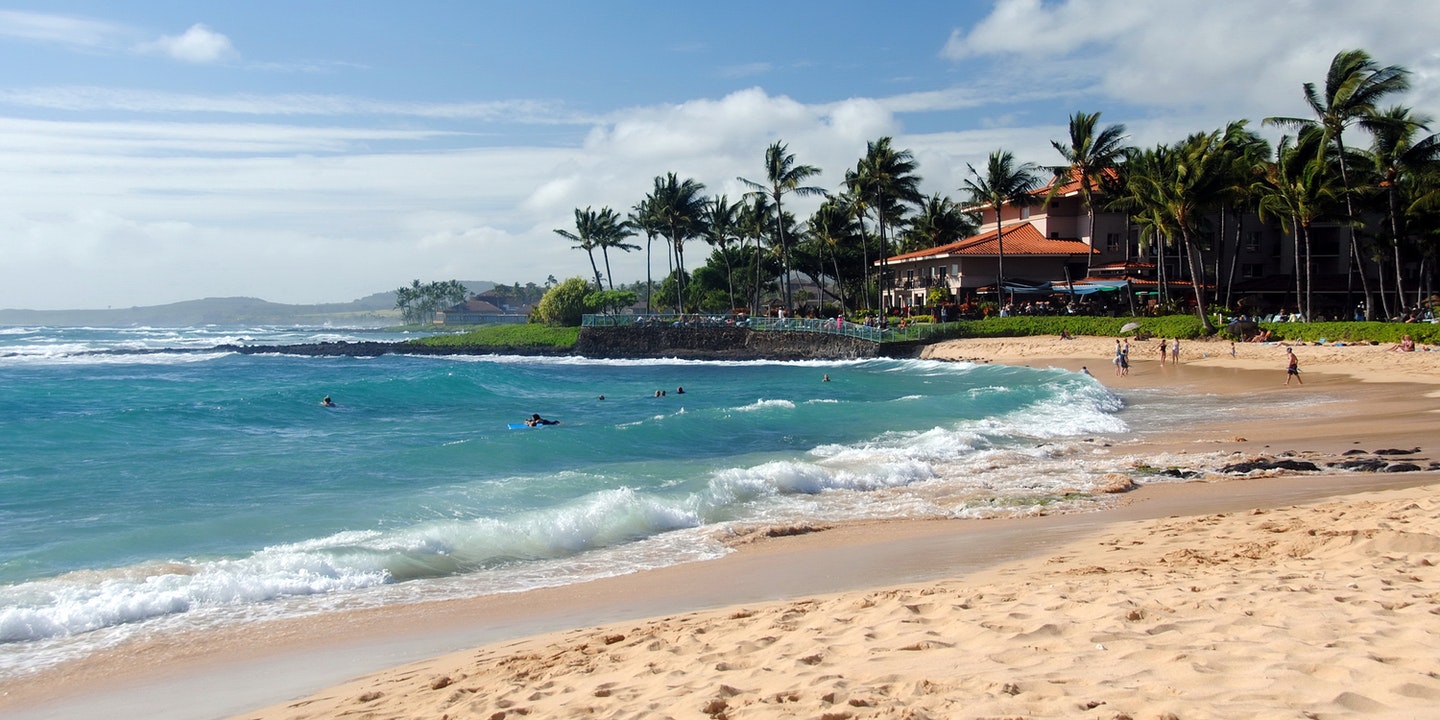 Poipu Beach is another top beach destination in Hawaii. It's located on the south shore of Kauai, and it's about the same crescent shape as Napili Beach. The water is crystal clear, and it's not rare to see the endangered monk seals. The most popular activities you can do at Poipu Beach are fishing, surfing, and of course snorkeling. Another popular activity is bodyboarding, and there are plenty of bodyboarding sites in front of the numerous parks, making this destination quite popular among families, especially because there are many picnic facilities and lifeguards.
Outer Banks, North Carolina
One of the rare beaches in the US that offers a rustic feel and nature at your doorstep is The Outer Banks. It comprises a string of barrier islands and spits just off the coast of North Carolina, and a small portion of Virginia. It's known for its wide array of beaches, and the Cape Hatteras National Seashore, which is a very important biodiversity zone. Needless to say, a pair of binoculars is a must to carry on this venture. OBX, as it's commonly abbreviated, has a pristine beach, making it a very popular destination for swimming, kayaking, and surfing.
Myrtle Beach, South Carolina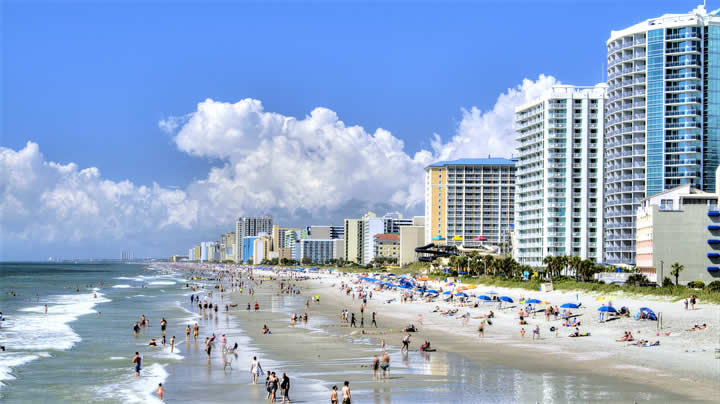 One of the top beach destinations in the US is Myrtle Beach, located in South Carolina, on the Atlantic coast. Myrtle Beach offers a wide variety of activities and adventures, ranging from exploring the natural wonders, and discovering sunrises over the Ocean. In addition to this, there are many live shows quite often. These can be explored by simply looking up Myrtle Beach, so you can book your tickets on time. There is plenty of coastal cuisines and Southern hospitality to savor, so be sure to consider this top beach destination in the US.
Laguna Beach, California
Laguna Beach is one of the hidden gems of The US beaches. This beach is an artist colony located in Orange County, almost halfway between Los Angeles and San Diego. The topography is unique as opposed to other California beaches because there are miles of coves and beaches where it's possible to explore sea caves, and natural tide pools, in addition to the beautiful beaches. In addition to this, there are thousands of acres of protected wilderness, which make it the best location for adventurers. This destination also has world-renowned trails for mountain biking to further add to the adventure part.
Lovers Point Beach, California
Lovers Point Beach is one of the top beach destinations in Monterey, California. It has been a popular location for shoreline recreation for years. It's also extremely popular among surfers and kayakers because of its reliable waves, and because it's a good launching spot from Monterey Bay. It's also not far to get there by car, you just have to take Lighthouse Avenue. Scuba diving is also very popular in this location, as the numerous kelp forests provide this location with diverse marine organisms. Lovers Point beach is also the starting place for the "Kelp Crawl" part of the Triathlon at Pacific Grove.
Coronado Beach, California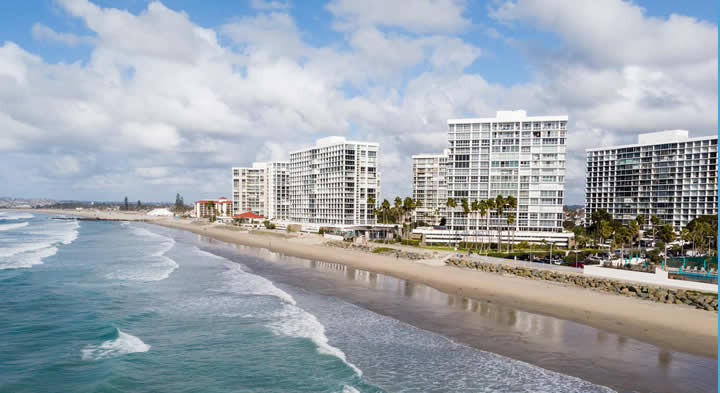 One of the first things that come to mind when people talk about Coronado Beach is the iconic Hotel del Coronado and the gorgeous Coronado Bridge. Coronado beaches are among the few beach destinations in the US that are voted for the best ones time after time. However, there are some things you should be aware of. Balloons, kites, drones, and all other flying objects are prohibited because the Naval Air Base is located nearby. In addition to this, alcohol is also prohibited, and the city is mostly smoke-free, making it a great location for people who take their health seriously.
Santa Monica State Beach, California
Santa Monica is by far one of the most popular beach destinations in the US. It's located west of Downtown Los Angeles, offering a very long, maintained beach that goes on for miles. The sand is quite soft, and there are many popular hotels, restaurants, and shops just within a walking distance of the beach. Since the beach is quite long, it's usually divided into two parts: north of the pier, and south of the pier. One thing to keep in mind is that this beach does not allow dogs to walk freely, so they have to be on the leash.
Glass Beach, California
One of the most unique beach destinations not in the US alone, but the whole world is the Glass Beach located in MacKerricher State Park in California. The reason why it is named "Glass Beach" is because the entire beach is made up of sea glass instead of sand. One thing to have in mind is that collecting the sea glass is strongly discouraged, and according to some sources you can even get a court order filed against you. However, don't be alarmed because if you seem very interested in sea glass, there's the International Sea Glass Museum located nearby.
Cannon Beach, Oregon
The iconic attraction of Cannon beach is the Haystack Rock, which is the icon of all of Oregon.  Cannon beach was listed in the top 100 beaches not just in the US, but in the whole world by National Geographic. This beach destination has a stunning view along the coastline and exceptional natural areas that have a way of blending with the sea. There are many stays and activities available, but really, what you should be focusing on is the glorious view that is unique to the rest of the world. It also has vibrant wildlife, making it truly amazing.
Harris Beach, Oregon
Harris Beach State Park is another great example of the top beach destinations in Oregon. It's located on Oregon's south coast, offering splendid seascape for sightseeing, just like Cannon beach does. However, there is one thing that makes this beach destination unique and that is Bird Island. This island also called the Goat Island is a National Wildlife Sanctuary.  It is mainly used as a breeding site for very rare birds that have a hard time breeding in nature such as the tufted puffin. In addition to this, the island offers amazing wildlife sights from most of the park. These include gray whales, harbor seals, and many sea birds.
Naples Beach, Florida
Naples Beach truly deserves a spot in the top beach destinations in the US. Some of the main reasons why are the white sand beaches and dolphins. Naples beach is located in Southwest Florida which offers quite a lot of different activities throughout the year. Generally, all of the beaches in this location are among the voted high in the top beach destinations around the US. Naples itself is located right on the Gulf of Mexico, offering many miles of beautiful coastline. The beaches are very calm, and there are a lot of shells that people have invented shelling as an activity.
St. Petersburg, Florida
St. Petersburg beach, or commonly referred to as St. Pete Beach is an award-winning beach in Pinellas County, Florida. One of the most famous resorts is the historically and architecturally important Don CeSar resort. This beach enjoys sunshine throughout 99 percent of the year, making it a very desirable location for a vacation, as you can go any time you want. It's very close to Orlando, Clearwater, and Tampa, making it a great choice if you want to enjoy a broader sightseeing idea. There are plenty of affordable hotels and beach bars all around.
Key West, Florida
Key West in Florida is home to a wide array of beaches, and unique tourist attractions such as the Ernest Hemingway Home and Museum. Key West is quite different from the other Florida Keys exactly because it has spectacular beaches that earn their place right at the top of beach destinations in the US. One of the most famous beaches in Smathers Beach because it is the longest and the calmest. There are nearly 2 miles of palm trees, white sand, and calming waves. There are a lot of activities that this location offers, from swimming and sunbathing, to snorkeling and volleyball.
Clearwater Beach, Florida
Clearwater Beach was named a top beach destination in the US in 2018 by TripAdvisor. Clearwater has, aside from its highly-rated beaches, a specific charm of a small town. It is also the home of At Clearwater Marine Aquarium, which houses a star of the "Dolphin Tale" movies, Winter the Dolphin. It also has several attractions such as fine dining restaurants, and many lodgings making it suitable for all types of visitors from all parts of the world. It's also very convenient to get to as both the Tampa International Airport and St. Petersburg-Clearwater International Airport are close by.
Pope Beach, Nevada
Most of the beaches we mentioned were on the seaside, that's not to say The US doesn't have great freshwater beaches. A great example of that is Pope beach, located on Lake Tahoe. Pope Beach is also located on the land of the National Forest, offering a lot of opportunities to relax in nature and encounter numerous wildlife. It also gives a breathtaking view of the Sierra Nevada. This beach destination is easily accessible by bike through the Pope/Baldwin Bike Path. However, there is a slight downside if you own a dog, as they are prohibited in this location.
Oak Street Beach, Illinois
In addition to Pope Beach in Nevada, Oak Street Beach is another great example of freshwater beach destinations in the US. Oak Street Beach is located on Lake Michigan, in the city of Chicago. It's a very popular summer hotspot because it offers a lot of amenities and activities to beachgoers. Bike and volleyball rentals, as well as the gorgeous views of the Chicago skyline, are to name a few. However, the most famous sight near Oak Street Beach is the mural named "You Know What You Should Do" created by Jeff Zimmermann in 2011.
Park Point Beach, Minnesota
Park Point beach is located in  Duluth Minnesota. It stretches a little above 7 miles, and it's home to the largest freshwater sandbar in the world. This beach is located near Canal Park, yet it is far enough to seem like a whole other experience. Park Point beach is a great destination if you are looking to escape the grind and the city grind. This Lake Superior shore is one of the best places in the world to go treasure hunting, as it has plenty of shells, as well as the aforementioned sea glass.
Whichever top beach destination (or destinations) in the US you pick there is no doubt you will have a great time there, as all of these offers quite a lot of activities, landmarks, and scenic views. However, be sure to check if there are any specific prohibitions or endangered species that needn't be harmed. In addition to this, make sure you book your flights, tickets to live shows, and other numerous activities and museums in advance so you don't miss out. This will ensure that you get the full beach experience and have peace of mind during your well-deserved travel leisure.