A kitchen is the heart of the home, as meals and memories are made in the kitchen. That is why it deserves to be well furnished and to have some tremendous productive appliances. It is not wrong to search for luxurious and best innovative appliances for your kitchen as you and your family should experience a healthy, elegant and productive kitchen.
Kitchen appliances are almost available in every area of the world, starting from a few hundred pounds to a hundred thousand pounds. Quality kitchen appliances are not easy to get as they have a high cost, but they can ensure you a long-term relationship.
These appliances can be bought from a few best kitchen appliances brands that will provide you with a luxurious experience along with good productivity and functionalities. While choosing appliances for the kitchen, always try to choose something unique.
Either you want to upgrade your existing kitchen or build a new one, go for the brands that understand your requirements, and provide you with the best in your budget and according to the given conditions.
If you are looking for luxury brands to get your kitchens upgraded or to build new bespoke kitchens, the given below are the Five best Luxury Kitchen Appliance Brands chosen after thorough research and customer surveys and feedback.
These Brands will take your requirements and return you an amazing Kitchen that suits your daily lifestyle. In a few minutes, you will find out whether these kitchen appliances are worth the high prices or not.
5. JennAir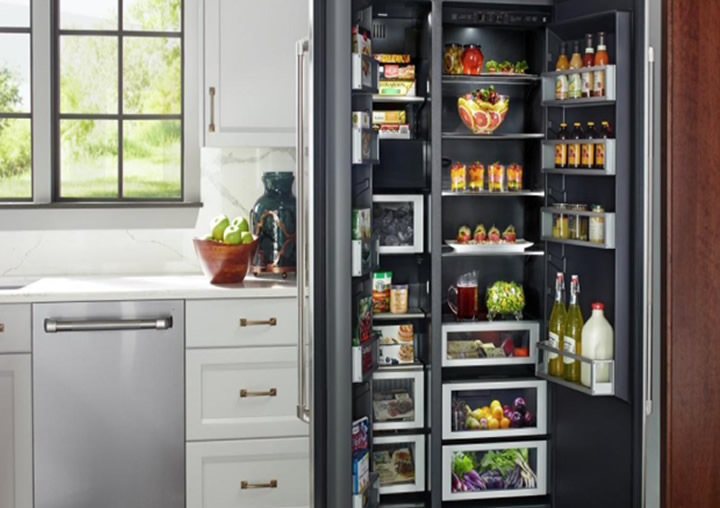 Jenn-Air brand, which Whirlpool Corporation now represents, is one of the best kitchen appliance companies. Nearly 60 years ago, the brand got famous for introducing the downdraft cooktop. Since then, Jenn-Air is constantly evolving and presenting the best quality products in the market.
Jenn-Air is also well known for its powerful and stylish refrigerators. This brand not only provides appliances but also transforms your kitchen's cooking space into a luxury one. Jenn-Air is famous as it uses extra luxurious and sophisticated designs for the appliances.
Their service doesn't end up purchasing the appliance; Jenn-air provides the best after-sale services to help the customers regarding their products. One admirable thing about Jenn-air is that it gives a two-year full coverage warranty in its four-piece packages while other brands provide only one-year warranties. So, it will be a luxury call to buy from Jenn-Air.
4. Gaggenau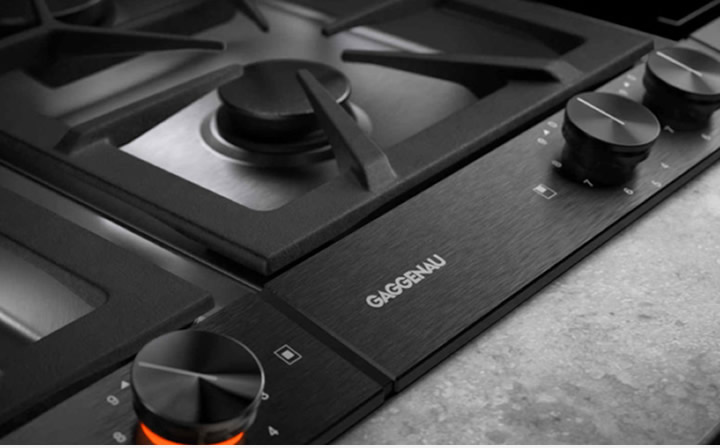 Gaggenau was founded in 1681; Gaggenau is the oldest and most expensive distributed appliance brand around the globe. As a German Brand, Gaggenau loves the kitchen more than any other brand and specially designs its products to catch people's attention and provide one of the most refined qualities with innovative ideas.
Gas Ovens, Electric cooktops, ventilation, dishwashers, refrigerators, and wine storage units are basic and common appliances. The luxurious appliances it makes include Steamers, Grills and deep fryers, and the Asian-influenced Teppan Yaki.
Especially Gaggenau's BS 270 Combination Steam and Convection Oven is their masterpiece. Not only do they provide big products but also, they manufacture small kitchen appliances like coffee machines.
3. Miele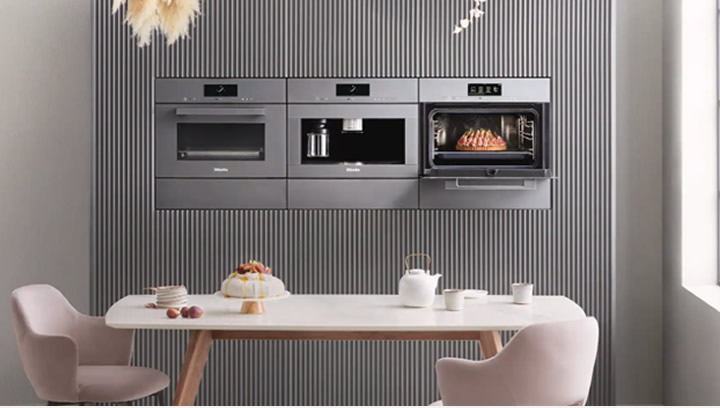 Meile is a well-known luxury kitchen appliance brand due to its quality and reliability. These two qualities of Meile cause their customers to keep coming back to them for new appliances.
More than a century old, Meile has been spread over the globe and is providing high-end quality domestic appliances. After an extensive testing process, Meile's products are only launched in the market to gain the people's trust by delivering durable appliances that fit in their kitchens.
Although the company is renowned mainly for its laundry appliances, its sales numbers show the quality and durability Miele promised for their different products, such as refrigerators and wine coolers. Usually, a person who buys Meile's Kitchen appliance doesn't need to call customer support for any problem.
2. Sub-Zero and Wolf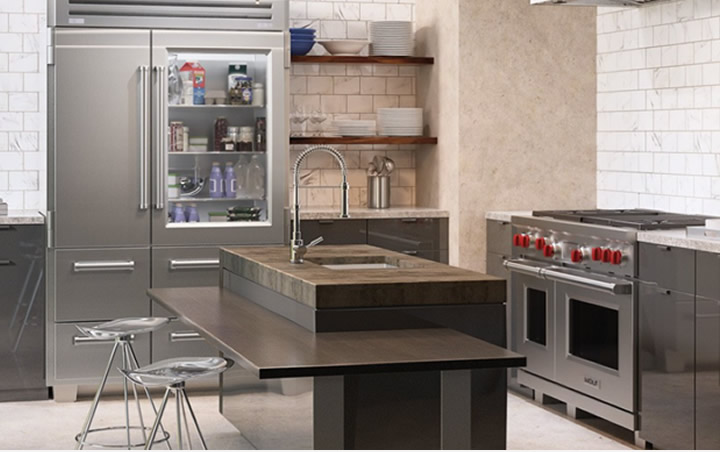 Sub-Zero and Wolf are providing the best innovative products that are elegant in designs and aesthetics. It provides a combination of efficiency and elegance, giving people a luxury theme. Launched in 1945, Sub-Zero and wolf spread their appliances in the USA and other parts of the world.
This brand invented the first free-standing freezer back in the 1940s, one of the best innovations in Kitchen appliances. Sub-Zero and wolf focus a lot on the marketing of their brand along with the quality and durability.
Interestingly, Sub-zero and wolf was the first brand to introduce a refrigerator below zero cooling capacity. This brand is not only famous for its refrigerators but also for the food preservation technology it provides. Sub-Zero and wolf provide a luxury set of appliances to its customers having a luxury lifestyle, so this brand is highly recommended.
1. La Cornue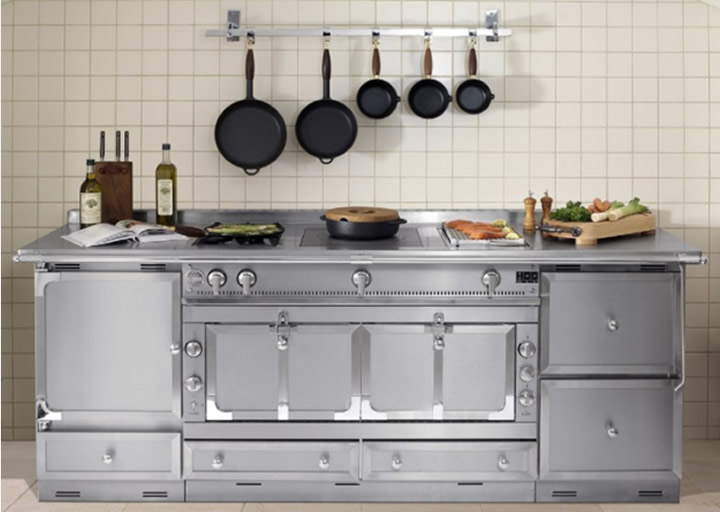 Founded in 1908, La Cornue is a French brand of Luxury Kitchen appliances. There are only two series of La Cornue ranges to consider; CornuFé and the Château. The remarkable thing is that all the products and appliances are purely handmade, and they test each appliance plenty of times before exporting it to the market.
La Cornue is the most expensive stove brand in the world. La Cornue engraves each range with a Customer's family name and offers other custom offers to customers with 8,000 different sizes and colour schemes. World's richest and wealthiest person buys from La Cornue due to its quality, durability, reliability, and performance, making it the most expensive and luxurious brand globally.
One shouldn't leave one's home without building a perfect kitchen. Usually, People always try to give their kitchens a different and luxurious look, making many efforts to achieve. Sometimes there can be some financial constraints, but if one can easily afford to invest some amount, these five brands are the best option for them.
Moreover, these brands focus on changing people's emotions and providing the best appliances to develop an urge to buy luxury appliances for their kitchens without having second thoughts. Their excellent five-star customer feedback and reviews are proof of their high-quality appliances.
It will be best if you buy Kitchen appliances online after proper research as these are the devices of daily use, and one should not make a mistake. You must try these brands at least once in a lifetime as they are innovative and reliable and constantly improving the quality of their products.